Visitors List (Subject To Change)
May 10th
Core 6 Day
'15 WR Miles Boykin (New Lenox, IL)
May 31st - June 2nd
'17 QB Danny Clark (Massillon, OH) - commit
'15 DB Cameron Ordway (Pulaski, TN)
'15 RB Natereace Strong (East Saint Louis, IL) - tentative
'15 WR Alex Ofodile (Columbia, MO)
'15 DE Terry Beckner Jr. (East Saint Louis, IL)
'17 WR Jeff Thomas (East Saint Louis, IL)
June 1st
Columbus NFTC
June 2nd
Columbus Elite 11
July 25th (Friday Night Lights)
'16 LB Shaq Quarterman (Orange Park, FL)
Scout $ - McKenzie names top five '15 CA DT Kahlil McKenzie
Arizona, Tennessee, Oklahoma, Wisconsin & USC. Also has interest in Ohio State, UCLA, Alabama, Miami, Notre Dame, Florida & Oregon.
Scout $ - Pylon 7v7 YSU: Khaleke Hudson '16 PA ATH Khaleke Hudson
Offers from WVU, Pitt & Temple, while also hearing from Penn State, Toledo & TTUN. Grew up an Ohio State fan and wants an offer.
2016 DL Rahshaun Smith says #Sooners have replaced #OhioState in his top three w/ #Gators and #Hokies. #DCNFTC pic.twitter.com/b5mhZdM2dA
— Jeremy Crabtree (@jeremycrabtree) April 26, 2014
#Michigan is now the leader for four-star TE Chris Clark... http://t.co/XMch6cNFgQ
— 247Sports (@247Sports) April 27, 2014
Newly Offered: '16 MD QB Dwayne Haskins
Recruiting Updates: Updates on Recent Visitors, Damien Harris, Darius Fullwood, Josh Moore and More (11W)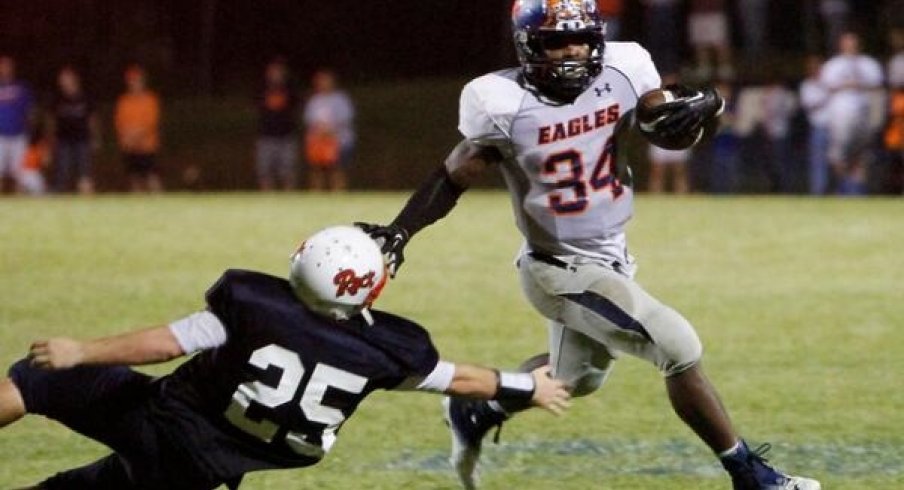 The Buckeyes extended a pair of offers late this week and one of those offers could change things for the 2015 class. The Ohio State coaches will continue to travel across the country as the evaluation period continues.
Let's take a look at some Ohio State recruiting news and notes from the past few days.
Virginia Duo Take In Ohio State
Ocean Lakes High School (Va.) sophomores Levonta Taylor and Anthony Womack spent the weekend visiting a handful of colleges, including Ohio State. The teammates took a tour of the campus, while Taylor received an offer from the Buckeyes on his visit.
cont...
Megginson Elects to Stay In State (Scout)
Locking down the state's borders and landing offensive linemen were a few class of 2015 goals for the Illinois staff.
Gabe Megginson meets both those requirements. The Jacksonville, Ill. four-star offensive lineman committed to the Illini on Friday night while on a visit to Champaign.
Ranked the No. 12 tackle in the country, landing the 6-5, 290-pound standout is a huge recruiting win for the Illini. By Friday afternoon, the buzz was Megginson was going to choose Illinois, despite offers from Ohio State, Wisconsin, Michigan State and others.
cont...
Ohio State recruiting: State Secrets, 4/28 - Jake Hausmann talks offer, Matta and staff hit the road (LGHL)
On Friday, the Buckeyes offered five prospects, including 2016 tight end Jake Hausmann of Cincinnati Moeller. See what the four-star prospect had to say about his offer, plus which prospects Thad Matta and staff watched and much more weekend recruiting news.
Members of the Ohio State football coaching staff hit the road on Friday visiting with many of the nation's top recruits and even handing out a few scholarship offers along the way. Buford, Georgia 2015 standouts Austin Smith, Joshua Thomas, Quay Picou and Xavier Gantt of the class of 2016 all received offers from OSU.
Smith, a 6'3 235-pound outside linebacker, adds the offer from the Buckeyes to a list the consists of Florida, LSU, Kentucky, Tennessee and many others. Like Smith, the 6'0 200-pound Thomas, a running back who could also suit up on defense at the next level, currently has quite a few offers under his belt including Arkansas, Tennessee and Georgia Tech.
Gantt, only a sophomore, is relatively new to the recruiting scene after joining Thomas in the Buford High backfield and rushing for around 500 yards and scoring multiple touchdowns last season for the Georgia AAA state champs.
cont...