Visitors List (Subject To Change)
Today
'16 RB Robert Washington (Huntersville, NC)
This Week
'10 TX C Chad Lindsay (Alabama Transfer)
April 17th
'15 DT Elijah Taylor (Cincinnati, OH)
April 18th-20th
'15 QB Brandon Wimbush (Jersey City, NJ)
'15 WR Van Jefferson (Brentwood, TN)
'15 TE Chris Clark (Avon, CT)
'15 OL Matthew Burrell (Fredericksburg, VA)
'15 LB Ricky DeBerry (Richmond, VA)
'16 DE Khalid Kareem (Farmington Hills, MI)
May 24th
Core 6 Day
May 31st
15 DT Tim Settle (Manassas, VA)
'15 DB Cameron Ordway (Pulaski, TN)
June 1st
'15 RB Natereace Strong (East Saint Louis, IL) - tentative
'15 WR Alex Ofodile (Columbia, MO)
'15 DE Terry Beckner Jr. (East Saint Louis, IL)
'17 WR Jeff Thomas (East Saint Louis, IL)
Torrance Gibson
#OhioState #Buckeyes offered a 4-star 2015 DB this morning. @alexgleitman (FREE): http://t.co/w0AEsNopgh
— Brian Perroni (@Perroni247) April 15, 2014
Newly Offered: '15 OK S Will Sunderland
#OhioState has offered 2016 RB Robert Washington (@RDubb_5) while on a visit today @alexgleitman @Bill_Kurelic: http://t.co/eMAaUkHnKF
— Steve Lorenz (@TremendousUM) April 15, 2014
Newly Offered: '16 NC RB Robert Washington
Scout $ - Ohio State Commit Visiting Auburn For A-Day '15 FL DB Ben Edwards
Excited to visit Auburn again...visiting with Kevin Tolliver and Jeffrey Holland...also talking to Notre Dame, UCLA, North Carolina and Stanford...still committed to OSU but looking at a few other schools.
Rivals $ - Buckeyes still strong with four-star DE '15 MD DE Darius Fullwood
Ohio State leads, followed by Penn State, Miami, Georgia Tech, Kentucky, Virginia Tech & Michigan State. Upcoming visits to GT, Bama & possibly Michigan State. Has a great relationship with Coach Johnson and views him as a father figure.
Scout $ - Christian Back at Maryland '15 MD ATH Jalen Christian
Was at Maryland's spring game last weekend...still has a top 11 of Maryland, Duke, Kentucky, Nebraska, Ohio State, Oklahoma, Rutgers, South Carolina, Tennessee, Wisconsin and West Virginia.
Rivals $ - Brown wants to see Ohio State again '15 KY LB Eli Brown
Visited Ole Miss for their spring game...also took in a spring practice at Kentucky and will be at their spring game...was at OSU for the Iowa game (after which he decommitted from Vanderbilt) and wants to visit again.
Rivals $ - DeBerry talks UVa Spring Game, upcoming plans '15 VA LB Ricky DeBerry
Talks about how he and his parents narrowed his list...was at the UVA spring game and talked with Andrew Brown and then supported his friends at the D.C. Rivals Camp...will be making his first visit to OSU this weekend and then wants to get back to Clemson...talks about the pressure to stay in-state.
Rivals $ - DeBerry set for visit
Starts the visit Thursday with his family before spending all day Friday with the coaches...looking forward to meeting with Coach Meyer as well as visiting with Curtis Grant...also looking forward to meeting Coach Fickell for the first time.
Rivals $ - Buckeyes climbing for Rivals100 OL '15 VA OL Austin Clark
Says his visit was awesome and had an amazing time...Ohio State and Tennessee will definitely make his next round of cuts...Coach Warinner is telling him OSU needs tackles.
Rivals $ - Prince crowned MVP at Rivals camp '15 MD OL Isaiah Prince
Was at the Maryland spring game...wants to visit Auburn, Ohio State, Florida, Florida State, Alabama and some others.
Scout $ - Notre Dame could be game-changer for Conner '15 OH LB Nick Conner
Visited for the Blue-Gold game and enjoyed it...ND wants him to camp as does OSU...visiting MSU on Thursday.
Rivals $ - Buckeyes have attention of elite pass rusher '15 VA DE Josh Sweat
Hearing the most from Ohio State, Tennessee, Florida State & Virginia Tech. Wants to visit Ohio State this summer & plans on making a decision after official visits and his season.
Prospects Turn Eyes to Ohio State's Summer Camp (11W)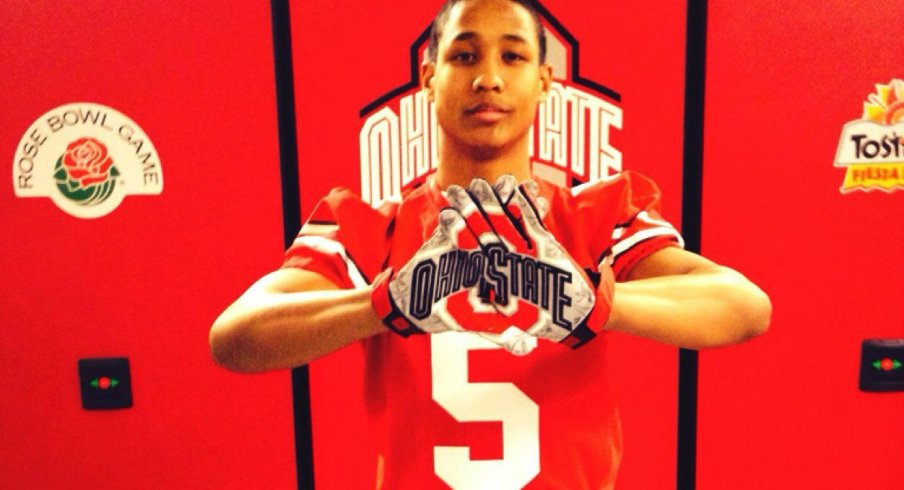 Reggie Rogers Visit Update
Massillon athlete Reggie Rogers joined high school teammate and Ohio State commitment Danny Clark for a spring game visit to Ohio State. The 6-foot, 180-pound prospect stars at receiver and safety for the Tigers. He scored 10 touchdowns while hauling in 32 receptions for 691 yards during his junior season.
Unsurprisingly, his visit to Columbus went well. The coaching staff explained what he needs to do to earn an offer. "I spoke with the wide receiver coach (Zach Smith)," Rogers told Eleven Warriors. "He told me to come to the Friday Night Lights and show out!"
Cincinnati, Kentucky and Toledo have offered the three-star prospect already, but Rogers is still keeping his options open.
cont...
Oklahoma DB Will Sunderland Receives Ohio State Offer (11W)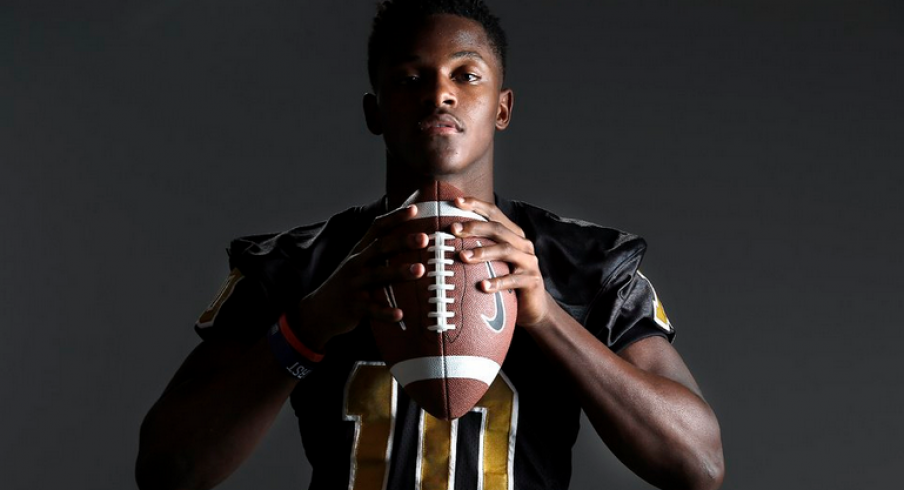 Will Sunderland earned an invite to The Opening this weekend after being named MVP of the Dallas NFTC camp. Today, Ohio State extended an offer to the big time safety prospect from Oklahoma City. The Opening has been good to Ohio State recently, and the Buckeyes hope that trend will continue this year with guys like Will Sunderland.
The word Sunderland repeatedly used to describe what the offer meant to him when we spoke was "blessed," and he was very excited to earn this offer.
Sunderland has great size and speed for a safety at 6-foot-3 and running a 4.50 forty. It shouldn't come as any surprise that he's been garnering a lot of national attention, which should only increase after picking up a coveted invitation to The Opening. Needless to say, he was pretty excited to get the invitation.
cont...
Recruiting Updates: Darrin Kirkland, Jr., Sterling Jenkins, Chandler Cox and More (11W)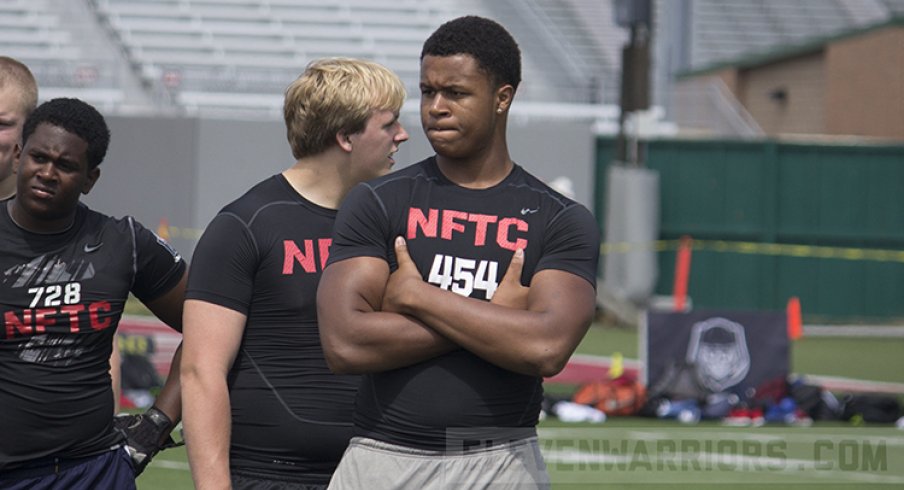 The spring game has come and gone and the Buckeyes are still sitting at three commitments for 2015, Penn State has 1,241 and the sky is literally falling.
We expected a few possible commitments this weekend, it's true. They just didn't happen, but that's not to say they won't.
Dre'Mont Jones? He'll be a Buckeye (or I'll eat my shoe). Sh'Mar Kilby-Lane? I'm not fond of percentages but I'd be pretty shocked if he doesn't end up a Buckeye. I hate to beat a dead horse, but I must: patience is necessary. The Buckeyes' plan is the Buckeyes' plan, not yours, and certainly not mine. They are on track.
We'll discuss a few players who made the trip to Columbus this weekend and then we'll talk about a big possible turkey joining an already elite group of players visiting Ohio State this week.
cont...
Ohio State recruiting: State Secrets, 4/15 - Chad Lindsay, Ricky DeBerry and more to visit (LGHL)
As was reported Monday evening, Ohio State could land themselves another transfer, this time coming in football. Former Alabama transfer offensive lineman Chad Lindsay, who announced before spring football that he would be transferring to another school, will be making five visits during this week to get a look at the college football landscape. Lindsay had a small chance of actually starting this fall for the Crimson Tide, but decided that his talents were better off elsewhere.
Lindsay would be available to start right away for the Buckeyes should they land the center, as he is a graduate and in his junior year. The 6'2, 302-pound center hails from Texas and was a part of the 2010 recruiting class for Alabama. Lindsay is planning on taking a visit to Ohio State sometime this week as well as Cal, although the day hasn't yet been specified. Urban Meyer and his staff would no doubt like to add Lindsay's experience to the team roster, as he started four games for the Crimson Tide last season.
Here are Chad Lindsay's old high school highlights, so you can get an idea of what he's capable of on the football field:
cont...