Visitors List (Subject To Change)
Today
'15 WR Jalen Guyton (Allen, TX)
Tomorrow
'15 LB Josh Barajas (Merrillville, IN)
'15 LS Liam McCullough (Columbus, OH)
'15 ATH Jerome Baker (Cleveland, OH)
March 21st-22nd
'15 RB Larry Scott (Hubbard, OH)
'15 WR Van Jefferson (Brentwood, TN)
'15 OL Simon Stepaniak (Hamilton, OH)
'15 OL James Daniels (Warren, OH)
'15 OL Patrick Allen (Reisterstown, MD)
'15 OL Matt McCann (Indianapolis, IN)
'15 DT Sterling Johnson (Clayton, NC) tentative
'15 DT Kraig Howe (Dayton, OH)
'15 LB Bryce Jenkinson (Greenville, OH)
'15 LB Matt Draper (Cleveland, OH)
'15 DB Kareem Orr (Chattanooga, TN)
'15 ATH Jordan Whitehead (Monaca, PA)
'15 ATH Brian Cole (Saginaw, MI)
'16 OL Sean Foster (Mundelein, IL)
'16 DB Jordan Overton (Lyndhurst, OH)
'16 ATH Steven Smothers (Reisterstown, MD)
March 26th
'15 TE/DE Jake Pickard (Millburn, NJ)
March 29th
'15 TE C.J. Conrad (LaGrange, OH)
'15 OL David Robbins (Glenelg, MD)
'15 OL Jake Fruhmorgen (Tampa, FL)
'15 OL Quinn Oseland (Springfield, IL)
'15 DE Darius Fullwood (Olney, MD)
'16 OL Tyler Gerald (Portsmouth, OH)
April 1st
'15 OL Gabe Megginson (Jacksonville, IL)
April 4th
'15 TE Hale Hentges (Jefferson City, MO)
April 5th
'17 OL Emani Mason (Detroit, MI)
April 10th
'16 OL Michal Menet (Reading, PA)
April 12th - Spring Game
'15 OL Larry Wells (Kenton, OH)
'15 OL Sterling Jenkins (Pittsburgh, PA)
'15 LB Sh'mar Kilby-Lane (Hallandale, FL) tentative
'16 OL Tommy Kraemer (Cincinnati, OH)
April 18th
'15 LB Ricky DeBerry (Richmond, VA)
June 1st
'15 WR Alex Ofodile (Columbia, MO)
Scout $ - Guyton Recaps Ohio State Trip '15 TX WR Jalen Guyton
Really likes the staff & could see himself working with Coach Smith. Says the visit was his top so far.
New Jersey WR Irvin Charles was offered by #OhioState and #Alabama today.
— Derek Young (@DYoungScout) March 18, 2014
Newly Offered: '15 NJ WR Irvin Charles
Football Recruiting: Updates on Torrance Gibson, Brandon Wimbush and more (11W)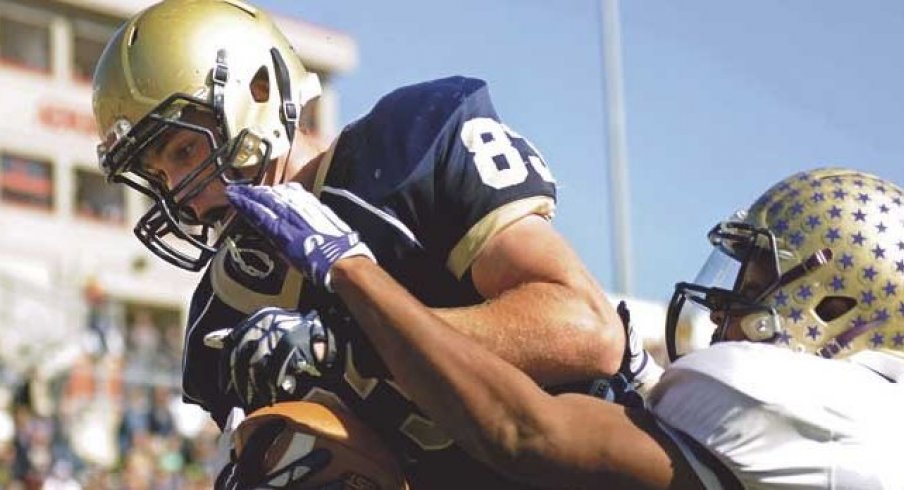 Welcome back to Tuesday night folks, where we're once again talking Buckeye football recruiting and you're invited to join us. Don't forget, it's B.Y.O.B., I'm not footing the bill for you bunch of animals.
Too much to talk about for my charming anecdotes to be front and center, so let's get into the heart of things. We'll start in Northeast Ohio, where one of the state's biggest and brightest talents for 2015 resides...
BAKER WILL VISIT OHIO STATE
Inside Ohio's borders there are two uncommitted players that sit atop the "wish list" for Ohio State and Buckeye fans alike: Jerome Baker and Justin Hilliard. Last night, Baker informed 11W that he'd be returning to Ohio State this Friday with his father, checking out the Buckeyes and what they have to offer one more time. This is another major opportunity for Urban Meyer and his coaching staff to impress the state's top talent. Baker is one of the staff's biggest recruiting targets and is as close to a "must get" as there is for the Buckeyes.
Baker also informed Eleven Warriors that the Buckeyes, who had been talking to him about playing tailback in college, are now focused on him as a linebacker.
As for Hilliard, last weekend he made what seemed to be his 450th visit to Michigan and had another great visit. The Wolverines are in great shape to land him, along with Notre Dame, Iowa, Ohio State, and Oklahoma, but his recruitment is far from over so Buckeye fans needn't worry too much at this time. The Cincinnati St. Xavier star told me at the end of last week that he'd be visiting Ohio State again sometime soon, but has not cemented a date yet.
cont...
Tommy Stevens Recaps Buckeye Visit (11W)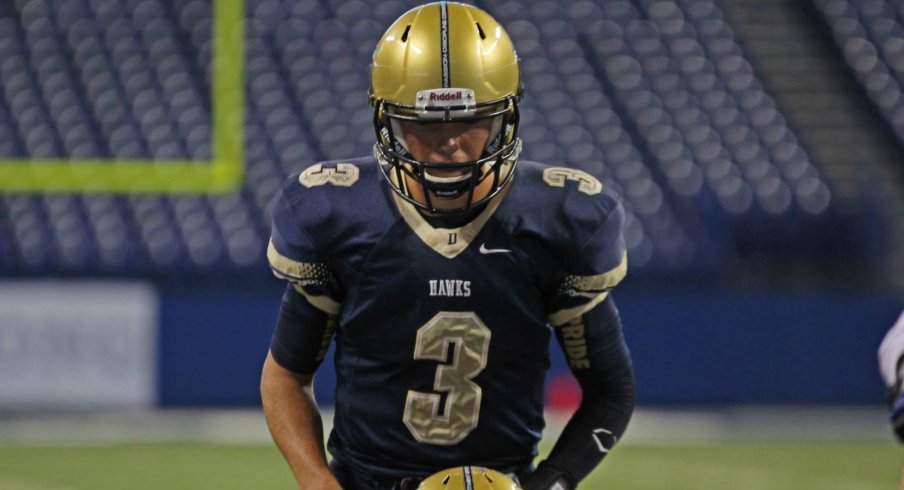 It's been a busy few weeks for Indianapolis Decatur quarterback Tommy Stevens, and if it's likely to get even busier for the fast-rising 2015 prospect. Today, he and his family made a visit to Ohio State as they prepare for a recruiting road trip that will include stops at Vanderbilt, Michigan State and Penn State in the next ten days.
"It was awesome, a '10,' no doubt," Stevens said of his initial visit to Columbus. "Everything about it was great. We got on campus around 10 a.m. this morning and toured the football complex. After that, we checked out the academic center and toured the stadium. After lunch we checked out spring practice and took in a team meeting."
For Stevens, who picked up a scholarship offer from Nebraska during his Buckeye visit, the chance to hang out with Ohio State's Tom Herman was the highlight of the trip.
"I spent much of the day with Coach Herman," he said. "He's an awesome guy and I really like the way he coached the team."
cont...
Rob Dowdy Checks Out Buckeyes Again (11W)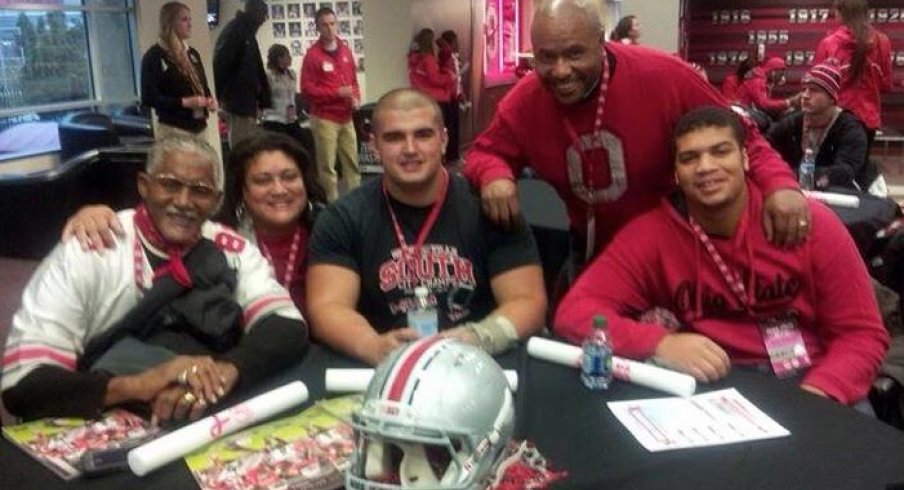 Rob Dowdy, at 6-foot-6 and 280 pounds, is perhaps the top offensive lineman in the state of Ohio for 2015. He's recently picked up scholarship offers from Michigan State, Miami and Minnesota, and today he stopped at Ohio State with his high school teammate Abu Daramy. Despite multiple visits to Ohio Stadium last fall, Dowdy said today's trip provided him a different perspective on the Buckeyes' coaching staff.
"(The visit) was great," Dowdy said of his trip today. "I got to watch practice for a while and see how they coached in practice. I loved it, they were at a very fast pace and had lots of intensity."
As he prepares to enter the summer before his senior season, Dowdy is still not sure if the Buckeyes will make him a scholarship offer, and he says there was not much talk of that today.
cont...
Ohio State recruiting: State Secrets, 3/19 - Jerome Baker to visit Friday (LGHL)
Jerome Baker confirmed that he will be visiting this weekend while Andrew and David Dowell have stated that they are in the process of planning visits to Columbus within the next two weeks.
To begin the day, the pair of brothers at St. Edwards High School, Andrew and David Dowell are currently in the process of planning a visit to Columbus within the next couple of weeks. Our own Miles Joseph has reported that it will either be this weekend or next.
Thus far, wide receiver David has been one of the most sought after recruits in the entire state and his 6'1 frame gives college coaches a lot to like. David holds 15+ scholarship offers, but has yet to receive one from Ohio State. There's no question that the Buckeyes have legitimate interest here, but in order to land David, a scholarship may have to be thrown Andrew's way as well, as they are likely a package deal. Andrew plays running back and is a big one at 6'0, 195-pounds. It's unclear at the moment if the Buckeyes would take both players, but the coming weeks will definitely be telling, especially after their visit is made.
Another big-time visit was set up by as Jerome Baker confirmed to Land-Grant Holy Land that he will be on campus Friday.
cont...
Ohio State recruiting: '15 QB Tommy Stevens recaps OSU visit (LGHL)
Indianapolis (IN) Decatur quarterback Tommy Stevens recaps his visit to Ohio State.
Ohio State kicked off what is expected to be a very big week for visitors with the team's first spring practice in almost two weeks.
Today they hosted three visitors in the form of Westerville (OH) South offensive lineman Rob Dowdy, his teammate Abu Daramy, and Indianapolis (IN) Decatur Central quarterback Tommy Stevens, who might have been the biggest visitor of the trio.
It was Stevens' first recruiting trip to Columbus and he really liked what he saw during his eight or so hours on the Ohio State campus today.
"We got there around 10. I toured the football complex, then to the academic center, and then we went to tour the stadium," Stevens told Land-Grant Holy Land. "After that we left and got lunch, then came back for meeting and practice."
Stevens got to spend time with Ohio State head coach Urban Meyer and offensive coordinator Tom Herman while on campus. He really enjoyed his time with the two coaches.
cont...
Ohio State recruiting: Previewing a big week for visitors (LGHL)
We take a look at some of the player who will be visiting Ohio State this week and weekend.
There have only been a few visitors on campus this month, including wide receiver Christian Kirk, defensive back Marcus Lewis, athlete Eric Glover-Williams, in-state linebacker Nick Conner, and a couple of basketball recruits who checked out the Ohio State-Michigan State hoops game a few weeks ago.
This week is set to be the biggest of the month as far as visitors go this week is set to be the biggest of the month as around ten prospects on set to visit this week and the list could grow as the week moves along.
Let's take an in-depth look at the massive visitor week for the Scarlet and Gray
cont...