Visitors List (Subject To Change)
Today
'15 ATH Eric Glover-Williams (Canton, OH) - commit
'15 LB Nick Conner (Dublin, OH)
March 7th
'15 LB CJ Stalker (West Chester, OH)
March 17th
'16 ATH Demetris Robertson (Savannah, GA)
March 21st-22nd
'15 RB Larry Scott (Hubbard, OH)
'15 TE Chris Clark (Avon, CT)
'15 OL Simon Stepaniak (Hamilton, OH)
'15 OL James Daniels (Warren, OH)
'15 LB Josh Barajas (Merrillville, IN)
March 29th
'15 OL David Roberts (Glenelg, MD)
April 4th
'15 TE Hale Hentges (Jefferson City, MO)
April 10th
'16 OL Michal Menet (Reading, PA)
April 12th - Spring Game
'15 QB Brandon Wimbush (Jersey City, NJ)
'15 OL Larry Wells (Kenton, OH)
'15 LB Sh'mar Kilby-Lane (Hallandale, FL)
'15 DB Minkah Fitzpatrick (Jersey City, NJ)
Scout $ - Buckeyes Offer In-State Four Star '15 OH RB Larry Scott
By Greene....Offered by Coach Meyer & will visit on 3/22. Believes Notre Dame is close to offering and doesn't have a timetable for a decision.
Rivals $ - Committed CB hopes to visit Ohio State '15 TX DB PJ Mbansor
By Givler....Spoke to Coach Ash, who says he's being recruited as a corner. Excited by the offer & wants to visit this summer.
Scout $ - Glover-Williams Solid to OSU '15 OH ATH Eric-Glover Williams
Video interview with The Bank...has added ten pounds of muscle and will be in Columbus today.
Scout$--Jefferson Eyeing Visits, Decision '15 TN WR Van Jefferson
Van will visit Tennessee, Purdue, Ohio State, Penn State, South Carolina, Clemson, and Mississippi in a few weeks. He likes Coaches Meyer and Smith and is very high on tOSU.
Rivals$--Buckeyes offer No. 2 running back '15 TX RB Ronald Jones
Offer list includes Alabama, Auburn, Baylor, Clemson, Louisville, Michigan, Oklahoma, Texas A&M and many others. Ronald says he will likely take an official visit to tOSU.
2015 QB Deondre Francois has a top four of Auburn, Florida State, Ohio State, and Tennessee and wants to visit Auburn and Ohio State soon
— Miles Joseph (@MilesLGHL) March 6, 2014
just found out today i got offers from Ohio state, Marshall,and Delaware @RivalsFriedman all thanks to god
— NextLevel_chief (@JusticePD_3) March 6, 2014
Newly Offered: '15 MD DB Justice Pettus-Dixon
#GoFrogs commit P.J. Mbanasor (@PeterJayy_2) has landed a #Buckeyes offer. #GoBucks
— Damon Sayles (@DamonSayles) March 6, 2014
Newly Offered: '15 TX DB PJ Mbanasor
Newly Offered: '15 TX RB Ronald Jones
Deondre Francois Talks Buckeyes and More (11W)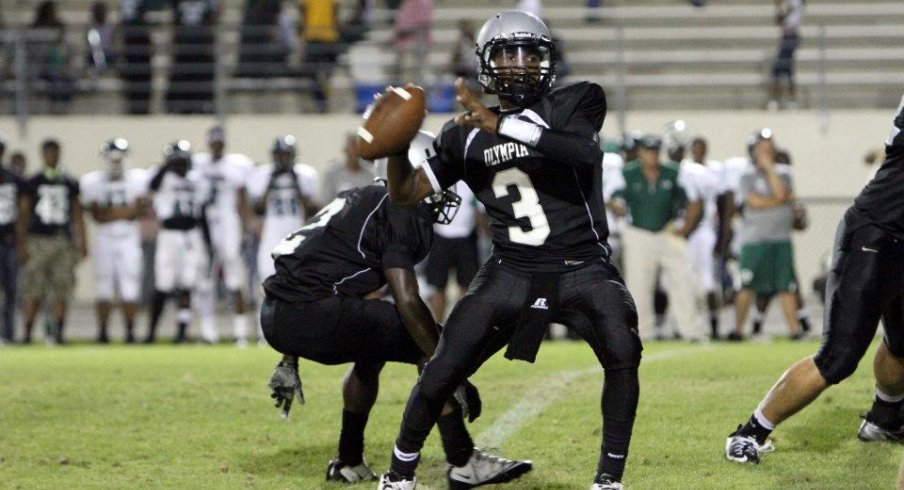 When you grow up in Florida and you play football like Deondre Francois did, getting the chance to play at Florida, Florida State or Miami is a big deal. Getting the chance to play at all three? That makes you one of the players in the country, not just the state of Florida. Forget rankings, forget arbitrary "stars," all that matters is when Al Golden, Jimbo Fisher and Will Muschamp say "We want you."
Welcome to the life of a high school quarterback. Yes, it's Torrance Gibson who gets a lot of attention (deservedly so) from the analysts, but Francois, from Orlando's Olympia High School, isn't paying attention to anything but what's coming next for him, and it's something he's been preparing for.
"Recruiting has really been ramping up for a while," Francois told Eleven Warriors. "I'm enjoying the recruiting process, and I'm adjusting well to the new attention and publicity."
Ohio State is one of the schools that have thrown their hat into the ring for Francois. The Buckeyes offered him a scholarship in mid-February did so without seeing the 6-foot-1, 190-pounder throw in person, a rarity for the Buckeyes.
"Tom Herman was the one who offered me," he said. "They liked my film. I'm hopefully going to get up there over the summer (for a visit.)"
cont...
Ohio State recruiting: State Secrets, 3/6 - Larry Scott, P.J. Mbanasor offered (LGHL)
The Ohio State staff sends out two new scholarship offers to 2015 prospects on Wednesday. 2015 3-star QB puts the Buckeyes in his top four. Plus, a top in-state offensive lineman will be visiting later this month.
The Ohio State coaching staff stayed busy on the recruiting trail on Wednesday as they sent out two new offers. They also was placed in the top four of a talented dual threat QB as well as getting a visit from an in-state lineman with Buckeye ties.
The first recipient of an Ohio State offer on Wednesday was '15 RB Larry Scott. The Hubbard High School tailback is a 4-star prospect and is the 6th ranked player in the state of Ohio in this recruiting class. Scott has already picked up offers from the likes of Alabama, Auburn, Michigan State, Tennessee and more. The 6'0, 205-pound back also comes in as the 8th overall running back and the 88th best player in the nation. Many believe that Michigan State is in the best position to land the talented back. Did Ohio State jump in a bit too late? We will see.
The other prospect to receive an offer from the Buckeyes was '15 CB P.J. Mbanasor, who is currently committed to TCU. Mbanasor committed to the Horned Frogs back in January but has since picked up offers from Missouri, Notre Dame, Oklahoma, Ole Miss , Wisconsin, Ohio State and a few others. The 4-star CB from Hendrickson High School in Texas told Rivals' Marc Givler that he wants to visit Ohio State. The 6'2, 185-pounder is the 40th ranked player in the lone star state, the 20th at his position and 290th overall for the 2015 class.
cont...