Visitors List (Subject To Change)
March 6th
'15 ATH Eric Glover-Williams (Canton, OH) - commit
March 7th
'15 LB CJ Stalker (West Chester, OH)
March 17th
'16 ATH Demetris Robertson (Savannah, GA)
March 21st-22nd
'15 TE Chris Clark (Avon, CT)
'15 OL Simon Stepaniak (Hamilton, OH)
'15 OL James Daniels (Warren, OH)
'15 LB Josh Barajas (Merrillville, IN)
March 29th
'15 OL David Roberts (Glenelg, MD)
April 10th
'16 OL Michal Menet (Reading, PA)
April 12th - Spring Game
'15 QB Brandon Wimbush (Jersey City, NJ)
'15 OL Larry Wells (Kenton, OH)
'15 LB Sh'mar Kilby-Lane (Hallandale, FL)
'15 DB Minkah Fitzpatrick (Jersey City, NJ)
Scout $ - Williams Hearing From Several '15 FL RB Dexter Williams
Wants to go to Miami, Florida, Notre Dame, USC and Georgia for visits.
top 11 Duke, Kentucky, Md, Nebraska, OhioSt, Oklahoma, Rutgers, SouthCar, Tenn, Wisc, WVU
— Jalen Christian2 (@Thatblasiankidd) March 4, 2014
Just picked up and offer from ohio state
— Tristan Payton (@tristanpayton6) March 4, 2014
Newly Offered: '15 FL WR Tristan Payton
Just received an Offer to play football at The Ohio State University #Buckeyes
— Drew Lock (@DrewLock23) March 4, 2014
Newly Offered: '15 MO QB Drew Lock
Following visit, Lewis has Buckeyes on Top (11W)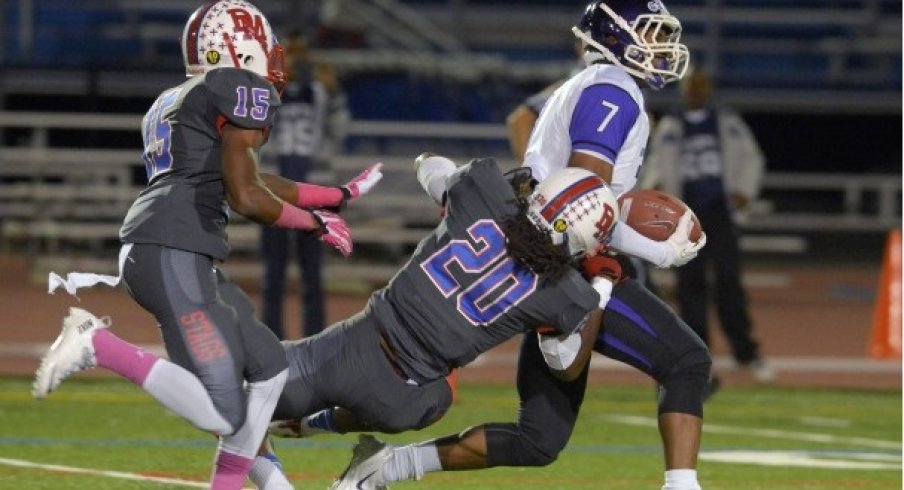 Marcus Lewis visited Ohio State this past weekend, today he named the Buckeyes his leaders. Originally reported by Ryan Bartow of 247Sports, Lewis confirmed with 11W via text that the Buckeyes are indeed on top.
"Ohio State is in the lead for my recruitment," Lewis told 11W this afternoon.
He will be going through with his visits this spring as planned, beginning with a trip to the Sunshine State to see Florida, Florida State and Miami later this month. He will formally announce a top 10 this summer, which Ohio State will be in, before narrowing the list to 5 this fall. He is still planning to decide after his senior season.
It's a long ways away from the end of his recruitment but Ohio State is obviously in great shape for now.
cont...
Ohio State recruiting: State Secrets, 3/4 - Drew Lock, Tristan Payton offered (LGHL)
Despite having the likes of Torrance Gibson, Lorenzo Nunez, and Brandon Wimbush already firmly in their crosshairs, the Ohio State coaching staff diversified their options under center late Monday by offering 4-star quarterback Drew Lock.
Lock, a Missouri legacy (his father played right tackle for the Tigers from 1986-89), hails from Lees Summit, MO and checks in at 6'5, 195 pounds. A 4-star in the 247Composite ranking, Lock's widely projected as a Missouri lean at this point in time, but an offer like the one he got Monday night from OSU can sometimes change things. Just ask probable Ohio State starting tailback (and Missouri native), sophomore Ezekiel Elliott.
You can watch the big quarterback's junior season highlights here.
That wasn't the only offer the OSU coaching staff dishes out Monday night, however. Less than two weeks after committing to the home state Florida Gators, Urban Meyer and company offered Jacksonville, FL WR Tristan Payton.
Payton's early resume isn't exactly in line with some of the four or even five-star type talent we're accustomed to seeing receive OSU offers, but he could very well be the kind of kid that once the other major services start getting additional evaluations done, you see rise up towards the four-star evaluation threshold. 247 is the only major service to have graded the 6'0 170-pound receiver at this point. Upon committing to the Gators, Alligator Army's Andy Hutchins said of Payton, "he's about as unknown as a wide receiver playing for a Florida team of some note, Jacksonville's First Coast, can get."
cont...
Ohio State issues scholarship offer to 2015 quarterback Drew Lock, a four-star prospect from Missouri: Buckeyes recruiting (Plain Dealer)
COLUMBUS, Ohio – The Ohio State coaching staff remained patient before offering quarterback scholarship offers in the 2014 class. A year later, Urban Meyer is getting the offers out sooner.
The Buckeyes offered pro-style quarterback Drew Lock a scholarship on Monday. A product of Lee's Summit, Mo., Lock also has scholarship offers from Indiana, Kentucky, Louisville, Mississippi, Missouri, Tennessee and West Virginia.
A four-star prospect rated by Rivals.com the No. 5 pro-style quarterback in the 2015 class, Lock posted the news on his public Twitter account.
cont...
OSU Sees Bright Future In Sunshine State (Scout)
Ohio State was expected to clean up in Florida once former Gators coach Urban Meyer arrived, but the Buckeyes snagged just four Sunshine State prospects in Meyer's first three recruiting classes. Two of the first three members of OSU's class of 2015 are from Florida, and the Buckeyes are pursuing several bigger fish. BSB examines Ohio State's renewed success in Florida and what's to come.
The voice of Ohio State cornerbacks coach Kerry Coombs filled the air as he spoke to a group of official visitors in December. The recruiting cycle was just two months away from coming to a close and a handful of coveted prospects from around the country were on hand in Columbus to hear the Buckeyes' best pitch.
In a pitch that has now become famous thanks to YouTube video uploads from the father of sophomore running back Ezekiel Elliott, Coombs enthusiastically ranted for six minutes in front of a gray curtain dotted with Ohio State logos. He spoke of the familial bond between both players and coaches and reiterated his pride in the recent 24-game win streak that was only outdistanced by a thirst to better it.
cont...