24/7 $ - Sweat earning "freak" label '15 VA DE Josh Sweat
Measured 6-5 229 lbs, ran a 4.59 40, 4.09 shuttle, had a 35.5 vertical and a 40-foot power ball toss at the Nike Combine in Charlotte this past weekend...posted the highest SPARQ of the year so far at 128.31 and received in invite to The Opening...entertaining offers from the likes of Florida State, Georgia, Ohio State, Virginia Tech, Alabama, Clemson, Florida, Michigan, Michigan State, Nebraska, Penn State, Oklahoma and South Carolina.
Football Recruiting: Ward, Stump, Dowdy Among Ohio Recruits to Watch for 2015 (11W)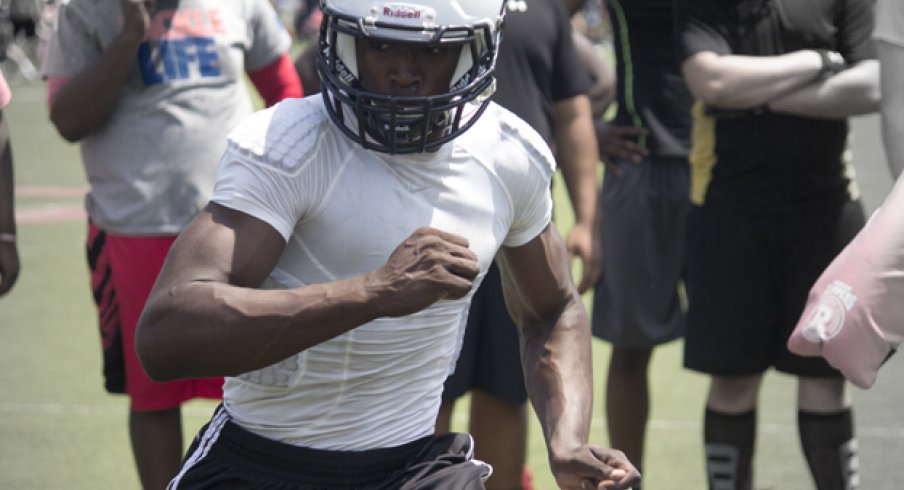 When it comes to Ohio recruiting for 2015, everyone knows the big names: Justin Hilliard, Jerome Baker, Eric Glover-Williams and Shaun Crawford; these are the top four players in the state. Two of them (EGW and Crawford) are already committed to their childhood favorites (Ohio State and Michigan, respectively) and Baker/Hilliard will choose their colleges from a veritable who's who of powerhouse football programs, with Ohio State firmly in the mix for each of them.
After the top four, there are still a number of known commodities: Lagrange's C.J. Conrad is the nation's ninth-ranked tight end. Winton Woods (Cincinnati) two-way lineman George Brown, Jr. has nearly 40 scholarship offers and we've talked at length about Dublin Scioto tackling machine Nick Conner, who I believe will be playing his college ball in Columbus.
With dozens of BCS-level talents inside of the state's borders, you might be surprised that there are a number of players who are still — as of now — flying a bit under the proverbial radar. While camp appearances and senior seasons will open up doors, these are a handful of players that MAC coaches are hoping don't get discovered by Ohio State and the "big boys."
cont...
Ohio State recruiting: State Secrets, 2/24 - Darius Slade recaps official visit (LGHL)
Surprising many on national signing day by flipping his commitment from Michigan State and signing with Ohio State, defensive end Darius Slade finally made his way to Columbus from Montclair, New Jersey to officially visit the campus for the first time.
"The official visit was by far the best visit I have been on," Slade told Land-Grant Holy Land. "The players are great and sitting down with the coaches was unbelievable. The facilities are top notch. From the dorms to the campus, it is the best I've seen," the 6'5 240-pound three-star prospect and last member of the class of 2014 recruiting class added.
While on his visit to Ohio State, Slade had the opportunity to get better acquainted with a number of Buckeye upperclassmen and his Dream '14 classmates. "My host was Tyquan Lewis. I hung out with so many of my teammates it was as if they were all my host," Darius said. "They took care of me there and I look forward to playing with those guys. I hung out with the early 2014 enrollees. It was great. It's a special class that I'm astounded to be apart of."
cont...
Ohio State commit Ben Edwards considering visits to Auburn, others (LGHL)
A couple of weeks ago Ohio State scored a commitment from Jacksonville (FL) Trinity Christian Academy safety Ben Edwards.
In the weeks since he commitment, he has still been hearing from a lot of schools including Auburn, North Carolina, Notre Dame, Stanford, and UCLA. He told Land-Grant Holy Land that he plans to eventually take visits to three of the schools in the form of Auburn, North Carolina, and Stanford.
Edwards tell us right now he considers himself a "soft-verbal" to Ohio State though he states he definitely still has them as his number one school. Like a lot of recruits these days, he just wants to keep his options open.
"I'm keeping my options open," Edwards said. "I'm still talking to coaches. (My commitment to Ohio State) is just a soft verbal right now. They're my number one school of course, though."
This will be an interesting recruitment to follow as it's clearly not over. Many, including myself thought Auburn was the team to beat for the three-star safety, before he shocked the recruiting world by committing to the Buckeyes back on February 11th.
cont...