Visitor List (Subject To Change)
February 15th
'15 LB Ricky DeBerry (Richmond, VA)
March 21st
'15 TE Chris Clark (Avon, CT)
Scout$--Cain gets Buckeye offer '15 FL ATH Deon Cain
Deon says he was shocked by tOSU's offer and can't wait to visit.
BG$--Conner set for visit '15 OH LB Nick Connor
Nick is ready to sit down with Coach Meyer and see where he stands for an offer.
Rivals$--No. 3 center lands offer '15 OH OL James Daniels
James discusses the Auburn offer and says distance will not be a factor with him.
247$--5* Settle Returns to Blacksburg '15 VA DT Tim Settle
Tim enjoyed a visit to Virginia Tech and will see Tennessee, West Virginia and Virginia over the next three weekends.
Rivals$--Hilliard gets offer, ponders visit '15 OH LB Justin Hilliard
Justin picked up offers from USC and North Carolina State. He would like to visit USC and is planning a southern trip soon.
Rivals$--Rivals100 RB Love talks Nebraska, Vandy offers '15 NC RB Bryce Love
Bryce says N.C. State, North Carolina and Ohio State have been showing the most interest.
Newly Offered: '15 FL DB Tyrek Cole
Newly Offered: '15 FL WR Kahlil Lewis
Ohio State Commit Demetrius Knox on His Recruitment (11W)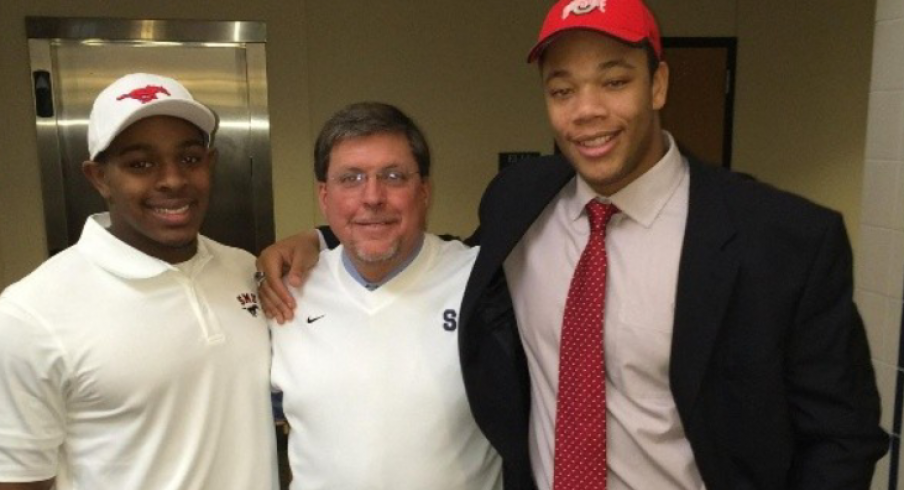 Demetrius Knox, the first member of this site to sign with Ohio State to play football, is back to share the story of his recruitment.
First of all, I'm happy that I finally get to write on my favorite site again, and thanks to Birm and the rest of the staff, I may be able to write a couple articles on here. It's been a while but I thought I would give you all a heads up on what the last month or so has been like for me.
Some of you may know that when coach Strong left Louisville and went to Texas, Daniel Gresham had his offer pulled with the new coaching staff at Louisville. That really hurt me because Coach Strong promised Daniel that he wasn't going anywhere and even if he did, he promised that Daniel would be able to come with him. Once (Strong) left like he said he wouldn't, he did not take Daniel with him and that threw me into a bit of a funk with recruiting and coaches everywhere. It was so late in the process and everyone was pretty much full at the running back spot and I was worried Daniel would be left out in the cold.
cont...
Breaking down the 2015 recruiting class - Ohio State's top 10 junior targets: Buckeyes recruiting (Cleveland)
COLUMBUS, Ohio – When Urban Meyer signed his 2014 recruiting class Wednesday, it was the third consecutive top-five class he assembled since taking the Ohio State job.
The groundwork for his fourth in a row has long been in motion.
So here's the list of Ohio State's top 10 targets in the 2015 recruiting class, all of which have already been offered scholarships.
1. Torrance Gibson, QB, Plantation (Fla.) American Heritage – Meyer typically waits to see quarterback prospects in camp before offering, but he didn't wait on Gibson. A 6-foot-4, 195-pound prospect, Gibson is the ideal fit in Ohio State's offense and he has become a must-get for the Buckeyes. Gibson, a four-star prospect, has offers from Alabama, Clemson, Florida, Florida State, LSU, Miami (Fla.), Texas A&M and many others, but the Buckeyes have good gained early positioning. Landing Gibson would give Meyer a much-needed elite quarterback to build the class around.
cont...
McDowell situation unresolved, visits on tap (Rivals)
Five-star defensive end Malik McDowell was the only class of 2014 prospect ranked in the Rivals250 who did not send in a letter of intent last week, and a resolution to his recruitment may not come for several weeks.
McDowell announced a commitment to Michigan State over finalists Florida State, Michigan and Ohio State on National Signing Day. He did not follow up that commitment by sending a letter of intent to East Lansing, however.
Malik McDowell is the only unsigned prospect in the class of 2014 Rivals250.
The choice of Michigan State was McDowell's, but his parents have been clear that they would like to see their son at one of his other finalists. Exploring those possibilities more in-depth is likely over the coming weeks according to his father, Greg McDowell.
"I know he is open to taking some unofficials to Florida State and Ohio State," Greg McDowell said. "We plan on doing some unofficials and see if he and his mom can resolve this. It's possible she'll be open to Michigan State as well, so we'll have to see."
cont...
Ohio State recruiting: State Secrets, 2/10 - Kahlil Lewis offered (LGHL)
There is no question Thad Matta and staff would like to add another big man to their the 2014 class. After having already signed Garfield Heights power forward Dave Bell, the Bucks are still in the Myles Turner race, and are even reportedly taking a look at the junior college ranks for a post player. Between all that and trying to get the team marching in the right direction, Matta and company are also heavily recruiting 2015 prospects.
Late last week, one of the top overall basketball players in the country announced his top six, with the Buckeyes making the cut. Five-star center Daniel Giddens, who visited campus in December, released a list that consists of OSU, Arizona, Indiana, Georgia, Florida and Kansas. The 6'10, 215-pound Georgia native is currently the 22nd overall ranked player in the class of 2015, according to the 247Sports Composite Rankings. Numerous recruiting analysts believe Ohio State could currently be the team to beat for the force down low, with six writers already casting their votes for the Buckeyes on their 247Sports Crystal Ball predictions.
cont...