THE PERTINENT INFO
When: Saturday, September 18, 2021
Where: Ohio Stadium, Columbus, OH
TV: 3:30 // FS1
Announcers: Tim Brando and Spencer Tillman
This will be the second time for Ohio State and Tulsa play each in football. The Buckeyes defeated the Golden Hurricane 48-3 in an end of the world monsoon event in September of 2016. 
Phillip Montgomery's team is currently 0–2 after losing to FCS UC Davis (17-19) and Oklahoma State last week (23-28).
Below, you will find some interesting facts about the teams, coach information, and team stats.
THE LAST TIME...
The Scarlet and Gray lost to Tulsa was...never.
Ohio State played on September 18th was against Ohio in 2010. The Buckeyes defeated the Bobcats 43-7 in the Shoe.
The Buckeyes lost to a non-Power 5 team was 1990 Liberty Bowl. Air Force defeated Cooper's crew 23-11.
Ohio State lost back-to-back regular season games was 2011. 
The Scarlet and Gray finished a game with over 700 yards of total offense was against Maryland in 2019 (705).
The Buckeyes lost the third game of the season when playing in Columbus was to USC in 1990.
ON THE HORIZON​​
If Ohio State's defense allows Tulsa to score 30 or more points, it will be the second time in program history the Silver Bullets have allowed 30+ points in four-straight games. 
C.J. Stroud needs 131 passing yards against Tulsa to have the Ohio State record for most passing yards after three games to start a season. 
Chris Olave remains one touchdown catch away from tying Santonio Holmes (25) for fourth on the all-time career touchdown list.
Olave is 73 yards away from surpassing Dee Miller for ninth on the all-time receiving yardage list.
This will be the 36th time Ohio State has faced a current member of the American Athletic Conference (31–3–1).
Since losing to SMU in 1950, the Buckeyes are 20–0–1 against the current members of the AAC. The tie was against SMU in 1978. 
GET TO KNOW TULSA
Tulsa is located in Tulsa, OK.

The university was established in 1894. 

The Golden Hurricane are in their 125th season of playing football. 

The team's original nickname was established as Golden Tornadoes in 1922.

The nickname was changed to Golden Hurricane after it was discovered that Georgia Tech used the name Golden Tornadoes in 1917. 

The school colors are old gold, royal blue and crimson.

The Golden Hurricane played their first football game in 1895.

Notable alumni are Paul Harvey (The rest of the story and Bose pimp), S.E. Hinton (The Outsiders author), Steve Largent (NFL HOF, Seahawk and congressman), Gordon Matthews (inventor of voicemail), Rue McClanahan (Golden Girls) and Dr. Phil McGraw (attended and played football, did not graduate). 
STRANGE OKLAHOMA LAWS
It is illegal to take an alligator into downtown Tulsa.  
Not sure how this became a law, but it might be a safe guess that there was a gator catastrophe at some point in the past.
You are not allowed to put any hypnotized person in a display window. 
Several disturbing questions come to mind. Why are shop owners putting hypnotized people in windows? What are the hypnotized people doing in the window? Who is volunteering to do this?
It is unlawful to be intoxicated in a pool hall.
If you own a pool hall, you are allowed to serve alcohol. However, once a patron gets tipsy, they must be removed. Isn't the point of playing pool to be drunk?
You are not allowed to play catch on any city street in Bartlesville. 
The angry old, "Get off my lawn" men are rejoicing. Kids won't be playing in their immaculate yards or on their street.
It is illegal to have sex before you are married. 
So, if the people of Oklahoma aren't allowed to do the deed before marriage, and relations don't happen after marriage, when do Oklahomans get it on? I guess this explains the population decline in the Sooner state. 
​TODAY'S TRIVIA QUESTIONS:
Can you name the former Buckeye head coach who is a member of Tulsa's hall of fame? 
Ohio State's defense has given up 30 or more points in three consecutive games, how many times has this happened in program history?
Which current members of the American Athletic Conference have defeated the Buckeyes? 
THE COACHES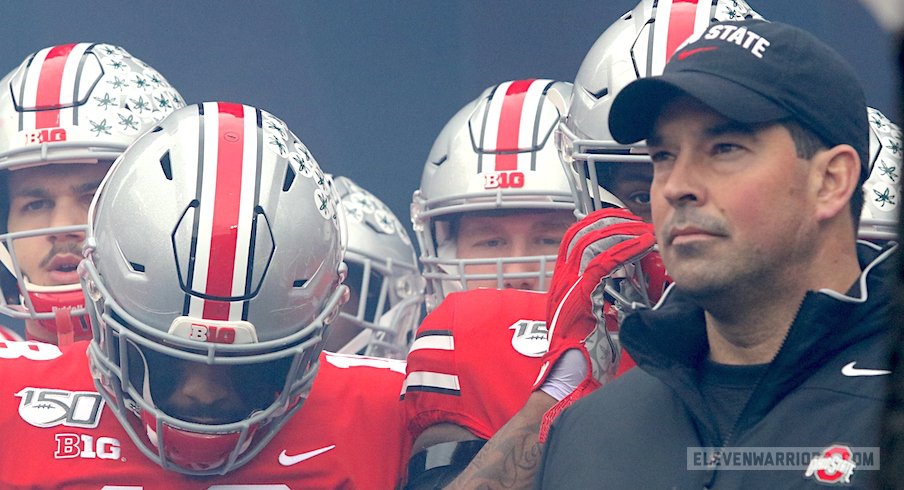 Ryan Day
24–3 (.889) at Ohio State (3rd year)
24–3 (.889) overall
Day's hometown is Manchester, NH. He attended Manchester High School and attended college at New Hampshire. Day has been in coaching for 20 years and is Ohio State's 25th head coach. 
Over his three seasons, Ryan Day and the Buckeyes have outscored their B1G opponents 822-297. That is an average victory of 46-17. 
After 27 games with Day as head coach, Ohio State has put up a program record 1,226 points. Urban Meyer's teams had 1,117 points after 27 games.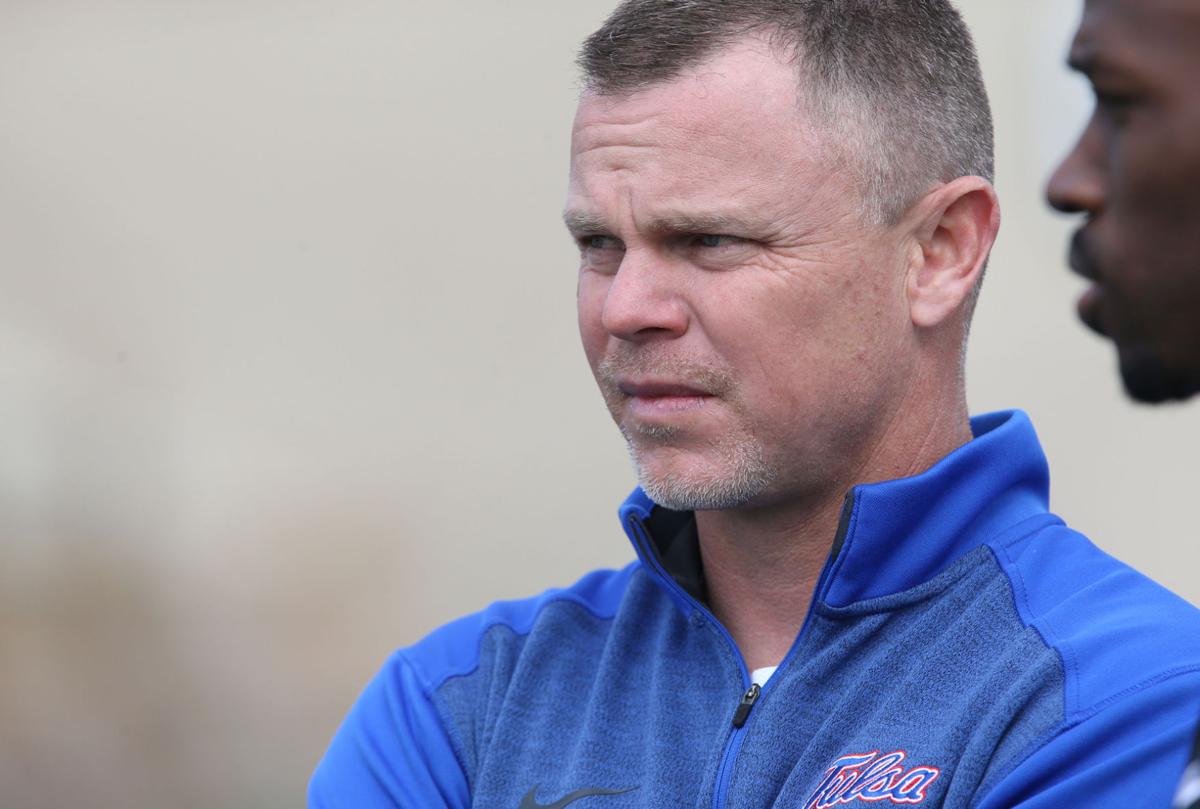 Phillip Montgomery
31–42 (.425) at Tulsa (7th year)
31–42 (.425) overall (7th year)
On December 11, 2014, Phillip Montgomery became Tulsa's 29th head coach. Last year, the Golden Hurricane lost to Cincinnati in the AAC Championship and finished the season with a 6–1 record. It was Tulsa's first winning season since 2016. 
Montgomery started his collegiate coaching career with Houston in 2003. He was the running backs and quarterbacks coach for the Cougars for five season. In 2008, he jumped to Baylor where he maintained the same position with the Bears, but was also the co-offensive coordinator.
At Baylor, Montgomery coached Heisman winner, Robert Griffin III. He was also the Bears' offensive coordinator during his last three seasons (2012-14).
CLIFF CLAVEN'S LITTLE KNOWN FACTS CORNER
0.....Ohio State's current winning streak.
1.....the Buckeyes' current losing streak.
2......pick sixes for the Silver Bullets against Tulsa in 2016.
4......consecutive B1G titles.
8.......100-yard receiving games for Chris Olave.
9......TFL recorded by Tulsa against UC Davis and Oklahoma State.
10....tackles for Ronnie Hickman against Oregon.
11.....tackles for Teradja Mitchell against Oregon.
12.....receptions for Olave against Oregon, a career high.
13.....starters from last year are not on this year's team.
15.....the Buckeyes are 15-0 when starting the season against B1G foes.
16.....straight conference wins.
18.....times Ohio State has finished a season with at least 11 wins.
20.....years Ryan Day has been a coach.
22.....consecutive season-opening victories.
23.....home game season winning streak snapped last week.
25.....bowl wins for Ohio State.
33.....straight seasons ranked in the AP preseason Top 25.
35.....completions for C.J. Stroud against Oregon, second most in school history.
40.....the number of Big Ten titles the football team has won.
46.....returning letterman are on the 2021 roster. 
69.....minute weather delay that occurred in the 2016 game against Tulsa.
70.....yards TreVeyon Henersond blazed for his first touchdown.
71.....yards Miyan Williams rumbles to score the Buckeyes' first TD in 2021.
85.....Buckeyes selected in the first round of the NFL Draft.
89.....Consensus All-Americans.
100...this is the 100th season the Scarlet and Gray have played in Ohio Stadium.
132....number of years for Buckeye football.
152...the number of years The Ohio State University has been in the education business.
167...number of passing touchdowns since 2017 (Ryan Day's arrival).
453...victories for the Buckeyes in Ohio Stadium.
461...Ohio Stadium victories for the Buckeyes when including the 2010 season.
484...C.J. Stroud's passing yards last week, second best in program history.
778...yards Stroud has thrown for in the first two games of the season – the most ever for a Buckeye to start the season. 
932...number of official wins for the program (we know it's actually 944).
936...times Ohio State has been ranked in the AP poll.
2021 Statistical Comparison
 
OFFENSE
36.5
37th
POINTS FOR
20.0
108th
164.5
66th
RUSHING OFFENSE
182.5
51st
389.0
4th
PASSING OFFENSE
212.5
78th
553.5
8th
TOTAL OFFENSE
395.0
68th
.435
57th
3rd DOWNS
.261
120th
.750
98th
RED ZONE
.667
113th
DEFENSE
33.0
108th
POINTS ALLOWED
23.5
74th
236.0
123rd
RUSH DEFENSE
114.0
50th
220.5
77th
PASS DEFENSE
242.0
88th
129.9
79th
PASS EFFICIENCY DEFENSE
147.7
105th
456.5
112th
TOTAL DEFENSE
356.0
71st
.533
118th
3rd DOWNS
.471
104th
1.000
89th
RED ZONE
1.000
89th
SPECIAL TEAMS
-1.8
127th
PUNT RETURN
3.3
89th
25.0
30th
KICKOFF RETURN
16.8
98th
41.4
43rd
NET PUNTING
35.6
106th
MISCELLANEOUS
+0.0
65th
TURNOVER MARGIN
-1.0
101st
6.5
69th
PENALTIES
9.0
118th
12
EDGE
7

TODAY'S TRIVIA ANSWERS
Can you name the former Buckeye head coach who is a member of Tulsa's hall of fame? 
Answer: John Cooper. He was awarded the honor from Tulsa in 2011. Cooper is also a member five other halls: NFF/College Football Hall of Fame, Greater Knoxville Hall of Fame, Rose Bowl Hall of Fame, Iowa State Athletics Hall of Fame and Ohio State Athletics Hall of Fame.
Ohio State's defense has given up 30 or more points in three consecutive games, how many times has this happened in program history?
Answer: Four times (1893, 1988, 2013 and 2021). 
Which current members of the American Athletic Conference have defeated the Buckeyes? 
Answer: Cincinnati (1896 and 1897) and SMU (1950). Both wins by the Bearcats were in the Queen City.