The NCAA made a formal commitment on Tuesday to update its policies to give student-athletes the opportunity to benefit from their name, image and likeness.
Now, the top leaders around college athletics have 14 months to figure out exactly how that's going to work.
As the co-chair of the NCAA Board of Governors' Federal and State Legislation Working Group, which has spent the past five-and-a-half months coming up with recommendations for how the NCAA should proceed forward with allowing name, image and likeness benefits, Ohio State athletic director Gene Smith is among those who have already played and will continue to play a key role in those discussions.
Smith has been involved in conversations for several years about allowing student-athletes to benefit from their name, image and likeness, so he's glad the NCAA is finally starting the process of making that happen. He also believes there are many important conversations that still need to be had, though, between now and January 2021, when each of the NCAA's three divisions are expected to have new rules in place regulating name, image and likeness benefits.
"I don't have an opinion right now on how it should work. My only opinion is that we need to do this," Smith told Eleven Warriors on Thursday.
While Smith's 19-person working group, which consists of a variety of athletic directors, commissioners, university presidents, faculty representatives and student-athletes, has met with the Board of Governors – which is chaired by Ohio State president Michael Drake and made up primarily of university presidents and athletic directors – Smith said it is now time to have conversations with many more people throughout college athletics to determine what the next steps should be.
"I think that we have to keep in mind that, across all divisions, we're 1,100 schools," Smith said. "Everybody should have input in this. It shouldn't just be some working group, or it shouldn't just be the Board of Governors … I'm anxious to have a conversation with my peers in the Big Ten about this, as opposed to a working group or a Board of Governors saying 'This is how we're going to do it.'
"This has to be an inclusive process. We have to take time to do it right," Smith added. "We just got to make sure we do this right."
Tuesday's announcement by the NCAA Board of Governors came just one month after the state of California officially passed a law, set to go into effect in 2023, that would allow student-athletes in the state to profit from their name, image and likeness, and prevent schools from complying with current NCAA rules that prohibit athletes from being compensated for their name, image and likeness.
Lawmakers in several other states have also introduced similar bills – some of which could go into effect before 2023 – putting the pressure on the NCAA to implement new policies before then that will enable schools in those states to comply with their respective state laws.
Given that the issue of student-athletes being unable to take full advantage of their profitability is one that has hovered over college athletics for many years, Smith doesn't think it's a bad thing that the NCAA's hand has been forced into action.
"I fought for years for cost of attendance, took us forever to get to that," Smith said. "This actually has been a conversation for a long time. The pressure groups have really helped us move it along. So I'm a big believer in this."
The concern that Smith shares with many leaders throughout the NCAA, however, is that allowing student-athletes to get paid without proper regulations in place could take away from what they believe make college athletics great.
"This has to be an inclusive process. We have to take time to do it right." – Gene Smith on allowing NCAA athletes to profit from their name, image and likeness
One of Smith's biggest concerns about name, image and likeness benefits is how the opportunities to receive those benefits could impact recruiting, and he believes that's an important distinction between college and professional sports that needs to be understood.
"We recruit. We don't draft," Smith said. "So what we have to figure out is around these activities, whatever they end up being, how do we make sure that can be monitored, is transparent, kids still have choice and they're not influenced by a third party or they're not influenced just by how much they can make at each school. And because of the diversity of our membership, that's an issue."
Smith also wants to ensure that college sports continue to be steeped in education, and that any new policies do not take away from all the opportunities that student-athletes currently have as part of their experiences at schools like Ohio State.
"There's no incubator left in higher education where you take a group of people, like we do on a football team, from all walks of life – different socioeconomic backgrounds, different religions, different races, ethnicities, urban environments, rural environments, dual-parent homes, single-parent homes, I could just keep going – and we ask them to set aside those differences and work together as a team toward one common goal," Smith said. "The lessons learned in that experience, I think sometimes are forgotten. And so that's an education that if you ask every athlete who's out of college, they appreciate that they had that opportunity, to learn those life lessons through sport participation and competition.
"I want to help us maintain that environment, where we have a chance to help young people grow and develop young women into women, young men into men, through those experiences that we provide through college athletics," Smith added. "We have a lot of our pro players who come back from the pro environment and talk about what we have here that they don't have in the pros. So it's a whole different ballgame."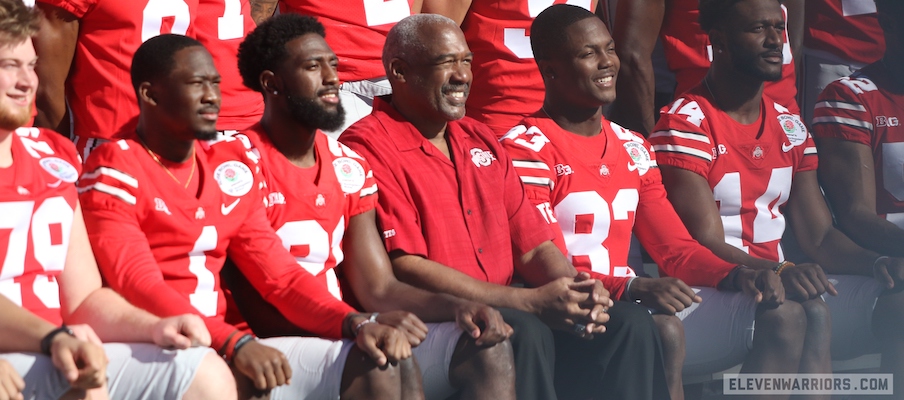 All of that said, change is coming to the NCAA. So instead of the question now being whether student-athletes should have the opportunity to benefit from their name, image and likeness, it's how exactly they should be allowed to do that in a way that is fair to them and complies with state laws but also, as the NCAA said in its statement, is "in a manner consistent with the collegiate model."
Smith said there are many different ideas that have been suggested, but now, the job of his working group is to gather feedback from representatives throughout college athletics to develop a framework for what the next steps should be.
Those conversations will take place in various settings, including conference meetings and the NCAA Convention in January, before the working group will make its next presentation to the Board of Governors in April.
Smith said he hopes that by the time they present that report in April, they will have come up with a model that can ultimately become legislation by August or September and approved for implementation in 2021.
"We're going to do something. And I know there's a lot of people who are apprehensive about what that will be, but we're going to provide an opportunity for student-athletes to take advantage of their name, image and likeness," Smith said. "I just think people need to understand that we're going to do something, and I think they need to try and understand the differentiator is, the distinction is we recruit. And that's going to be a challenge for our association, but we got to figure that out."