No. Nope, no, not this time, no.
How many times have we been here? How many times have the Harbaughverines started September looking like a legitimately fun, kickass team that might put something resembling the fear of God into the Buckeyes, only for them to fall flat on their faces within a few games?
Three times. I counted.
In 2017, Michigan played the Gators in Texas and put the screws to them. They only allowed Florida 11 total rushing yards and had an incredibly balanced offensive attack, winning 33-17. In 2019, the Wolverines started their season by pummeling Middle Tennessee State, 40-21. Shea Patterson threw for three touchdowns, surely a sign of great things to come. And of course, last year Michigan beat the hell out of Minnesota, 49-24, and I ended up comparing Joe Milton to Cardale Jones. I'm sorry Cardale.
Anyway: The 2017 Wolverines finished 8-5, losing their last three games in a row. 2019, 9-4, got embarrassed by Ohio State and Alabama to end the season. 2020, they beat Rutgers. And nobody else.
Michigan looked really, extremely fun and cool against this past weekend against Western Michigan (a legit team with a good quarterback), winning 47-14. A traditionally anemic rushing game popped off for 335 yards and Michigan's previously godawful defense looked, if you squint, comparable or better than what Ohio State did against Minnesota.
I LOVE THIS TEAM MICHIGAN IS BACK BABY!!!!!!

— Wolverine SZN (@WolverineSZN1) September 4, 2021
Hahaha. Not today, Satan!
OFFENSE
Bad news first, wideout Ronnie Bell is out for the season. Which blows. Bell is an electric player, as he showed on Saturday. This catch didn't count but in an alternate universe where refs aren't complete garbage, it did:
He also had a 76 yard touchdown reception and a fantastic 31 yard punt return, but the latter is what got him hurt. Bell was the best offensive player on the team and this is an enormous blow. Michigan's other wide receivers are decidedly just Some Guys (Cornelius Johnson has the potential to be great, but was meh against WMU), and aside from the fact that this will make Michigan less fun to watch, it's unfortunate that college football is losing a guy like Bell so early in the season.
The good news for Michigan fans is that their long-dormant running game came roaring back. Cade McNamara only had to throw 11 passes because huge runs from the likes of A.J. Henning (?) and Blake Corum (???) were more than enough to seal the deal. Hassan Haskins added solid work, but Corum was the real surprise here; rushing for 111 yards on 14 carries is no small feat for a guy who managed all of 74 yards on 26 carries in 2020.
Is it sustainable? Probably not. McNamara will eventually have to throw more than a handful of easy passes as teams with competent defensive lines turn Corum and company mortal. And the loss of Bell is brutal. But hey! Wunderkind J.J. McCarthy threw a fantastic (albeit stupid) touchdown!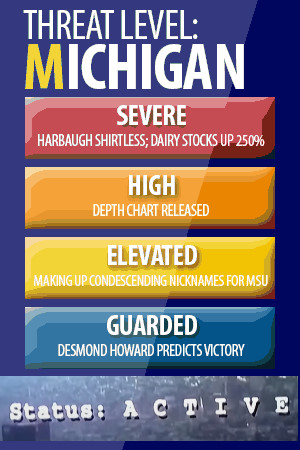 DEFENSE
If Michigan's future is going to reflect the potential that they flashed this Saturday, it's going to be on the back of a defense that looked like the hell on wheels as they were beating the crap out of Western Michigan. The Broncos put together a grand total of three good drives all afternoon and they were lucky to get that.
Though Michigan as a whole only recorded a single sack, Aidan Hutchinson was basically unblockable the entire game. This should probably come with the caveat that WMU also kind of forgot to block him for much of the game, with multiple blown assignments and bad scheming, but the larger point is that Hutchinson was excellent and everywhere.
The secondary did their job. Safety Daxton Hill had a fantastic afternoon and as a whole the unit played really well against one of the best quarterbacks in the MAC. Kaleb Eleby had only a 191 yards passing on 37 attempts, of which he completed just 20. Not too bad.
VOLCANO (1997)
12 year old Johnny had a nascent crush on Anne Heche, which is probably why I was able to sit through Budget Dante's Peak, aka Volcano. It isn't great. I read a review of Volcano once that pointed out that, unlike Dante's Peak, you don't really see a lot of the volcano, despite it being literally called Volcano. A lot of lava and ash but a bulk of the danger is literally a slow burn where most of the action is first responders yelling at each other ("How do we RE-ROUTE this freakin' LAVA???"), which they try to rectify in the third act by having Tommy Lee Jones blow up a building or something. I will say that one of my favorite things about 90's disaster movies is how they continue the tradition of making mid-level government scientists the heroes while sprinkling in some hamfisted social commentary, so because of that, Volcano gets two and a half A-C-T-I-V-Es out of five.
THREAT LEVEL
Still LOW. I don't care. The Wolverines have three very winnable games to finish out the first month of the football season, and next week they should look fairly dominant against a Washington team that just got embarrassed against Montana (yes, really).
So do it, jerks! Or else be consigned to Low forever!