Jeff Hafley's first six months as Boston College's head coach haven't gone the way he or anyone else would have expected.
Like Ohio State and every other team in college football, Hafley has been physically distanced from his players for more than three months due to the COVID-19 pandemic, missing out on offseason time together that is especially important for a team with a brand new coaching staff.
The former Ohio State co-defensive coordinator hasn't let that get him down, though, as he prepares to coach the Eagles through a season for the first time this fall.
"We just have to be able to adapt," Hafley said this week. "It's day-by-day, do the best you can, stay positive. If things change, don't get worked up about them, just try to move forward the best you can."
Hafley is back working at his office on campus now, and Boston College's players returned to campus on Monday, though they have been asked to quarantine for at least eight days before they will actually resume on-campus workouts. But he says the last few months have also taught him some lessons that he will continue to implement in his life even as things start to get back to normal.
"It's changed a lot of ways I think about being in the office, being out of the office, spending time with family, letting coaches spend time with family because now we know we can accomplish so much from home and how important it is for us to be around our families as well," Hafley said. "If I'm sitting here in my office watching tape and it's 7:00 at night and I know I have three hours left of film, why not go home and do it there? I think it's important for our families to see, maybe we're still in our offices working but I think there's something to be said about our wife and kids knowing that we're in the house and that they can come and say hello, and we're there to put our kids to bed. 
"So I've learned a lot from that regard. I believe I've become more organized, because in order to accomplish everything we had to do from home, we had to be extremely organized and on top of things."
As every coach around the country has had to navigate unprecedented circumstances over the last few months, Hafley says he had many conversations with his friends within the profession to talk about what's worked for them and what hasn't in their experiences. That includes his former boss at Ohio State, Ryan Day, whom he says he still speaks with regularly.
"Ryan and I talked a lot throughout the quarantine, we shared ideas, bounced things off each other and we'll continue to do that. And a lot of coaches have been very helpful," Hafley said.
Hafley enters his first season at Boston College with a challenging job in front of him, as he takes over a program that has been mired in mediocrity. The Eagles went 6-7 in 2019 and never won more than seven games in any season in the 2010s. Nonetheless, Hafley is confident that the future of his program in Chestnut Hill is bright, and he isn't letting the challenges of his first offseason as a head coach change his expectations.
"The biggest thing I've told the team and I'll say to the media is, we're not gonna use it as an excuse, 'cause I'm not going to make excuses," Hafley said. "Every team had to go through it. And I just kept telling the team, let's not waste this opportunity to get better. And I said the same thing to the staff. And I believe the staff did an incredible job and I appreciate all their effort."
Hafley wants to build a culture at Boston College like that which he was a part of last year at Ohio State. Specifically, Hafley wants that culture to start in the weight room – like it does under Mickey Marotti's leadership in Columbus – which is why he hired Phil Matusz, who had been one of Marotti's assistants at Ohio State since 2014, as Boston College's head strength and conditioning coach.
"I think that's very, very important, to set the culture and the mindset of a team in the weight room," Hafley said.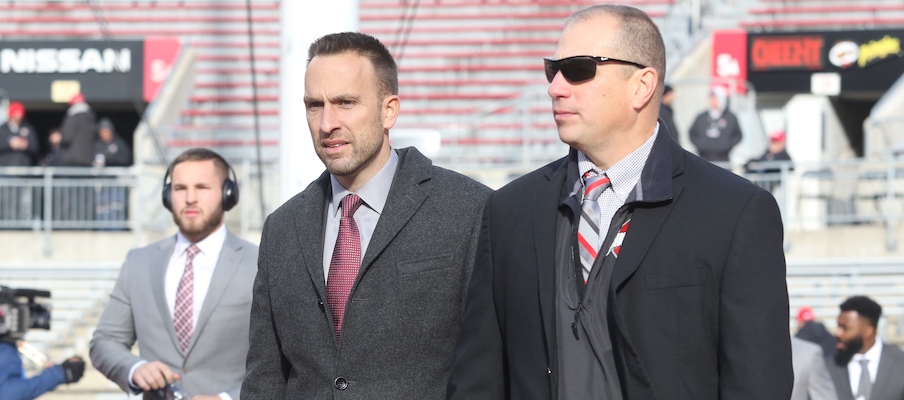 Matusz has also drawn from his experience at Ohio State, including the national championship run in his first year with the Buckeyes, as he tries to instill a similar mentality in the Eagles.
"I've never met a group of players that were so committed to doing and challenging themselves on a daily basis," Matusz said of Ohio State's 2014 championship run during an interview session with Boston College reporters in May. "To continue on and practice the way we did and train the way we did, many people are like, 'You're going too hard. You're not going to be able to withstand the rigors of college football from Week 10 to the final game, you're not gonna make it.' And that's where mindset and will, it's amazing to see what the human body is capable of when you believe in something. And in that locker room, you had a lot of people that believed in each other, from coaches and players. It's really, really cool to see what the game of football can do for players."
Hafley has also brought his defensive scheme to Boston College, where he will look to engineer a similar turnaround for the Eagles – who allowed the sixth-most yards per game in the entire Football Bowl Subdivision last season – as he did at Ohio State, which led the nation with only 259.7 yards allowed per game in 2019 after giving up more than 400 yards per game in 2018. He brought multiple staffers from Columbus to help him in that regard, too, as linebackers coach Sean Duggan was previously a defensive graduate assistant at Ohio State while special teams coordinator Matt Thurin was previously a defensive quality control coach for the Buckeyes.
"They felt comfortable with the scheme that was implemented and they know my beliefs defensively, and I think they're great coaches, great people and I'm excited that they're here with me," said Hafley, who said he will simplify the defensive scheme as needed this season due to the missed practice time this offseason.
Even though Hafley was only at Ohio State for one season, he built close bonds with many of his players while he was there, and still keeps in touch with them, too. Two of his former defensive backs at Ohio State, Jeff Okudah and Jordan Fuller – now both in the NFL – even went up to Chestnut Hill in February for a day of training with Hafley.
Spent today with @jeffokudah & @j_fuller4 for some draft/combine prep! Board work, film work, then hit the indoor for drills. If I was still in the nfl I know who Id be drafting. Life time relationships! Love these two-great players, amazing people #FutureProBowlers #GetIn pic.twitter.com/uulFoSDo2D

— Jeff Hafley (@CoachJeffHafley) February 15, 2020
Both of them, as well as fellow former Ohio State defensive back Damon Arnette, credited Hafley with helping them get to the league while attending the NFL Scouting Combine in February.
"I kind of credit him for the leap I've taken in my career," said Okudah, who the Detroit Lions selected with the No. 3 overall pick in April's NFL draft. "He's had a tremendous impact on my life. The way he's taught me the game, the way he's helped me develop as a person, the way he's even helped my technique a lot. I think that without Coach Hafley, I might not be in this position I am in right now."
Hafley's goal at Boston College, where he will also coach one former Buckeye in transfer wide receiver Jaelen Gill, is to keep making that same kind of lasting impact on his players.
"It's why I wanted to come back to college football," Hafley said. "I wanted to develop relationships with these players that last forever, and I believe I'll have that with a lot of those guys (from Ohio State). Some of us talk weekly. I want them to know that I'm there for them and I believe they're there for me. And I want the same relationship going forward with all the players that I have on my team. So it means everything to me, because that's why we get into this."