I am not by nature an optimistic man, but I will say that the bye week has left me refreshed and with a new outlook on life and Ohio State's chances for the rest of the season. Nebraska? Pfft, it's the Dubgate weekend! Ohio State never loses those. Michigan State might actually be attempting some kind of football performance art where a team refuses to field an offense, and Maryland is an even bigger tornado of angst than Ohio State is at the moment.
Michigan, by virtue of being demonstrably good, now has all the pressure. Win out, and they're likely in the College Football Playoff. But they have to do it first, and while the upcoming tilt against Penn State is looking a hell of a lot less intimidating than it did a month or so ago, Jim Harbaugh and the Wolverines now have to deal with the weight of expectations for the first time in a while.
So who will have more chill by the end of November? We'll find out.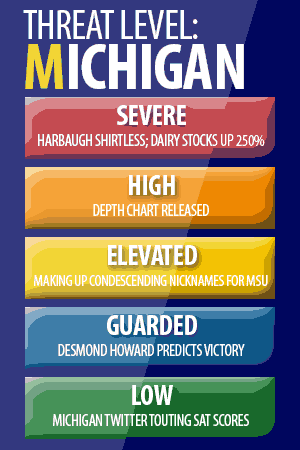 THREAT LEVEL
Spoilers, the Threat Level is still at SEVERE because not a whole lot has changed for either the Buckeyes or the Wolverines, but here are a few items of note:
The Wolverines are at No. 5 in both the AP and Coaches' Polls, and will likely be somewhere around there when the first CFP rankings are released tomorrow. LSU is getting the benefit of the doubt, but I'd take Michigan straight up against them. Not that any of it really matters, of course, because Alabama is light years ahead of everyone else, but still.
Michigan defensive lineman Rashan Gary continues to be out, possibly for the rest of the season. Unlike Nick Bosa, Gary's absence doesn't seem to have tempered the effectiveness of the other players in his unit, but like Nick Bosa, Gary is a likely first round NFL Draft pick and could make the smart move to protect his health (and deal with a bunch of fans who like to pretend that they wouldn't also take tens of millions of dollars if someone offered it to them).
Finally, the line against Penn State is hovering right around -10.5 points in favor of Michigan, which seems a tad high given how this pseudo-rivalry has played out over the years. Still, Penn State has regressed a lot over the season, and represents Michigan's penultimate major hurdle to the Big Ten championship game.
Whatever it means for Jim Harbaugh and company to be on their game, I would be shocked if they didn't get there.