Football is back in earnest this week, starting with today's slate of games. Our apologies to California and Hawaii, who opted to play last friday in Australia for a 10 p.m. ET kickoff. With the start of the season, we bring back our weekly viewing guide feature to tell you about the week's slate of games.
It will be a big first week too. The opening week has increasingly become a spectacle in college football, supplanting the traditional model that saved the big non-conference games to the third or fourth weeks of the season. Now, the first week rivals January 1 for the most action-packed slate of non-conference games on the entire schedule.
In other words, ESPN may mean it when it says this is the biggest opening weekend ever. Let's dive into the schedule.
Thursday
Charlotte at Louisville (ESPN3, 7 p.m.). It's not a good look for anyone involved when a preseason top-25 team is up first on the "first day" of the college football, in the first time slot, and is not on national television.
Indiana at Florida International (ESPNU, 7:30 p.m.). The first kickoff of a national network goes to Indiana, of all teams. The Hoosiers travel to Miami to play the FIU Panthers. Indiana is routinely a pain in Ohio State's ass under Kevin Wilson and the Buckeyes host Indiana in its second Big Ten game this year. You may want to watch the Hoosiers on ESPNU. Richard Lagow, an Oklahoma State transfer, is Indiana's new quarterback.
Appalachian State at Tennessee (SEC Network, 7:30 p.m.). The preseason No. 9 Volunteers have a lot of optimism for 2016. It's one of the highest preseason rankings for Tennessee in quite some time. The program, one of college football's all-time winningest, hasn't won the SEC since 1998 and hasn't won 10 games in a season since 2007. Let's see how Tennessee limps to another four-loss season this year.
South Carolina at Vanderbilt (ESPN, 8 p.m.). It's a new era for the Gamecocks. Steve Spurrier retired after coasting on Florida accolades for 12 years of uneventful seasons in Columbia. His replacement: another Florida retread in Will Muschamp. Muschamp says he's changed. He proposes the same defensive prowess he demonstrated in Florida and elsewhere as a defensive coordinator, but promises an offense that operates at something greater than a fourth-grade reading level. His first game is a conference game. It's the second time in three years the Gamecocks have opened the season with a league game.
Southern Utah at Utah (Pac-12 Network, 8 p.m.). This might be worthwhile if you have Pac-12 Network. Southern Utah doesn't stand a chance, but Utah is a fringe Pac-12 team that might pique your interest.
Rice at Western Kentucky (CBS Sports, 8 p.m.). Western Kentucky got four points in the AP Poll, the only Conference-USA team to receive votes.
Oregon State at Minnesota (BTN, 9 p.m.). Minnesota starts its season on a Thursday night for the fifth consecutive year. It hosts an Oregon State team coached by one-time Wisconsin coach/current Barry Alvarez refugee Gary Andersen.
Friday
Army at Temple (CBS Sports, 7 p.m.). Temple was one of last year's surprise programs, amassing a 10-win season and an appearance in the first American Athletic Conference championship game. It lost two straight (to Houston in that game and to Toledo in the bowl game). It will try to repeat last year's success.
Furman at Michigan State (BTN, 7 p.m.). Like Minnesota, Michigan State has forged its own tradition of beginning the season on a week night. Watching Michigan State while you can. It has a second week bye. You won't see the Spartans again until the September 17 clash at Notre Dame.
Colorado State vs. Colorado [in Denver] (ESPN, 8 p.m.). This is the Rocky Mountain Showdown. It's a subtly fun affair for the casual college football fan. You may want to watch Colorado this game to see if it's any good. It's the most experienced roster in the program's history (412 combined starts), but the roster may be full of scrubs. The Buffaloes travel to Michigan in two weeks.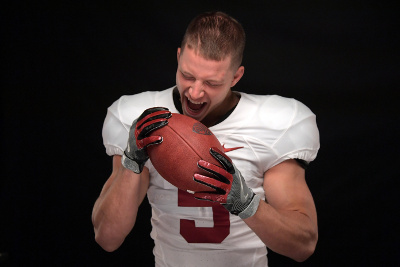 Kansas State at Stanford (FOX Sports 1, 9 p.m.). This might be the first attraction of the season, or is at least the first game of the season featuring a top-10 team. The Pac-12 and Rose Bowl champion Cardinal host Kansas State, a respectable program from the Big XII.
Stanford is a big favorite (-15) in this game. Having a Heisman finalist and a small army of future NFL offensive linemen on the depth chart will help toward that end. Still, it's worth reiterating that Bill Snyder is a sorcerer.
Toledo at Arkansas State (ESPNU, 9 p.m.). A MAC-Sun Belt affair wouldn't otherwise deserve fanfare, but we remember Toledo for its win at Arkansas last year. The Rockets even have two points in the AP's preseason poll.
Saturday
Georgia Tech vs. Boston College [in Dublin, Ireland] (ESPN2, 7:30 a.m.). Two ACC teams playing a league game in Ireland is either a cry for help or a tax dodge.
Don't see these flying off the sales racks. #greatgooglymoogly pic.twitter.com/oe7mmkJ9qh

— Ken Sugiura (@ksugiuraajc) August 31, 2016
Oklahoma vs. Houston [in NRG Stadium] (ABC, 12 p.m.). Two national championship campaigns could be effectively scuttled after a 12 p.m. kickoff on the first Saturday of the year.
Houston was last year's Cinderella. It secured the Peach Bowl invitation despite an inexplicable loss at Connecticut because of the new participation rules in the College Football Playoff. It made good on the invite by routing the remains of Florida State's national championship team from two years earlier. 
It now wants something more, but it won't get it if it can't beat one of two Power Five conference teams on its schedule. The only other heavyweight on the schedule is Louisville.
Likewise, Oklahoma put forward a workman-like season to power into the playoff despite the Texas loss. Questions persist whether Bob Stoops can reaching the heights he had last decade. A win over Houston is a start. A loss effectively answers the question in the negative for 2016.
Oklahoma is a two-score favorite (-11).
Bowling Green at Ohio State (BTN, 12 p.m.). Ohio State's season starts on Saturday. Stay tuned to Eleven Warriors for comprehensive coverage of this game.
If you're living in the DMV, you might get Howard at Maryland on BTN at this same time slot.
Western Michigan at Northwestern (ESPNU, 12 p.m.). Northwestern's season starts with a MAC snack. A ten-win team from last year also travels to Columbus at the end of October.
Hawai'i at Michigan (ESPN, 12 p.m.). Hawai'i played last Friday in Sydney. Its next game is in Ann Arbor, over 9,000 miles and 14 time zones from Sydney. Jim Harbaugh isn't helping matters by being kind of a dick about issues of fair play and honest competition.
"Weeks" in a college football schedule are ad hoc concepts, but technically Hawai'i is playing two games in the first "week" of the season. I wonder how often that has happened before.
Missouri at West Virginia (FOX Sports 1, 12 p.m.). When I think Big XII vs. SEC football, I think West Virginia vs. Missouri.
Rutgers at Washington (Pac-12 Network, 2 p.m.). Monday's Poll Watch identified Washington as one of the more intriguing stories in college football's preseason. The Huskies are a trendy pick to win the Pac-12 North and have a favorable schedule toward that end. It starts with the debut of Rutgers' Chris Ash, whose first game as a head coach is a road game across the country.
UCLA at Texas A&M (CBS, 3:30 p.m.). UCLA and Texas A&M have a home-and-home to begin each team's season in 2016 and 2017. The first game is in Kyle Field. Credit both for scheduling a series of clear regional intrigue and, importantly, scheduling it as a home-and-home.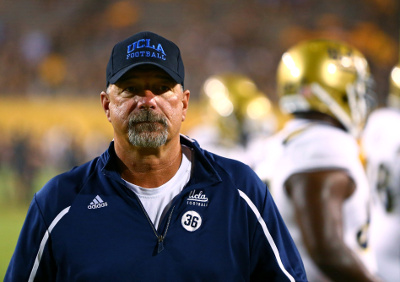 The Bruins are a favorite to win the Pac-12 South. They're also the No. 16 team in the country. It should be embarrassing for the Bruins to be a one-point underdog to an SEC West team that might finish fourth in the division.
Beyond that, UCLA will have to deal with Texas A&M's offensive coordinator, Noel Mazzone. Mazzone came to Texas A&M from... UCLA. Could be an awkward post-game handshake.
LSU vs. Wisconsin [in Green Bay] (ABC, 3:30 p.m.). To start a theme I'll belabor elsewhere in this post, there is nothing so special about an NFL venue, not even Lambeau Field, to preclude this game from being played in Madison. Both LSU and Wisconsin are unique in their conferences for playing disproportionately better at home than they do on the road. Night games at those stadiums are insane experiences. This would've been better as a home-and-home rather than a series played in Houston and, now, Green Bay.
Beyond that, Wisconsin will have to deal with LSU's new defensive coordinator, Dave Aranda. Aranda came to LSU from... Wisconsin. 
That must be an SEC thing.
Kent State at Penn State (BTN, 3:30 p.m.). You will see this or the start of the Lovie Smith era in Champaign when the Illini play Murray State.
Louisiana Tech at Arkansas (SEC Network, 4 p.m.). Our old friend Bert is starting his fourth year in Fayetteville. He's the preseason pick to finish No. 5 in the SEC West. Let's see if four million dollars a year can get Arkansas more than eight wins in 2016.
Georgia vs. North Carolina [in the Georgia Dome] (ESPN, 5:30 p.m.). North Carolina is nominally the home team for a game in the Georgia Dome. Got it.
This is the Chick-fil-A Kickoff Game, pitting the ACC Coastal Division (I had to look it up) champion Tar Heels against the Georgia Bulldogs, who are led by first-time head coach, Kirby Smart.
Georgia, which just announced its starting quarterback for this game, is a slight favorite (-2.5).
San Jose State at Tulsa (CBS Sports, 7 p.m.). Scout next week's opponent on CBS Sports, 7 p.m.
Southern Mississippi at Kentucky (ESPNU, 7:30 p.m.). I wonder if we're at the point where we stop fearing Kentucky is a thing that could happen. The Wildcats had done well to recruit players to Lexington that would otherwise land in mid-tier Big Ten programs. Its even stuck a thumb in Michigan State's eye once or twice on the recruiting trail. Yet, that has not manifested in a winning program for Mark Stoops. He has just 12 wins in three seasons. If it doesn't happen this season, Stoops may not get a fifth year to see if it could.
Massachusetts at Florida (SEC Network, 7:30 p.m.). I had to double check that this wasn't a Little League World Series game.
USC vs. Alabama (ABC, 8 p.m.). To continue a point raised earlier, there is nothing so special about an NFL venue, even Jerry Jones' Babylon, to preclude this from being a home-and-home in Los Angeles and Tuscaloosa. Both the Crimson Tide and the Trojans have a unique history. They've crossed paths during a pivotal time in the University of Alabama's integration. Long-time Alabama football fans in their 50s or 60s could tell you all about Sam "Bam" Cunningham and Clarence Davis, both USC greats.
Alas, a preseason top-25 game on a "neutral" venue is little more than a legerdemain by Alabama football, which convinces you its playing these tough non-conference games in a "neutral" venue that is conveniently more accessible to Alabama fans than fans of the opposing team. The Crimson Tide would rather play these venues and get a cookie from college football pundits for it than follow through on its home-and-home commitment with Michigan State.
USC is a solid program. It could win ten games this year, win the Pac-12 South, and justify Alabama's path toward a No. 1 selection in the College Football Playoff. It's just not ready now for Alabama. Expect Alabama to cover that spread (-9).
Fresno State at Nebraska (BTN, 8 p.m.). Nebraska appears on Ohio State's schedule again this year, but must start with Fresno State before that November 5 clash with the Buckeyes.
Clemson at Auburn (ESPN, 9 p.m.). No. 2 Clemson hopes to end a season ranked No. 1 for the first time since 1981. It came close last year. It returns almost everyone from last year's offense to propel Deshaun Watson toward the Heisman ceremony and the playoff again.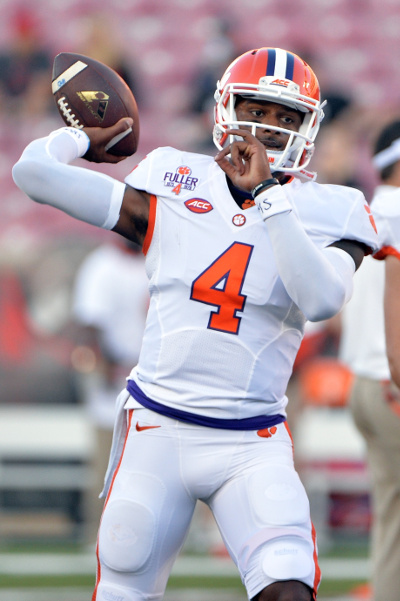 This Tiger-on-Tiger, Auburn vs. "Auburn with a lake" matchup has been a common occurrence of late. This will be the fifth contest between both programs in the past 10 years. It's as many times as South Carolina has played Auburn over that same period despite both programs sharing a conference.
Clemson is an eight-point favorite this contest. Auburn, despite hosting this game and having "SEC" painted on its turf, does not have a lot of optimism entering the season. It will threaten Mississippi State for a last-place finish in the division.
Drink every time ESPN's cameras show Kevin Steele. Auburn's new defensive coordinator was run out of Clemson after the 2012 Orange Bowl. Yes, it was that Orange Bowl in which Clemson surrendered 70 points and gave Dana Holgorsen tenure for life after his first year in Morgantown.
Also drink for every mention of John Heisman. Both he and Walter Riggs are considered "fathers" of both programs and are responsible for the Tigers nickname at both schools. Technically, Riggs may have been more important than Heisman in that regard, but Heisman is the name you know.
BYU vs. Arizona [in Glendale] (FOX Sports 1, 10:30 p.m.). I'm not sure this needed to be a third-party venue and I'm not convinced we're going to see a packed house tomorrow.
Demand for both teams is not high at the moment. Arizona won't challenge to win the Pac-12 South. It might win seven games. Meanwhile, a .500 season would be a small miracle for the Cougars under first-year head coach Kalani Sitake. That schedule starts with Arizona, Utah, UCLA, West Virginia, Toledo, Michigan State, and Mississippi State. It could conceivably start the season 0-7.
Sunday
Notre Dame at Texas (ABC, 7:30 p.m.). How good is Notre Dame and can Charlie Strong survive a third year in Austin? We'll find out Sunday.
Notre Dame is a top ten preseason team, its highest preseason ranking since No. 2 in 2006. Some of that is good fortune. Notre Dame's 2016 schedule is much more benign than its 2015 schedule was. There's no Clemson and it hosts Stanford this year. The ACC draw on the schedule includes Duke, Syracuse, NC State, Miami and a home tilt against Virginia Tech. None of those look daunting at the moment.
Some of that is recruiting. Notre Dame is among the country's best bringing in new talent to replace key departures like Will Fuller and Jaylon Smith.
Perhaps the major component to that preseason No. 10 ranking is how miserably unlucky the Irish were last year on the turnover and injuries front. If we assume that's a fluke, we acknowledge that the Irish won 10 games last year despite that. They could be even better in 2016.
Across the sideline, it's the start of a make-or-break year for Charlie Strong. Mack Brown left him with a mess, but the profession is an impatient one. The Longhorns are 11-14 in his tenure. Texas A&M and the major players in the SEC (e.g. Alabama, LSU) have made it more difficult to recruit in the Longhorn State.
The flagship university in Texas might have the state's fifth best football program. This is an uncomfortable truth and one Longhorns fans won't stomach for long. Texas might finish fifth in the Big XII this season. Charlie Strong's seat would be awfully hot in December for it.
Monday
Ole Miss vs. Florida State [in Orlando] (ESPN, 8 p.m.). This is the ACC's inaugural Labor Day kickoff, a game in which Ohio State mercifully does not have to participate for the indefinite future.
Ole Miss has done what is almost unthinkable on paper: beat Alabama in back-to-back games under Nick Saban. It won the Sugar Bowl last year. Yet, that Sugar Bowl invite was pro forma given the new College Football Playoff format. The Rebels still lost at Memphis last year and was one overtime loss to Arkansas from an SEC Championship Game berth. The Rebels are the only team in the SEC West, beyond new addition Texas A&M, to never participate in the SEC Championship Game.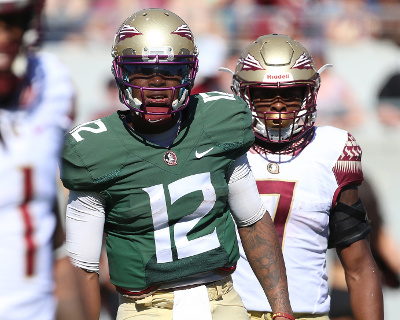 The Sugar Bowl win, Ole Miss' first since 1969, rests on a hollow foundation (i.e. basically the Alabama win). It could've had more, but the program doesn't know what that looks like in its past 40 years as a program. It will try for more this year.
Meanwhile, Florida State is a talent-laden squad that has some analysts convinced the Seminoles, not the Tigers, are the ACC's representative in the playoff. So many key players return from last year. Just about the entire starting offense is back. Most of the defense is back. Florida State never wanted for talent under Jimbo Fisher, nor a good coaching staff. It'll host Clemson this year too. Your Labor Day game might be your first glimpse to the ACC champion.
The only hangup? Sean Maguire fractured a bone in his foot in one of the Seminoles' first practices. Deondre Francois, a redshirt freshman, is the new guy taking the snaps. The last redshirt freshman quarterback to guide a Seminoles offense loaded with talent did well enough on the field, given the circumstances.