Chapter 46: WRONG-WAY WOLVERINES

---
The Wolverines had been surprisingly bad all season, and Michigan fans had reason to fear the worst against the Buckeyes. Urban Meyer had already demonstrated a Woody Hayes-like penchant for burying teams. If Meyer had the chance it was not hard to imagine him following in Hayes's footsteps, running up the score against That School Up North and then going for the two-point conversion. Why? "Because they wouldn't let me go for three."
But the Wolverines thought different. "The guys in that room and the guys in this program were the only ones that knew what was going to happen today," Taylor Lewan said afterward. "We were ready to fight [Ed. literally]. Everyone was fighting for each other...I'm proud of these guys."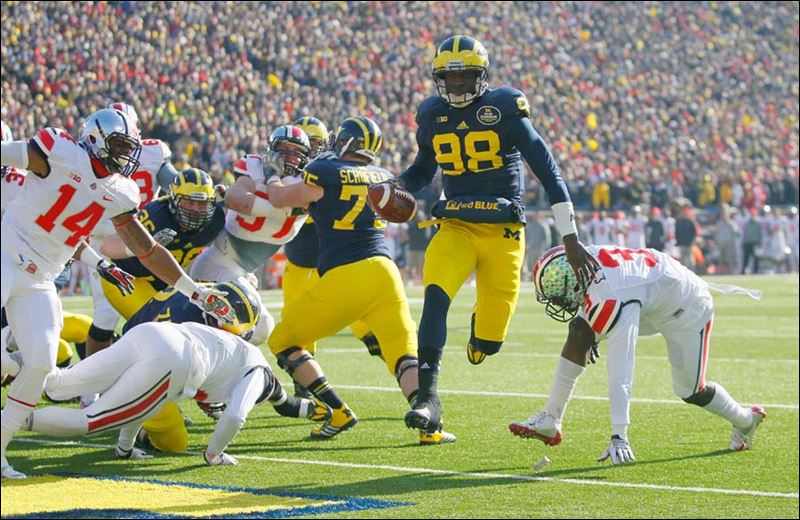 With almost everyone in the Big House fearing a blowout, the first quarter ended 14-14. The first half ended 21-21. The Wolverines were in it to win it. The offensive linemen were effective, but the coaching staff finally made it easier for them by giving Devin Gardner quick-developing plays, with the option to pass or run - something resembling the spread option offense.
"A lot of people didn't like Borges," Gardner said, when we talked in 2015. "But I really didn't care about that. I just wanted to do my job. Against Ohio State, Borges mixed it up, allowed me to run first, and gave me a chance."
"Denard [Robinson] was just like a bolt of lightning - a freak of nature. His gaps are five feet. Mine might be five inches, but I can get a first down. Once we ran a few, they had to respect that. After that when I dropped back I could pass because they didn't know what I was going to do. 'Oh, he's dropping back? What should I do? Rush? Too late! I've already completed the pass.'"
But in a second-quarter scrum, Gartner broke a bone in his left foot. "I knew it immediately," he told me. "I was almost in tears. But I didn't take any shots - nothing. Man it hurt like hell - but I didn't care. I could have broken a thigh bone and kept playing. Nothing was going to stop me from finishing that game."
But in a season when Michigan could never get both sides of the ball playing their best, the offense was as focused as the defense was lost, giving up 6 touchdowns to the Buckeyes. Finally, in the waning seconds, Gardner threw a 2-yard touchdown pass to Devin Funchess to pull within one, 42-41.
"The Buckeyes called a time-out and we come back with the same look, the same play. When you see them set up, you knew they were ready for us."– Devin Gardner on the final play of the 2013 Ohio State-Michigan game
But instead of kicking the extra point for the tie and possibly pushing the game to overtime, Hoke asked his players if they wanted to go for the two-point conversion, and the win. They were unanimous.
"We played the game to win," Hoke said afterward.
Like his teammates - and a majority of the crowd, it seemed, which cheered the decision - Gardner agreed with Hoke's decision to go for it, but not with the play itself, which they had already used in the game. The play called for Drew Dileo to run just over the goal line, then turn back to Gardner, who would fire that instant.
When I started to explain to Gardner that I'd since learned the Ohio State coaches and players already knew, after the time-out, what Michigan's coaches had called and were ready for it, he cut me off midsentence by raising a hand.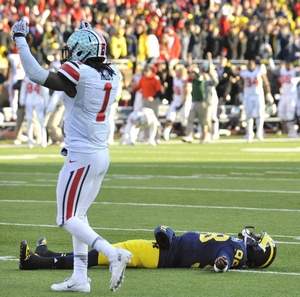 "I know, I know," he said, with a resigned grin. "They [the Buckeyes] called a time-out and we come back with the same look, the same play. When you see them set up, you knew they were ready for us. I'm pretty sure the only person who didn't know they knew was Al Borges. That's the only way they covered it so well."
Gardner might have been stoic about how it went down, but the resulting loss still stung more than a year later.
"My least favorite moment of my career had to be the end of that Ohio State game. It's still the biggest game of the year, we had just run a perfect two-minute drill, and we are losing by just one point. Everyone was covered and I was about to get tackled. Had to get rid of it. But I beat myself up about that for a long time."
Afterword many people online opined that Borges had called the play partly to avoid Gardner having to run or even roll out on his broken foot. Gardner shook his head.
"My foot was broken but I've come this far. I had already run on it on the third-and-nine - and made it. Man, give me the ball! I'll run this thing! I'll jump over this pile! I'll make something happen."
---
Endzone: The Rise, Fall and Return of Michigan Football will be available on September 1. Preorder here.