Ohio is known for great football in all corners of the state. Stemming from those great programs are even better coaches, leading Eleven Warriors to investigate how these great leaders are remembered in their respective hometowns.
---
NEWCOMERSTOWN, Ohio — On the second floor of the Temperance Tavern Museum in the small town of Newcomerstown, Ohio, up an old, rickety flight of stairs sits a tiny room — roughly 8 feet by 12 feet — that idolizes a football coaching legend.
Inside, there are photos framed and hanging on the walls. There are multiple scrapbooks with an abundance of press clippings. Autographs and books are spread out on a glass display case right next to a bronzed hat and football spikes mounted on a piece of hardwood.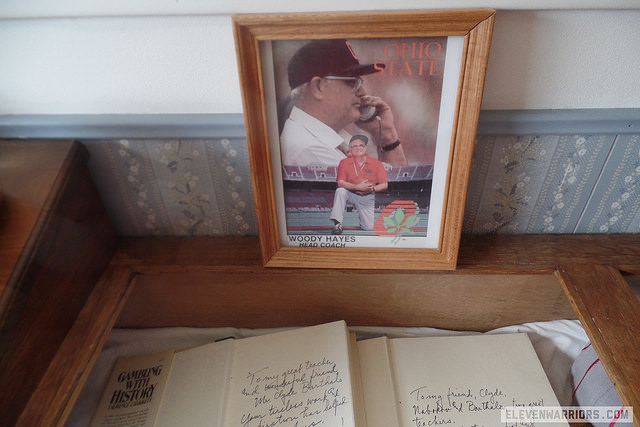 Downstairs in the museum's gift shop, there are scarlet and gray T-shirts with the coach's face on them with 'Newcomerstown, Ohio' embroidered across the chest. There are additional books and biographies written about this hometown hero.
Any piece of memorabilia one could hope for to remember this coach, you're likely to find it here in this building which was constructed in 1841 and turned into a museum in 1973.
"I think he might be worth more than an 8 by 12 room and a couple of T-shirts," joked Walter Murphy, an employee at the Temperance Tavern.
The room is small, for sure, but it's jam packed with unique items, most of which have been donated to help keep the exhibit different than all the others.
This is how Necomerstown pays homage to one of its own, after all. This is how a tiny town remembers one of its legends: Wayne Woodrow Hayes.
---
As an undersized high schooler, "Woody" Hayes played center on the Newcomerstown High School football team.
"My dad said Woody was just a young kid running around doing things in school, playing in the mud and playing football," said Murphy, whose father was two years ahead of Hayes in school and knew him quite well.
After graduating in 1931, Hayes went on to play football at Denison University, where he graduated in 1935. He began coaching shortly thereafter, as a high school assistant coach before taking a head coaching position at New Philadelphia High School in 1938. However, after three years of leading the Quakers, Hayes opted to enlist in the United States Navy in 1941.
When Hayes returned from the Navy in 1946, it just so happened his alma mater needed a head coach. And after three years at Denison — including a 19-game winning streak — Hayes moved on to become the head coach at Miami University.
After two quick seasons at Miami — the second including a bowl game win over Arizona State — Hayes was hired as the head coach at Ohio State in 1951.
"Everybody knew Woody. He's the guy around here."
You know how the rest of the story plays out.
Hayes went 205-61-10 in 28 seasons as the Buckeyes' coach. He won five national championships — 1954, 1957, 1961, 1968 and 1970 — and claimed 13 Big Ten championships. Hayes and Michigan coach Bo Schembechler took part in the famous "Ten Year War," a decade-long battle between two archrival schools. Hayes' career, of course, came to a stunning end following the 1978 Gator Bowl when he punched a Clemson player near the sideline.
The final tally includes 238 wins against just 72 losses as a college coach. Hayes lives in Ohio State lore as not only one of the greatest coaches in Buckeyes history, but in college football history.
---
Hayes and football are almost synonymous, especially in a place like Newcomerstown. Perhaps that's exactly why it shouldn't be surprising that the Newcomerstown High School football stadium rests on the corner of River Street and Woody Hayes Drive. It's important everyone who comes to the stadium on Friday nights in the fall remembers the hometown hero.
"[Woody] was back in town quite often. In some respects, it was just like he never left."
"Everybody knew Woody," Murphy said. "He's the guy around here."
Like many Newcomerstown natives, Murphy had the opportunity to meet Hayes before he passed away in 1987. Because even after Hayes moved away and around the state as a football coach, he always returned home.
"He'd come back for high school graduations and I saw him there a couple of times. And he'd come back for chamber of commerce banquets," Murphy said. "He'd come into town, walk down Main Street and sit and talk. He'd talk to people — my wife's aunt's sister was one of his school teachers and he'd come back and every time he was in town he'd go see her and talk to her."
It's quite the contrast from what Hayes was like on the sidelines as a coach. Hayes had a fiery side to him when he was coaching. Off the field, though? He was "just such a nice guy," Murphy says.
But perhaps that's because Hayes — like many people, not just college football coaches — had a special bond with his hometown. No matter where he went, Hayes always knew he could return to warm welcome in Newcomerstown. He took full advantage of that by returning as frequently as he could.
"He was back in town quite often," Murphy said. "In some respects, it was just like he never left."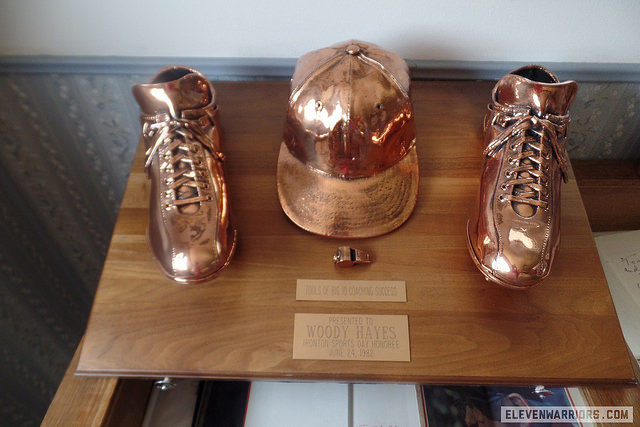 Newcomerstown is not a large city. A few streetlights here and there, a local gas station which seemed to be hopping with enthusiasm on a Tuesday afternoon. Population? Just shy of 4,000 people, according to a 2013 census.
It's no surprise Hayes is idolized here; he would be idolized anywhere. But it feels a little different in such a small place.
"We keep Woody on the second floor (of the museum) because, well, he's Woody," Murphy said.
Hayes has his own room at the Temperance Tavern Museum, as does famous pitcher Cy Young, another famous sports figure Newcomerstown claims as its own. They're both remembered here because of their accomplishments in their respective sports, of course.
But it's more conceivable they're remembered this way because of how often they made return trips to Newcomerstown, how involved they were in the community, how they took pride in being from here.
After all, it's where everything started.
"Everybody comes back to Newcomerstown at some point," Murphy said. "This is home."