Here's a small multiples graphic depicting each team in the Big Ten and the hometown of each player currently on the roster. It looks at how far away each school goes to get players.
The median distance (in miles) from hometown to campus is used to compare each team in the B1G. Median is used instead of the average distance to prevent one player (i.e. a punter from Australia) from skewing the results without removing that player from the data set.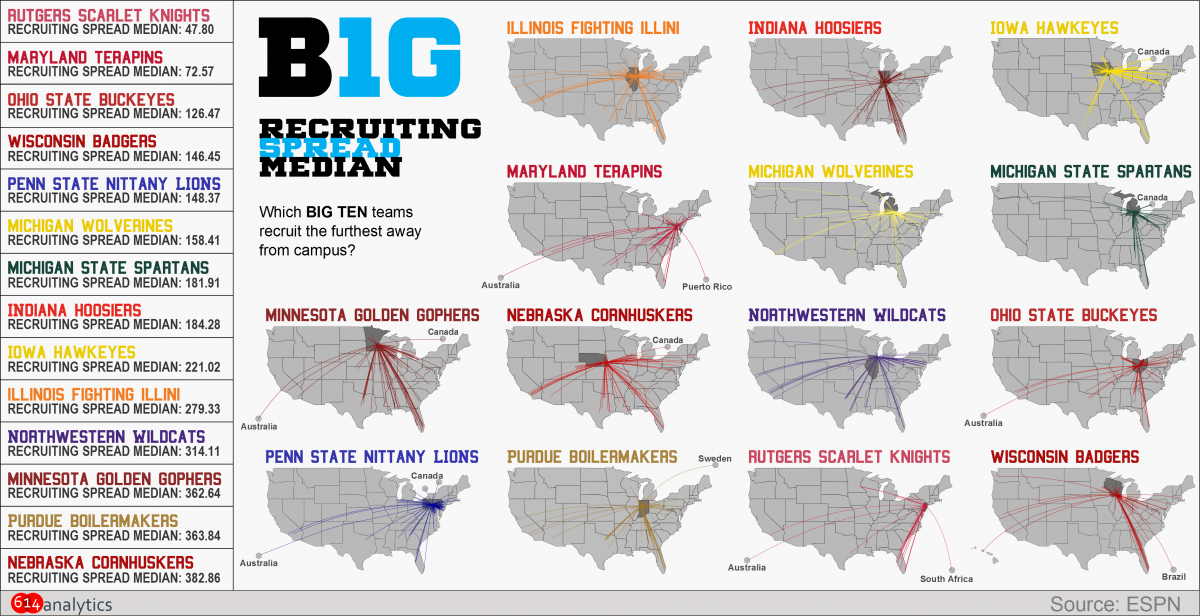 An interesting note is that all Big Ten teams have at least one player from Florida and the players from the two newcomers to the league, Rutgers and Maryland, stay the closest to home to play football. However that is not necessarily a bad thing because the historical B1G powerhouses (Ohio St, Michigan St, Michigan, Penn St, Wisconsin) stay relatively close to home as well. 
Regardless of how close to home players come from, it is clear that most Big Ten teams venture well outside of Big Ten country to build their teams.  As the US population continues to shift to the south and west so too will the pool of football talent as made apparent by this graphic.
---
614analytics, based in Columbus, provides analytic content for the everyday person, with unique perspectives and concrete analysis for Ohio-based sports along with takes on data visualization. You can follow them on Twitter, @614Analytics.