Welcome back, college football!
College football is back and starts in earnest tonight with a slate of Thursday evening games on BTN and the ESPN family of networks. Technically, the season started last night with Georgia State getting its first victory as an FBS program. However, tonight gives college football the start of the season in earnest with a couple marquee matchups.
This is followed by a couple Friday games of note, ultimately leading to the big day on Saturday. In what follows, I give your viewing guide for the week.
Thursday
Texas A&M at South Carolina (SEC Network, 6 p.m.). This will be the first live football game televised on the new SEC Network project managed by ESPN. Given the lack of complete availability of SEC Network at the moment, I find this a bit surprising. Only one of two games the weekend featuring ranked teams, putting this on ESPN would have been a safer bet for visibility.
It's still Life After Johnny all the same for Texas A&M. Absent A&M's three first-round draft picks from the 2013, the Aggies look quite young on offense. The quarterback is a true sophomore and his backup is a true freshman. The wide receiver corp is one redshirt senior to a true freshman, a true sophomore, and a redshirt freshman.
I would suggest the Aggies need to lean on the defense to facilitate growing pains, but the artists formerly known as the Wrecking Crew conceded 475 yards a game last year.
Vegas likes South Carolina by over 10 points. This sounds about right, though tailback Mike Davis is still uncertain for the Gamecocks this game.
Eastern Illinois at Minnesota (BTN, 7 p.m.). The Minnesota Golden Gophers, led by all-around good dude Jerry Kill, start their season at home with a cupcake. I hope we all revel in the return of the Gophers' pet Maryland-I formation this game.
Boise State vs. Mississippi (ESPN, 8 p.m.). Again, put this game on the SEC Network with its less than complete accessibility. Make sure everyone can watch A&M at South Carolina. Alas, I guess that's why I'm not in the TV business.
It's time to put up or shut up for the Rebels. Ole Miss has done so well recruiting outside its traditional footprint in order to compete in a tough SEC West division. However, Ole Miss is just 15-11 in Hugh Freeze's first two years with a 6-10 SEC record.
Boise State debuts Bryan Harsin at head coach for this contest with the hope of returning to more of its "Boise State-ness" (sic) after the Broncos' offense stagnated near the end of the Chris Petersen era.
This game is part of the Chick-fil-A Kickoff Classic this weekend and will be held in Atlanta.
Temple at Vanderbilt (SEC Network, 9:15 p.m.). Vanderbilt is a perfect .500 record in its entire program's history entering this contest. It sits at 582-582-50. That may not be interesting, but I feel compelled to say something about this game because it's on TV.
Rutgers at Washington State (FOX Sports 1, 10 p.m.). I had to look over this game three times before I remembered that Rutgers is in the Big Ten now and that Ohio State has to play it every year. Then I got sad.
This game is nominally a Washington State home game, but the game will be played in Seattle. Seattle is 285 miles from Pullman on the other side of Washington. Why the Washington State Public Stadium Authority thought this was a neutral site game people would pay money to watch is not a question for me to answer.
Friday
Brigham Young at Connecticut (ESPN, 7 p.m.). A college football independent in a college football landscape that looks quite different from what it was five years ago, BYU takes opponents where it can get them. A trip to Texas is next for the Cougars.
Jacksonville State at Michigan State (BTN, 7:30 p.m.). Michigan State has started its season on Friday for the past four seasons. It's not a bad strategy to secure TV time against a cupcake opponent, all things considered.
UNLV at Arizona (ESPN, 10:30 p.m.). This section omits Colorado State vs. Colorado (FOX Sports 1, 9 p.m.) and UTSA at Houston (ESPNU, 9 p.m.) without any commentary to add to both.
Maybe it's time to be bullish on the Rich Rodriguez experiment at Arizona. The Wildcats return 13 starters from last year's squad and should at least match last year's 8-win total. Arizona does have the unenviable task of playing at Oregon and at UCLA this season.
Saturday
Penn State vs. UCF (ESPN2, 8:30 a.m.). Yes, that's right, college football at 8:30 in the morning. I'm against holding games in Europe because they unreasonably assume people will travel to Europe in this economy to watch them (or that Europeans care about the sport). However, I'll sign off on anything that gives me college football when I wake up.
With that in mind, there's probably some way to port a 24-hour "Tip-Off Marathon" schedule from college basketball to college football. I'd binge-watch it. You would too.
This game will be held at Croke Park in Dublin, Ireland, assuming a volcano in Iceland doesn't erupt and ruin everything.
Ohio State at Navy (CBS Sports Network, 12 p.m.). This is what you Buckeyes have been waiting for the past eight months. Stay tuned to Eleven Warriors for comprehensive coverage of this game.
However, do bemoan the fact that you may not get CBS Sports Network and that CBS thinks tennis is more important than Ohio State football. 
UCLA at Virginia (ESPN, 12 p.m.). Vegas has UCLA -24. Vegas expects a bloodbath. I expect a bloodbath. The only intrigue is how long it takes UCLA's players to awake from its West Coast schedule to hammer Virginia.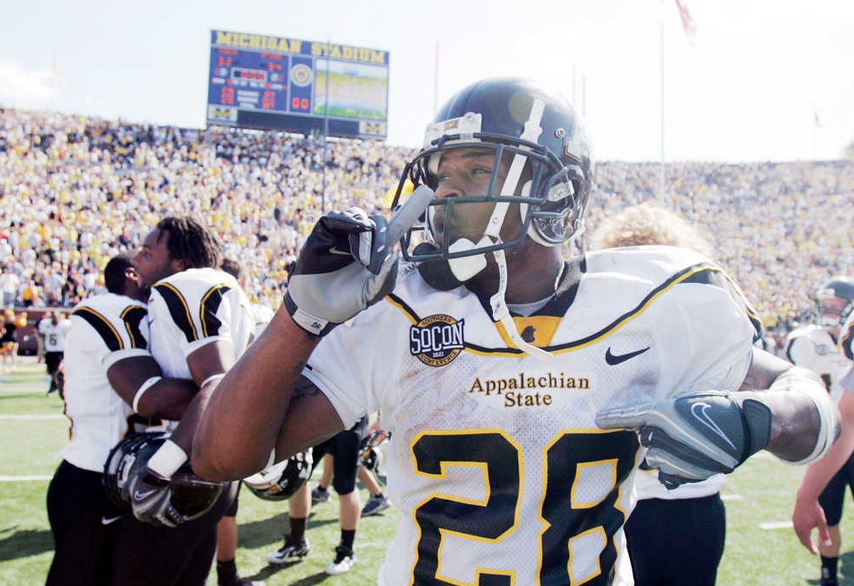 Appalachian State at Michigan (ESPN2, 12 p.m.). Congratulations to Dave Brandon and the entire athletics department at the University of Michigan for Appalachian State's recent promotion to the Football Bowl Subdivision.
It would have been awfully embarrassing if Michigan scheduled a revenge game against an FCS team and asked its fans to pay to watch it.
Northern Iowa at Iowa or Youngstown State at Illinois (BTN, 12 p.m.). BTN is giving you one of these games at noon that you won't watch anyway.
Tennessee-Martin at Kentucky (SEC Network, 12 p.m.). I'm not against the SEC moving its crappier noon kickoffs from a CW affiliate to the SEC Network. It should still keep that weird 12:21 kickoff time for those games, though. That shame should be an enduring character of SEC football.
West Virginia vs. Alabama (ABC/ESPN2, 3:30 p.m.). This is Alabama's second consecutive Chick-fil-A Kickoff game. This one will be against a team that was 4-8 last year and will travel to the capital of the South to play the no. 2 team in the country.
But let's hold Alabama's hand and tell it how tough its schedule is every year.
California at Northwestern (ABC/ESPN2, 3:30 p.m.). It is unlikely that Ohio State plays Northwestern this season. The intrigue here may be if the wheels have fallen off the wagon for Northwestern given everything that has gone awry for Wildcats football in the past year. Calfiornia may win three to five games this year. This may be one of them.
Florida Atlantic at Nebraska or James Madison at Maryland (BTN, 3:30 p.m.). BTN is giving you one of these games at the 3:30 slot. The Maryland game may be the preferable viewing option. Ohio State travels to Maryland and James Madison is coached by former Ohio State safeties coach Everett Withers.
Rice at Notre Dame (NBC, 3:30 p.m.). Beyond getting catfished by guys on the internet and having tutors do homework for them, Notre Dame football sometimes plays football on NBC.
Arkansas at Auburn (SEC Network, 4 p.m.). Vegas likes Auburn by about three touchdowns though Nick Marshall's uncertainty for the game may complicate matters. Expect a big Auburn win with, hopefully, some intrigue during the post-game handshake.
William & Mary at Virginia Tech (ESPN News, 4 p.m.). Virginia Tech is up next. This game may not be informative given William and Mary's position. Still, maybe you want to do some scouting.
Clemson at Georgia (ESPN, 5:30 p.m.). This is the one of two games between ranked teams on Saturday.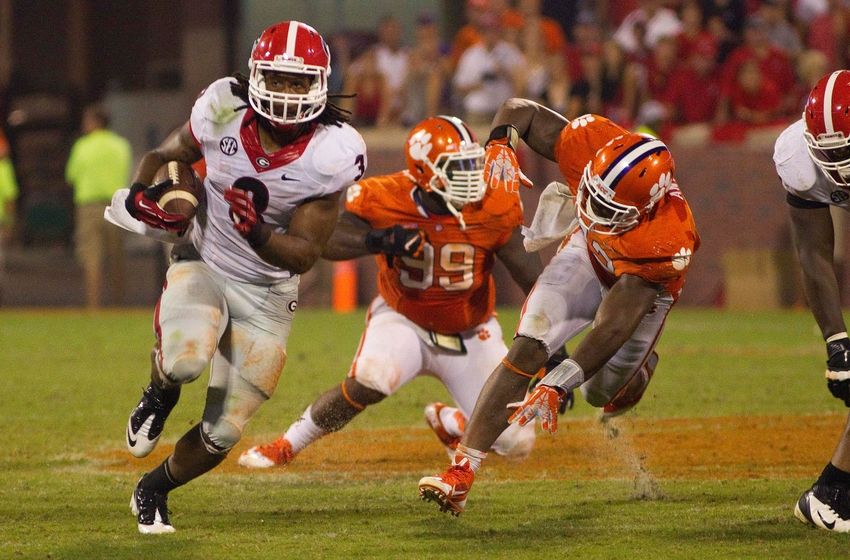 Far be it from me to go into "hot takes" territory, but Pete Roussel's infatuation with Clemson as a national champion this year is among the most idiotic pre-season projections I've seen in a few years. Stranger things have happened.
However, Clemson lost so much on offense that matching last year's 11-win total would be a rosy projection. It goes to Georgia and Florida State this season as well.
Still, what do we say about Georgia? This is the team in the AP preseason top 25 for which there is the most disagreement. Replacing Aaron Murray will be a challenge but all other signs point up for Georgia after a season in which Murphy's Law doomed the Dawgs.
Idaho at Florida (ESPNU, 7 p.m.). If this game against a one-win team from last year that got orphaned by the demise of the WAC and placed in a Sun Belt foster home ends in a Florida win and without two Gators blocking each other, that's about as much as Will Muschamp can want to start 2014.
Fresno State at USC (FOX, 7:30 p.m.). I think Steve Sarkisian will be happy to talk about something other than Josh Shaw on Saturday. I would say to not sleep on Fresno State. Truth is, the departure of Derek Carr to the NFL gives them less a chance.
Florida State vs. Oklahoma State (ABC, 8 p.m.). The defending national champions begin their season at Jerry World in Arlington to play Oklahoma State.
All else equal, this looks like an intriguing neutral site game. However, Vegas likes Florida State by 17 points this game. As of right now, the Seminoles are favored by double digits in every game it plays this season.
Wisconsin vs. LSU (ESPN, 9 p.m.). This game may be of bigger intrigue for the Big Ten fan hoping the prohibitive favorite in the Big Ten West can hang with the second or third favored team in the SEC West.
As for me? I think I'd just want to be at that tailgate. 
This game will be played at NRG Stadium in Houston. The return leg in 2016 will be played at Lambeau Field. Evidently, these two programs who have the most volatile, electric home night games in their respective conferences couldn't agree to a true home-and-home.
Sunday
Utah State at Tennessee (SEC Network, 7 p.m.). Lest you forget that Tennessee plays college football, the Volunteers finagled this game to a Sunday kickoff. Rest assured Tennessee still plays college football well over a decade past its last stretch of national relevance. It just doesn't play college football well.
Southern Methodist at Baylor (FOX Sports 1, 7:30 p.m.). Count me as a Baylor hater. I'm just not impressed with anything it does at home that it can't do on the road against a good team. I doubt we'll learn much from this game against a 5-win team from last year.
Monday
Miami at Louisville (ESPN, 8 p.m.). From people I know across a few ACC programs, the Labor Day kickoff is nuisance and a logistical hurdle for everyone involved. Ohio State fans may want to take note of the experience. Virginia Tech gets the Labor Day slot next year for its season-opener against Ohio State.