The Ohio State sports fan that has one eye to the Belgium-U.S. knockout stage game on Tuesday also has one eye on the football season that starts in two months. The debut of the four-team college football playoff makes this season is unique among previous college football seasons. The top four teams will play in two semifinal games in the Sugar Bowl and Rose Bowl. The winners of both games will meet for the national championship 11 days later in Jerry Jones' tribute to opulence in Arlington, Texas.
The change to a semifinal-final format comes after widespread and longstanding dissatisfaction with the BCS format that failed to adequately delineate no. 2 from no. 3 and no. 4 in the final regular season rankings. The new format hopes to be more inclusive to legitimate playoff contenders and better delineate those included from the "pretenders" excluded from the four-team playoff.
On the eve of July, there are no shortage of preseason rankings trying to project the top teams in the country in December with estimates from the early summer. This feature will offer my conjecture of teams that appear in some preseason top ten rankings that are legitimate "contenders" for the College Football Playoff and teams that should be regarded as "pretenders" whose preseason hype will not be realized through the season. Naturally, these are my opinions, "hot takes" even, and I encourage the reader to offer their own conjecture in the comments section.
I like three teams as safe predictions for the College Football Playoff. One is Florida State, the defending national champion. I am skeptical that Jameis Winston improves on last year's Heisman campaign individually but the team returns other pieces to make them legitimate national championship contenders. Four of five offensive linemen return. The one new starter, Austin Barron at center, was a part-time starter previously. Rashad Greene and Nick O'Leary are both seniors who return to give Winston receiving options to complement the departed Kelvin Benjamin, a 6-5 receiver who led last year's team with 15 touchdown receptions. He also had the game-winning touchdown in the national championship game.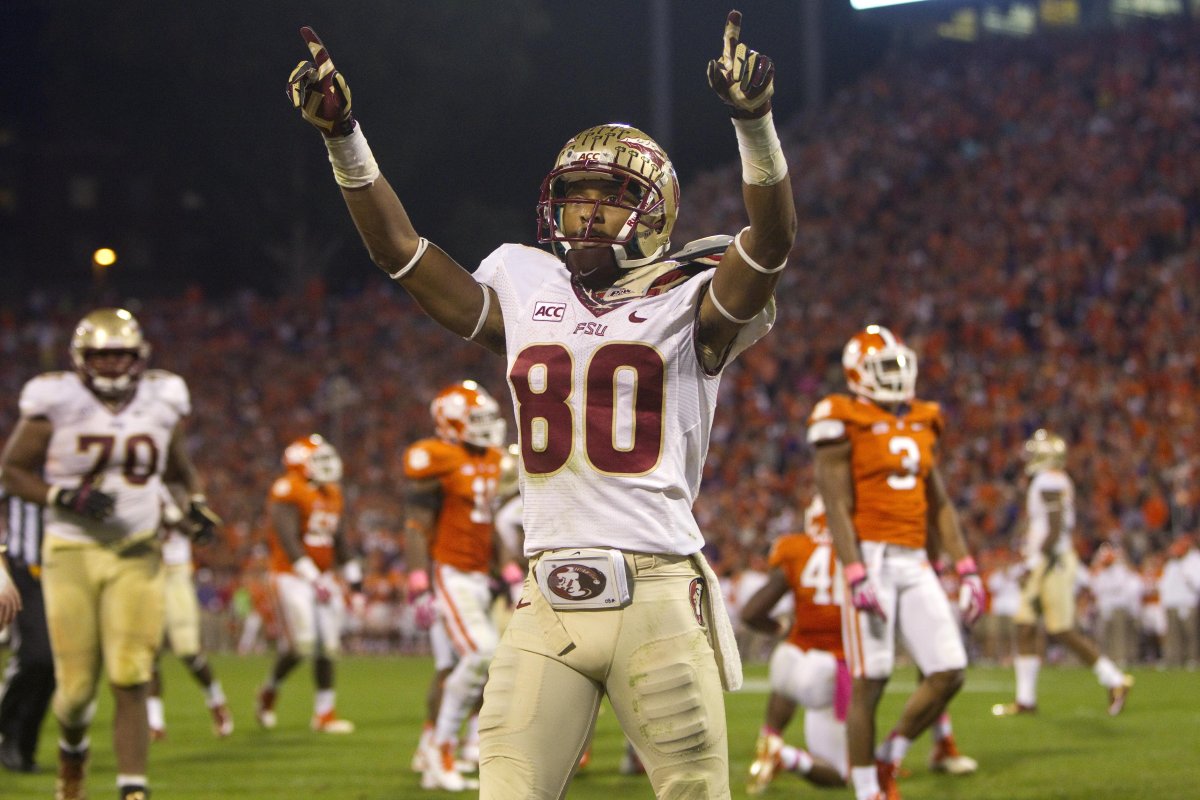 The Seminoles lose five of the top six tacklers on last year's defense but the departures are diffuse. The Seminoles return Mario Edwards at defensive end (a breakout freshman performer last year), Terrance Smith at linebacker, and three of four defensive backs. Only Lamarcus Joyner was lost on the secondary to the NFL.
Further, Florida State's schedule is a nice balance of manageable, respectable, and favorable. It opens against Oklahoma State in Arlington, Texas as 17-point favorites. It hosts a Clemson team at the end of September in a game that should end in another Clemson bloodbath given Clemson's attrition. It hosts Notre Dame and Florida.
Visits to Louisville and Miami look interesting but the home-away distinction here may not matter. Florida State is a two-touchdown favorite in every game this season.
Selecting Alabama in the preseason is picking a low-hanging fruit but the Crimson Tide's schedule and roster are favorable. The Crimson Tide loses all-time winner A.J. McCarron at quarterback but he was always irrelevant to a program that won two national titles with him at starter. Alabama will feature arguably the country's best running back tandem in T.J. Yeldon and Derrick Henry. Amari Cooper is a potential all-SEC wide receiver complemented by Christion Jones and (likely) DeAndrew White.
The attrition on defense is a little more worrisome than the attrition on offense but the Crimson Tide have managed this well in almost every application with Nick Saban as head coach. The turnover from 2011's all-time best unit to 2012 still resulted in an Alabama national championship.
Questions surrounding the Crimson Tide focus on the turnover at offensive line and in the offensive coaching staff. Only Ryan Kelly (at center) is a returning starter and last year's unit was plagued with inconsistencies in pass-blocking and run-blocking. Further, the Crimson Tide are breaking in a new offensive coordinator. Lane Kiffin, the guy Nick Saban hired to replace Doug Nussmeier, has the opposite of a Midas touch.
Alabama's schedule is once again rather puny and one that would get a national championship-contending Big Ten team widespread media ridicule. It opens with West Virginia in Atlanta. The Mountaineers won just four games last year. Alabama gets Florida and Tennessee from the East. Both combined for nine wins and no bowl appearances last season. Its four road games are at Arkansas, Louisiana State, Mississippi, and Tennessee. Visits to Mississippi and Louisiana State look intriguing on paper. I expect Alabama to drop one of those games. Still, a one-loss Alabama team always gets the benefit of the doubt when available. Such is college football these days.
This should also be the season in which Oregon finally redeems itself in the Pac-12 and nationally, following through on its preseason hype with a chance at a national championship. My optimism for the Ducks, an 11-win team last year, is largely about its returning starters. Marcus Mariota returns as a possible Heisman-winning quarterback. Byron Marshall, who rushed for 1,038 yards last season, returns. All five starters on the offensive line return, including Hroniss Grasu as a Rimington Trophy candidate. Ifo Ekpre-Olomu also returns for a senior season at cornerback, saving the Ducks from having to replace all its defensive backs in addition to its now retired defensive coordinator.
I also like Oregon's schedule. It hosts Michigan State in Week 2. I like the Ducks in that contest too failing Michigan State's ability to show it can generate offense to offset departures on defense. It avoids Arizona State and USC in the Pac-12 South and will host Stanford and Arizona in revenge games.
The pitfall is UCLA, a sure top ten team in the preseason. UCLA hosts what could become a two-game series between both programs. Should Oregon lose the first contest, I still like the Ducks in the Pac-12 Championship Game rematch. I think it's likely a one-loss Pac-12 team plays in the College Football Playoff and my prediction is that will be Oregon.
Identifying "pretenders" is more difficult. A four-team playoff means that six teams in a preseason top ten are, by definition, "pretenders". I isolate two teams in particular.
One is Baylor, which appears in the preseason top ten rankings from Athlon Sports (no. 10), Lindy's (no. 10), Sporting News (no. 7), and Phil Steele (no. 8). Put bluntly, Baylor should be a clear "sell" for every college football fan.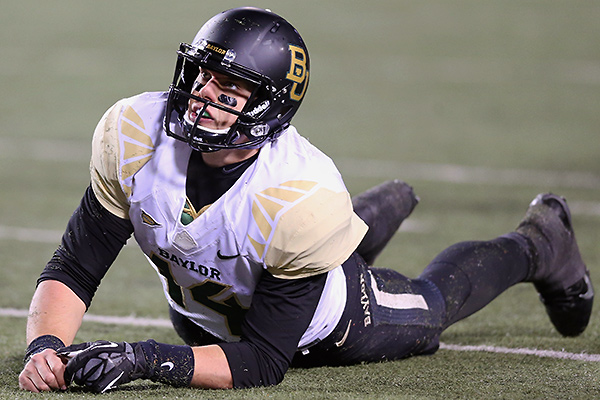 Baylor's problems are multiple. It routinely flunks tests on a national stage. A darling early last season for wins over heavyweights like Wofford, Buffalo, UL-Monroe, and West Virginia, it needed a late touchdown to clinch a 35-25 win over the defending Big XII champion Kansas State Wildcats. A win over future Sugar Bowl champions Oklahoma padded a resume that featured an implosion in Stillwater two weeks later. It advanced to the Fiesta Bowl on a tie-breaker but lost to Central Florida in 52-42 decision. It was the biggest favorite in BCS bowl history (-16.5) and lost by double digits.
It may be déjà vu in 2014. It opens with Southern Methodist, Northwestern State and a road game at Buffalo before playing nine Big XII games. It goes to Oklahoma this time. Consider Baylor's problem a one of home cooking. Baylor was 63-13 on average at home last year. Omitting Kansas (because, seriously), Baylor's margin of victory in road wins decreases by six touchdowns.
Baylor's quarterbacks and receivers return from last year, which may be propping its status as a preseason top ten team. However, its running game (Lache Seastrunk) left for the NFL and Baylor will replace four starters on the offensive line. Linebacker will be a big issue for a Baylor team not known for defense.
Long story short, Baylor could still be a double-digit win team and may get a share of the Big XII again. However, any losses on an already weak schedule will likely be brutal and thorough. Preseason projections in the Big XII like Oklahoma over Baylor for the Big XII championship. Only one team, if any, from the Big XII will make it to the College Football Playoff.
I think a second pretender is Auburn, last year's Cinderella team and national championship runner-up. Auburn is a preseason no. 5 in preseason rankings from Athlon Sports, Sporting News, and USA Today. Lindy's ranks Auburn at no. 6. Only Phil Steele provides a measure of dissent by ranking Auburn at no. 9 and offering indications of why he thinks this is generous.
I share this opinion on Auburn. Auburn's pre-season ranking is derivative of its' post-season finish in the BCS Championship Game. However, this journey was improbable and featured fluke (if exciting) wins over Alabama and Georgia. The 30-22 win over Mississippi last year may have been partly attributable to Mississippi's letdown the week earlier in Tuscaloosa. Auburn did a lot of things right last season to play in Pasadena, but it was, in spirit, an 8-4 SEC team.
Auburn's schedule in 2014 will be more difficult. South Carolina (another preseason no. 10 team) will be on the schedule in lieu of lowly Tennessee. Auburn hosts Louisiana State this year but travels to Mississippi, Georgia, and, finally, Alabama. Gus Malzahn will surprise no one in 2014.
The problem of attrition is also real. Running back Tre Mason may be replaceable in the design of the offense and having four returning offensive linemen also helps. However, Nick Marshall looked incompetent when having to throw the ball and the "Immaculate Deflection" against Georgia was just benevolent luck. Getting behind down and distance is debilitating for Auburn. Returning a defense that loses Dee Ford and conceded 420.7 yards per game in 2013 should position Auburn for the Outback Bowl, not the Sugar Bowl in the College Football Playoff.
These are my two cents, "hot takes" even. As soon as the World Cup ends, we will start getting more of them about contenders and pretenders in the first ever College Football Playoff.