Chances are you aren't trying to be an asshole.
The vast majority of assholish behavior is fleeting or unintentional; a product of being ill-informed, uninformed or simply misunderstood. Fortunately all of those root causes  can be effectively addressed through corrective action. 
Addressed, meaning ultimately it's still up to you to be the change everyone wants you to be. Welcome to 11W Etiquette. We're all here to get better. Less assholey, if you will.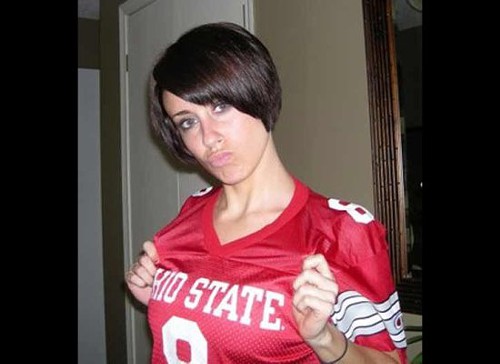 If you have great passion for Ohio State football recruiting but aren't an asshole, you can go ahead and skip to the third section entitled Don't Skip To The Third Section You Idiot We Just Said Assholes Don't Realize They're Assholes. 
This lesson will be quick and to the point by design, because assholes generally don't have the attention span to read anything other than tweets or message board posts that they've written. If anyone responds to them (usually it's along the lines of wow you're an asshole) they'll respond. Usually they'll double-down on being an asshole.
We've put this self-study course together for two reasons: 
1) As an 11W reader you're probably a Buckeye fan. We care about our tribe and want it to be great.
2) Nobody likes assholes. They're a pox on the world. Even assholes don't like other assholes.
Let's get started. Note: We're not going to tell you how to behave, act or think. We're simply defining assholish behavior where recruiting is concerned, and it's up to you to decide if you want to be like that or not like that. We're hoping it's the latter.
---
Only Assholes Tweet at Recruits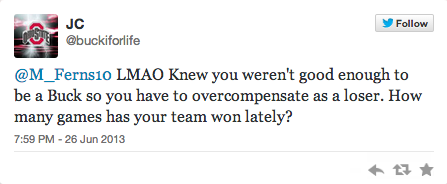 Michael Ferns committed to Michigan prior to his senior year in high school. Here we have a Buckeye fan putting him in his place for making that decision.
Note that Ohio State is currently recruiting his talented little brother and this kind of online abuse probably doesn't resonate well with the Ferns family. But it's not as if this guy has pestered recruits befo -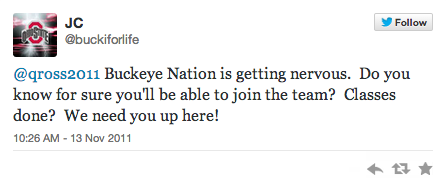 @TPeezy2 Every Buckeye fan and each of your teammates will suffer the shame of your selfishness. Hope you learn and are better for it.

— JC (@buckiforlife) March 9, 2011
The full spectrum of assholery: The spurned lover, the desperate prom date and the condescending father Terrelle Pryor never wanted to meet. 
Don't think for a second that this is poor form because of the content or execution. It's poor form because only assholes tweet at recruits. < - - - repeat as often as necessary
Gauge Your Progress
Which of the following three commenters on QB recruit Torrance Gibson's Facebook page are assholes?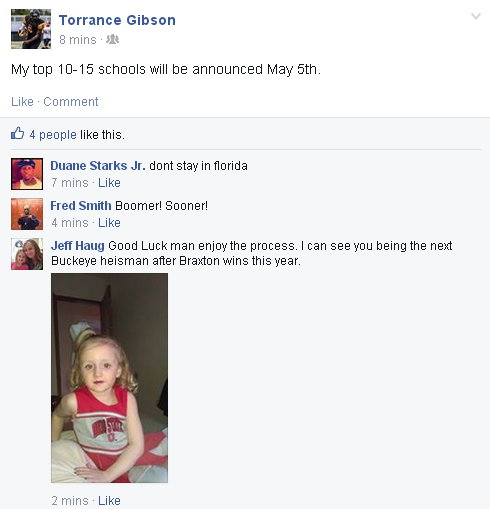 Finish cringing. We'll wait.
Answer: All of them. The third guy simply takes it to the creepiest level imaginable. Duane and Fred could be eligible for asshole waivers if they actually know or are classmates of Mr. Gibson's, because only an asshole would suggest people who personally know recruits shouldn't be able to talk to them.
Speaking of the third guy -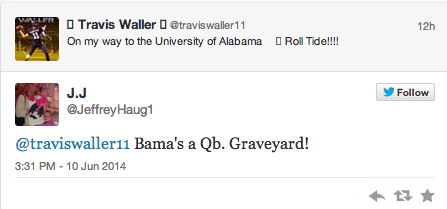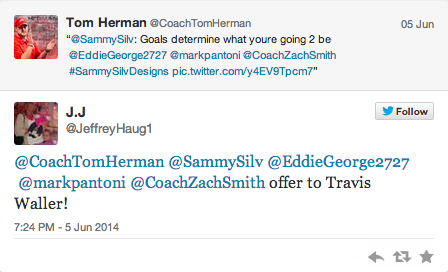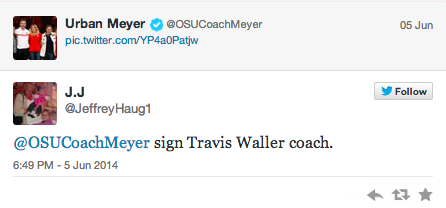 Jeff gets an asshole medal for giving recruiting orders to Urban Meyer.
Grand asshole finale: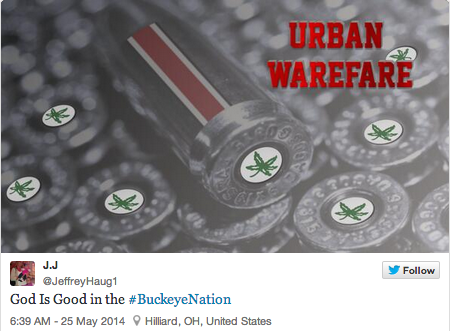 Urban Warefare. Spelling might not be his strong suit, but at least he didn't throw in an apostrophe for no damn reas -

Fans of irony will love Jeff's twitter feed which - in addition to all of the assholery - is full of pleas from him to others begging them to stop tweeting at him. [Ed: Jeff deleted his Twitter account shortly after this article was published]
That's because tweeting at strangers and telling them what you would like them to do with their lives is creepy. Always. There are no exceptions to this rule, and those who break it are categorically assholes. 
tweeting AT STRANGERS AND telling them what you would like them to do WITH THEIR LIVES is creepy. Always.
This isn't about Jeff specifically because there are thousands of Jeffs. They think they're witty, needed, heeded and helping. They're none of those things. They're just assholes. Some of them even have trouble spelling warfare.
Closing note for assholes thinking what about Birm? He tweets at recruits. Birm is a paid journalist covering recruiting for a credentialed media organization that gets millions of hits a week during the offseason. He's working. You're just assholing.
---
Only Assholes Commit NCAA Violations
You think NCAA rules on amateurism are stupid, because you're edgy, brash and, well, mostly correct. As usual, it doesn't matter what you think. Don't give or offer to give Ohio State's recruits anything. This should be less controversial than the tweeting stuff.
By the way, every time a fan tweets at a recruit that fan is committing an NCAA violation. Even worse, that fan is an asshole.
Gauge Your Progress
Is this tweet an NCAA violation?
@WiltonSpeight @GeorgeCampbell0 amazing! #goblue

— dick costolo (@dickc) July 29, 2013
Answer: Yes, it is. Committed by the CEO of Twitter, which makes him an #asshole.
---
Only Assholes BASH Verbal Commitments
Earlier this week Grant Schmidt committed to Ohio State. He was vetted, offered and accepted by Ohio State's football coaches. Grant is an athletic freak, capable of jumping nearly 10 feet without a running start (he is a high school offensive tackle) and he fills a position of great need.
However, the South Dakota high school junior's offer list isn't yet teeming with program names that are frequently batted around on the ESPN family of networks, which apparently siphons away confidence some assholes have in Urban Meyer since he has yet to prove he can competently run an FBS program.
When Ohio State - with arguably the most aggressive and exhaustive recruiting machine it has ever had - offers a committable scholarship to a high school boy who then accepts it, there's one sane reaction: Happiness. 
Unless you're an asshole. From the comments in Grant Schmidt's commitment story:



A couple things about this series of giant farts in the midst of a long-standing site tradition that is specifically constructed to be a congratulatory celebration: First - 
"Skid21 Attends Grandma's 95th Birthday Party" (a play in one act) (fiction)
[everyone] Happy birthday, Grandma! We love you!

[Skid21] What are you all so happy? She's going to die soon!

[everyone] What's wrong with you? 

[Skid21] Prove me wrong. I've seen the actuarial tables. 

[everyone] She can hear you, dummy.

[Skid21] You still haven't proved me wrong. 
Second, crapping on a kid who has just pledged his college years to Ohio State - in a column that features direct quotes from him (spoiler: Of course he read it) is among the assholiest things you can do. That's a gold starfish right there.
If you're not impressed by an Ohio State verbal commitment's offer list you may think it's a good idea to make your opinion known in his commitment story. That way Urban might rescind the offer, apologize to you personally and go back to the drawing board. Perhaps you could submit to him your list of preferred recruWHO DO YOU THINK YOU ARE, ASSHOLE?
Let's peek back at the beginning of this lesson:
Assholes generally don't have the attention span to read anything other than tweets or message board posts that they've written. If anyone responds to them (usually it's along the lines of wow you're an asshole) they'll respond. Usually they'll double-down on being an asshole.
If you find yourself behaving like this, guess what. Yup. 
Gauge Your Progress
A current high school junior's scholarship offers includes Ohio State. Does that make it a great offer list?
a) Yes.
b) Not no.
---
Hope this has been useful. Assholes, you may now get back to tweeting at recruits.
---
An earlier edition of this article contained tweets that have since been deleted. They have been replaced with screen caps of those tweets. The Internet never forgets.