We've discussed — a few times — Ohio State's apparent lack of "interest" in some of the Buckeye state's top 2015 talent. Yes, the Buckeyes have offered Jerome Baker, Shaun Crawford, Eric Glover-Williams, Justin Hilliard, Dre'Mont Jones, Elijah Taylor and Larry Scott, a healthy number at this point, but many of the state's top players remain on the outside looking in. 
The Buckeyes are in excellent shape with Baker and Jones and have a commitment from Glover-Williams. Ohio State is in a dog fight for Hilliard, Scott and Taylor, and Crawford has committed to Michigan, but another disjointed season for the Sun and Blue could potentially re-open that door for the Buckeyes if they've not sewn up their defensive backfield by then. 
While the Buckeyes chase seven of the state's top players, top prospects like Nick Conner, Rob Dowdy, George Brown, Jr., C.J. Conrad, Anthony McKee and Jordan Jones continue to draw huge interest from other national programs but haven't yet received an offer from Ohio State.  Whether or not the Buckeyes ever come calling is still in debate, but it's clear that the Buckeyes are A) aware that Ohio is loaded with talent and B) the Buckeyes aren't in any hurry to offer players they don't know with 100-percent certainty are able to fit into their program as a person and a player. The delay in offers for in-state products certainly rubs some people the wrong way, but Ohio State is in the business of making Ohio State football better, not brushing hair.
However, for those of you yearning for more in-state "love," look towards 2016. Three of the state's top ten players (according to 247Sports.com's composite feature) have already received an offer from the Buckeyes, and that number is almost sure to double or triple by the time autumn rolls around. Let's take a closer look at a handful of those prospects.
LIAM EICHENBERG // ST. IGNATIUS (CLEVELAND) // OL
Liam Eichenberg has nailed the "regional trifecta" — offers from Ohio State, Michigan and Notre Dame — before the end of his sophomore year at Ignatius, an incredibly rare feat. In fact, those are Eichenberg's only three offers. A 6-foot-5, 275-pound tackle, Eichenberg possesses the hands, the feet, and the frame that make him an elite tackle prospect who could end up a five-star national-level talent. He will end up with offers from all the big boys if they decide an offer is worth extending because he's unlikely to venture too far from home. Way too early prediction: Buckeye.
TOMMY KRAEMER // ELDER (CINCINNATI) // OL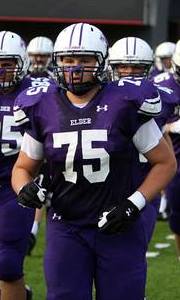 A recent Buckeye offer, Tommy Kraemer could pair up with Eichenberg to become the nation's best pair of tackles for 2016, and the Buckeyes are in great shape to land the Cincinnati prospect. With a college-ready frame already (6-foot-5, 305) Kraemer is another early composite five-star, and Ohio State hopes to lock him up early. Yes, the Queen City star grew up a Michigan fan, but the Buckeyes have moved into the fore for Kraemer. Can they stay there? Way too early prediction: Buckeye.
JAKE HAUSMANN // MOELLER (CINCINNATI) // TE
Sam Hubbard picked Ohio State over a host of big-time offers and his decision could be a harbinger of things to come for the Buckeyes inside of Cincinnati. In the last month, the Buckeyes have offered 2015 defensive tackle Elijah Taylor and 2015 tight end Jake Hausmann. Hausmann is a consensus four-star prospect and his big-bodied (6-foot-5, 235 pounds) frame make him a Jason Witten-esque type tight end, capable of out-muscling safeties and linebackers over the middle and standing up defensive ends on the pass rush. Florida State, Cincinnati, Illinois, Indiana, Louisville and Virginia have all made early offers to the Moeller star. Way too early prediction: Buckeye.
JUSTIN LAYNE // BENEDICTINE (CLEVELAND) // WIDE RECEIVER
The Buckeyes have struggled in the last two years to land a "big" wide receiver, but that streak should end in 2016 and Cleveland Benedictine star Justin Layne should become the outside threat the Buckeyes have coveted. At 6-foot-3 and 180-pounds, Layne has become a hot prospect in the region and for good reason: he's really talented. Right now Layne has only two offers: Michigan State and West Virginia, but there's no doubt that he'll see a steady influx over the next year, and he should be a national prospect by next spring. A teammate of Jerome Baker at Benedictine, Layne's a long-strider with excellent hands and a good head on his shoulders. Like Baker, he's as solid a person off the field as he is a player on it. Way too early prediction: Buckeye
---
I'll have more on some of Ohio's top 2016 prospects in upcoming weeks.