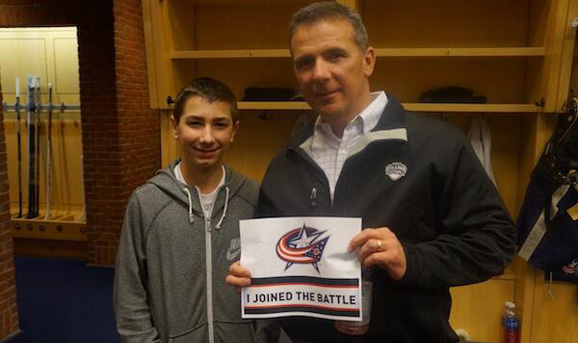 Look, we love the Blue Jackets. We want nothing more than to see the return of playoff hockey to Columbus.
But, the Jackets have become synonymous with bad hockey in recent years. Since making the playoffs in 2009 – the franchise's only appearance in 11 years of existence – the Jackets have finished with the 2nd-, 3rd- and now, for two years running, the worst record in the Western Conference.
Attendance at Nationwide Arena is, unsurprisingly down.
However, the Blue Jackets have won three-straight, and have earned points in five-straight outings, and have pulled themselves out of NHL's cellar. With 24 games remaining and the team just six points out of the 8th playoff spot, perhaps it is time to buy low.
Urban Meyer did earlier today last night by posing with his son Nate behind a "I JOINED THE BATTLE" sign. We're not trying to say Meyer knows anything about hockey, but surely his mere presence in the CBJ locker room is good enough for a playoff push, no?