Things don't always happen the way we think they will. In the case of Montclair (N.J.) defensive end Darius Slade, things definitely haven't happened the way he planned them, but he's got no complaints about how it all worked out. He's going to college — for free — and he's going to play for the one coach that he's always wanted to play for; even if it's at a completely different place than he ever imagined. For Slade, the goal has always been simple: become a success, but establish his own path.
He's got a famous cousin, Miami Dolphin defensive tackle Jared Odrick, who attended Penn State. He's got another cousin who currently plays for his home-state university, Rutgers. Slade wanted to do something on his own. Of course, he also wanted to play for Larry Johnson, Sr., but that goal sort of clashed with the first, so he set that to the side and committed to the University of Nebraska in December before a change of heart led him to pledging to Michigan State on January 17th, a day after receiving a scholarship offer from Ohio State. It was a couple days later that the news was official: Larry Johnson, Sr. had taken a new path of his own and left Penn State, the place he'd become a fixture, and joined Urban Meyer's coaching staff at Ohio State.
The first goal for Slade had been reached, the second had not.
"I had always wanted to be coached by Larry Johnson," Slade told Eleven Warriors. "He recruited me when I was at Penn State and I had a very hard time telling him no then. He had recruited me when he was coaching at Penn State and I had known him for a while because he had coached my cousin at Penn State. He'd been a strong family friend for a long time, and I had gotten to know him pretty well. I knew he was a great coach, and a great man."
"When I heard that (Johnson) had taken a job with Ohio State, I knew it had to have happened for a reason," Slade continued. "I mean, he had been at Penn State for 18 years and to leave at that time, I felt like I absolutely had to at least look at Ohio State."
Unfortunately for Slade, the window to look at Ohio State before signing day was closing, and with that knowledge he decided he needed to make a decision. He tried to visit Ohio State last weekend but couldn't get it arranged. Then this past Tuesday evening, the eve of signing day, he called Michigan State's coaches to let them know he was going to need more time.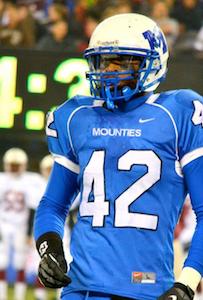 "I talked to them Tuesday and let them know I didn't know if I was going to be signing with them or taking a look elsewhere, because I wanted to visit Ohio State before I decided," he said. "I had built a strong relationship with Michigan State's staff, but they weren't real understanding when I told them I wanted to visit Ohio State, and they told me that if I didn't sign with them that I might not have a scholarship if I waited. They were upset understandably because they wanted me at Michigan State, but they knew it was a serious thing for me and I was not jumping from place to place. I had the chance to be a part of a great opportunity and I needed to take a look."
When the morning rolled around, Slade was pretty sure that he would not be signing with Michigan State, and the Buckeyes were more than happy to receive his signature, despite the fact that Slade has never visited Ohio State, an absolute rarity in recruiting; to sign a letter of intent without visiting the college even once.
"I know it's 'weird,' but I know what I am getting myself into," Slade said of his choice. "(I didn't choose Ohio State) solely because of (Johnson), Ohio State has a great program and they compete for a national title every year. They have a great staff as a whole and they are not too far from home, either. There were a lot of reasons for the decision. They have a lot great players and it's a great program."
Slade will visit Ohio State officially next weekend and he hopes to get a better look at his future home, not just for himself, but for his family as well. They may know Larry Johnson, but they don't know Ohio State and it's something Slade is looking forward to. 
"I want to go to Ohio State and hang out with the players, get to know the guys I am going to be around the next four-five years," he said of his plans for next weekend. "I want to get to know the coaching staff, tour the facilities and take a look at the academic side of OSU. I want my family to get involved at OSU."
Despite being knew to Ohio State, Slade had started developing a friendship with fellow Buckeye signee a few weeks ago, New Jersey native Noah Brown. 
"We scrimmaged each other's teams in the early part of the season but we didn't really talk much until Ohio State offically offered me a few weeks ago," Slade said of his future teammate. "He's talked to me about how they are like a family at Ohio State and he was really excited when I told him I was coming. We've gone to each others basketballs games and are building a team bond moving forward."
Brown said he had an inclination about Slade's interest in Ohio State the night before signing day, but he didn't take it seriously after hearing from the defensive end.
"He told me last night he was thinking about coming to Ohio State," Brown shared with 11W. "I didn't believe him though. I am glad he changed his mind."