It's the most, wonderful time, of the year.
While nothing tops the beauty of the four months of college football we get every year, National Signing Day is akin to a Christmas in February for college football coaches and fans across the country. A year's effort to recruit the newest freshmen to the program finally pays off when the letters of intent start arriving from fax machines in college football offices across the country.
It's also a big day for Eleven Warriors. We hope to give you every reason to keep us open on a browser tab and to hit F5 repeatedly through the day. Stay tuned to comprehensive coverage of National Signing Day for Ohio State here at Eleven Warriors.
Keep another browser tab open on Twitter and follow Jeremy Birmingham (@Birm), John Brandon (@JBrandon11w), Kyle Rowland (@KyleRowland), Jordan Wagner (@JWagner11w), and the whole Eleven Warriors recruiting team at @11WRecruiting.
What follows is your survival guide for the day.
ESPN Coverage

ESPN will present its ninth consecutive year of comprehensive coverage of National Signing Day. ESPNU will be leading the charge today. If you can swing it while you are at work or in class, you can follow along on the WatchESPN app on your mobile device, or watch online.
Ohio State is one of 12 programs featured prominently on ESPNU today, and only one of two Big Ten programs to have an ESPN reporter embedded in the football complex. Quint Kessenich (@QKessenich), friend of Urban Meyer, will be on the scene in the Woody Hayes Athletic Center.
Studio coverage will be led by Rece Davis and Dari Nowkah. Ohio State alumnus Robert Smith will be among several analysis featured in studio commentary, along with national recruiting director Tom Luginbill and others.
If you can find time, ESPNU will be worth the watch. ESPN also has reporters embedded at Alabama, Auburn, Florida State, Louisiana State, Miami, Notre Dame, Penn State, Tennessee, and Texas A&M through the day, but the interviews and video coverage from ESPNU will be as good as it gets until August.
Other Networks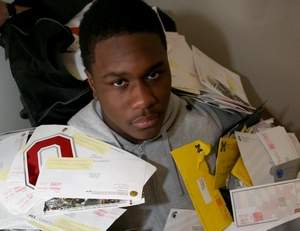 CBS Sports Network will also unveil its comprehensive coverage of the day, starting with a 10 a.m. two-hour show featuring Tom Lemming, analysts Brian Jones and Houston Nutt, and interviews with coaches across the country.
It is this show, to be followed with another two-hour show between 4 and 6 p.m. ET, that will feature Ohio State's own Urban Meyer. He will be joined with Kevin Sumlin, Brian Kelly, James Franklin, Butch Jones, Jim Mora, Bo Pelini and more through the day.
Not to be outdone by national networks, Big Ten Network will join the fray with a 90-minute special. Football Signing Day Special will air live at 4 p.m.
The usual names will be there to discuss the recruiting classes of the conference's 12, soon to be 14, members. Host Mike Hall will be alongside Gerry DiNardo and Howard Griffith in their familiar roles. They will be joined by Allen Trieu, a regional recruiting expert for Scout.com.
Importantly, BTN is promising video highlights of top recruits and one-on-one interviews with every coach in the conference. Since National Signing Day is shaping to be a day in which Ohio State distances itself from the pack in recruiting, expect the Buckeyes to be discussed heavily through the day.
Urban Meyer Everywhere

Ohio State will be keeping Urban Meyer busy all day. In addition to appearances on ESPNU with Quint Kessenich and time with CBS Sports, Meyer will be doing a radio interview on 97.1 The Fan with Paul Keels and Jim Lachey between noon and 12:30 p.m.
New assistant coaches Chris Ash and Larry Johnson will be on the same radio show in the second half of the broadcast.
Around 3 p.m., Urban Meyer will meet with the media to discuss Ohio State's recruiting class. You can watch this online at Ohio State's official website.
After Meyer is done talking, media will disperse to spend spare time with other members of the football program. Tentatively, Chris Ash, Larry Johnson, and Mark Pantoni will be available to discuss National Signing Day with the media. Further, some early enrollees should be made available as well.
ELEVEN WARRIORS COVERAGE

Our team at Eleven Warriors will have all hands on deck to provide you the latest developments of the day, both good and bad.
We will also be monitoring the last minute decisions of key prospects like Derrick Nnadi and Malik McDowell. Will Ohio State get Derrick Nnadi? The Buckeyes hosted Nnadi on an official visit on January 17, but the Virginia prospect seems bound for Florida State.
The real prize might be Malik McDowell, who is deciding among Florida State, Michigan State, and Ohio State. His recruitment has taken interesting turns of late. It might work out to the Buckeyes' favor in the end. McDowell will announce his decision at 9:30 this morning.
Jamarco Jones, who was a question mark for Ohio State on the eve of National Signing Day, reaffirmed his commitment to Ohio State last night.
We will also be providing updates through the day here on the site. Our live blog will open at 8 a.m.. We will also provide a class primer around lunch so you can "better know" the new recruits before the Better Know A Buckeye series starts more specific coverage of each recruit.
Jeremy Birmingham (@Birm), John Brandon (@JBrandon11w), Kyle Rowland (@KyleRowland), Jordan Wagner (@JWagner11w), and the whole Eleven Warriors recruiting team at @11WRecruiting will be active through the day.
Those of you listening to sports radio in Ohio's capital city may want to turn your dial to 95.5 at 10 a.m. Findlay residents may want to switch their dial to 96.7 at 11 a.m. Our own Jeremy Birmingham will be discussing Ohio State's recruiting class at both times.
Lock in, Buckeye fans. Christmas in February comes only once a year.