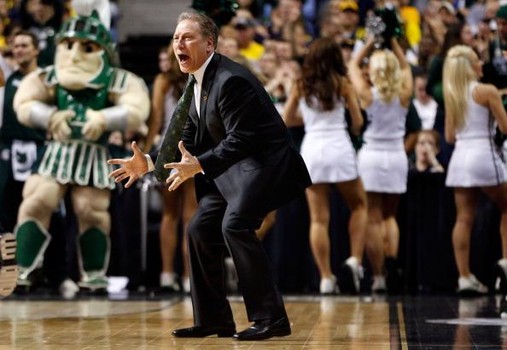 Michigan State stepped from non-conference play for the unusual February tilt against Georgetown, a team from the still functioning Big East basketball conference. Played in New York City's Madison Square Garden, the Spartans will leave for East Lansing losers of this 64-60 contest.
Previously, Georgetown had lost five straight games. Michigan State is now losers of two of its last three.
Michigan State's problems this game were multifaceted. Missing Adreian Payne and Branden Dawson clearly did not help. It forced Izzo to field a smaller, less experienced lineup that would come up empty on the glass in stretches. The Hoyas were +6 in the rebounding department.
Further, Michigan State's offense has come down with the same shooting disease afflicting Ohio State, Wisconsin, and, well, most of the Big Ten. Keith Appling, for example, was 3-9 this game for seven points. Over the past six games, Appling is 22-66 and 4-21 from behind the arc.
His free throw shooting has suffered too. He's only 19-33 from the charity stripe in that same six-game stretch. Michigan State as a team was 9-16 from the free throw line today.
A little home cooking may be what Michigan State needs right now. Its next game is on Thursday against Penn State in the Breslin Center.