If the 2014 Buckeyes are going to start the season on the right foot, Urban Meyer will have to replace an important right foot. Ohio State will have to fill the hole left by three-year starter Drew Basil, one of college football's most experienced and reliable placekickers.
The kicking race will come down to senior-to-be Kyle Clinton and true freshman Sean Nuernberger, a German-born talent out of Oldham County High in Butler, Ky. It will mark the first time since 2011 that Ohio State has essentially had to start over at the position.
Replacing Basil may not prove to be easy, who has quietly had one of the steadiest careers at the position in OSU history.
Basil was a freshman in that now-vacated 2010 season, backing up the steady Devin Barclay — the former professional soccer player who walked on in 2008 and became a folk hero in 2009 by beating Iowa in overtime. Barclay himself had stepped in admirably in 2009 for injured starter Aaron Pettrey, hitting 7/10 field goals and adding 20/24 his senior season in 2010.
While Barclay was handling the primary kicking duties in 2010, Basil, a freshman out of Chillicothe, Ohio, managed to get on the field by taking kickoffs. He booted 87 of those as a frosh, registering nine touchbacks. He was also the designated long kicker, trotting on for two 50+ field-goal attempts, although he missed both.
By the time his senior season ended, long-distance field goal percentage was the lone blot on Basil's otherwise stellar OSU career (1/5).
Basil established his credentials as Ohio State's kicker as a sophomore.
In 2011, Drew took over all of the starting kicking chores. He kicked off 63 times with 14 touchbacks, made 16/19 field goals (84.2%) with a long of 47, and connected on 36/37 extra points. The blemish in that final area was a costly one, late in the game at Purdue, but through no fault of his own. His 16 field goals were the ninth most in school history for a single season.
Under Meyer in 2012, Basil continued his solid play as a junior. His attempted just 11 field goals, making eight (72.7%) and he hit his first from beyond 50, a 52-yard boot as part of a 4/5 day in a win over Michigan.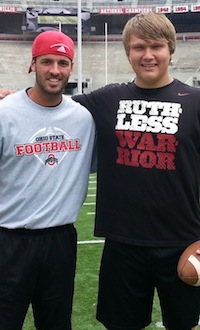 He also knocked 56/57 PAT tries through the uprights. He kicked off 76 times with 18 touchbacks, despite the usual practice of intentionally kicking short — Meyer's preferred method after a new rule that moved end zone kicks out to the 25-yard line.
This past year, the senior hit 9/10 field goals (90%), notched 77/79 extra points, and kicked off 104 times with 27 touchbacks.
His 104 total points were the fourth most by a kicker in OSU history, behind only Barclay's 122 in 2010, Mike Nugent's 120 in 2002, and Josh Huston's 110 in 2005. And his 77 extra points in 2013 set a new school record.
Basil has put up a solid career of 78.6% accuracy on field goals (33/42), 169/173 PATs (97.7%), and 68 touchbacks. Only The Nuge (81.8%) and Barclay (79.4) were more accurate on field goals in their careers.
Perhaps the most underrated aspect of Basil's game was his tackling ability. Adept at playing the safety role on kickoffs, Basil registered 10 stops (seven solo) over the last two years. That's not an easy task for most kickers.
And now we start over.
Former walk-on Clinton first saw the field in 2012, taking two kickoffs with one touchback. He did not attempt a scoring kick. In 2013, Clinton kicked off three times, registering one touchback, and made all three of his extra-point tries.
He has not attempted a field goal as a college player.
To be able to do so, the Dublin Coffman product will have to fend off the advances of the big-legged Nuernberger, a two-time Kentucky first-team all-state kicker.
Nuernberger hit 13/20 field goals as a senior, but five of those misses were blocked (high school linemen, amirite?) and the others were from 54 and 56 yards. He made a school-record 57-yarder this year against Louisville Ballard.
He also handled punting duties, averaging 42.3 yards per boot. His punting is so well-regarded that Nick Saban and Alabama were eyeing him at that position.
The 10th member of the Dream 14 class, Nuernberger gave Ohio State his verbal commitment on June 11, 2013. If he can be consistent in fall camp, he'll likely beat out Clinton and start as a freshman.
This recruitment anecdote is priceless:
"Coach (Kerry) Coombs was there yelling in my ear while I was kicking and it didn't get to me," said Nuernberger. "So I feel that's my strong point, dealing with pressure."
Kicking in front of a Red Bull-fueled Coombs may not exactly equal the pressure of booting a game-winning field goal attempt beyond 50 yards in front of 105,000+ at the Shoe, but it's something.
And whether it's Nuernberger or upperclassman Clinton, it'll take something special to replace Drew Basil.