The undisputed, top moment of the past seven days' Big Ten action occurred in the above GIF. It was also the best offensive possession Illini or Buckeyes fans have seen in weeks. 
Ohio State used hapless Illinois to break their fall to the bottom of the conference, while rival Michigan is the best team in the conference. The truth is rough. At least OSU can begin their ascent up the standings with a sure win over Penn State.
Wisconsin also got back on track, but their defense is almost as disconcerting as the Buckeyes' offense. Those two will square off in Madison, Saturday. The most high profile contest of the upcoming week is Tuesday, as Michigan State travels to Iowa.
Our player of the past week is Nik Stauskas, who averaged 22.5 points, 4.5 assists and hit 58 percent of his shots in wins over Iowa and Michigan State. If this is upsetting, you might not want to look at our rankings, either: 
1. Michigan (15-4, 7-0)

Last week: 75-67 win vs Iowa, 80-75 win at Michigan State
This week: vs Purdue, at Indiana  
He was snubbed from the Wooden Award mid-season watch list, but that doesn't mean he won't be in the running by the time March arrives. 
Stauskas has lifted his play to that level, as him and the rest of the Wolverines continue to exceed expectations. After holding off Iowa, Wednesday, they entered Saturday's game against the Spartans to battle for the number one spot in the Big Ten. It was a back-and-forth tilt for most of the game, but Michigan kissed their opponent goodnight with a late 10-0 run.  
Neither Iowa nor MSU could contain Michigan in the open court, but, to be fair, the Wolverines probably have the most athletic starting five in the conference. 
2. Iowa (16-4, 5-2) 

Last week: 75-67 loss at Michigan, 76-50 win at Northwestern  
This week: vs Michigan State, at Illinois
In their loss to Michigan, Iowa's offense failed to break the 70-point mark for only the second time this season. 
Otherwise, they are  completely rolling on that end of the floor. Kenpom.com has the Hawkeyes as the No. 5 ranked offense in the entire country (behind Michigan and Wisconsin, among others). Aaron White only had five points against Northwestern, but there are so many guys on this team to pick him up. He also had a slow start in Ann Arbor, but Melsahn Basabe could not be contained inside. 
While they didn't beat the No. 1 team on our list, they can still take down the other team from that state up north...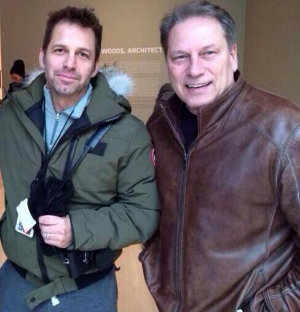 3. Michigan state (18-2, 7-1)

Last week: 71-66 win vs Indiana, 80-75 loss vs Michigan 
This week: at Iowa, vs Georgetown 
Honestly, Michigan State would be at the top of this list if anyone on the team could stay healthy.
Right now, they're clearly anything but. In addition to Adreian Payne's foot sprain, – which, again, not bad enough to keep him out of the Ohio State game – the Spartans now have to deal with an injury to junior forward Branden Dawson. As he explained to the Detroit Free Press, he broke his right hand and will now miss about a month because he slammed his hand on a table during a film session. 
Keith Appling is playing at a Big Ten Player of the Year type level, while Gary Harris is just starting to elevate his game to that point. In terms of scoring, they aren't a particularly deep team and injuries are becoming their kryptonite (that's Izzo pictured with Superman "Man of Steel" director Zack Snyder, by the way). 
4. Wisconsin (17-3, 4-3) 

Last week: 81-68 loss at Minnesota, 72-58 win at Purdue
This week: vs Northwestern, vs Ohio State 
While they weren't particularly great on offense, the Badgers did themselves no favors by continuing their porous defensive efforts. 
The Gophers shot nearly 59 percent from the field in Wednesday's win, and did so without creating many turnovers. Historically, Wisconsin doesn't have a dominant shot blocker in the middle of the paint, but their perimeter defense usually makes up for it. This year, the latter is not true. 
During their three game losing streak, the Badgers allowed 77.7 points per game. In most games, their offense is good enough to make up for that kind of defense. Still, that won't get them far in March – not that Wisconsin typically does. 
5. minnesota (15-6, 4-3)

Last week: 81-68 win vs Wisconsin, 82-78 loss at Nebraska
This week: vs Northwestern
Perhaps their win over Ohio State wasn't just a fluke? Not only did the Gophers prove that there are no easy wins in conference, they are now firmly in the NCAA Tournament picture. 
Long term, Andre Hollins injury will be a significant factor in Minnesota's tournament chances. Against Wisconsin, it hardly mattered. Deandre Mathieu went off and the team got a big lift from a pair of bench players.
While they didn't necessarily need their leading scorer to put up points in Lincoln, their ball-pressure defense and backcourt depth aren't quite as effective without him. Plus, Mathieu turned the ball over nine times against Nebraska. There's no timetable on Hollins' return. 
6. ohio state (16-4, 3-4)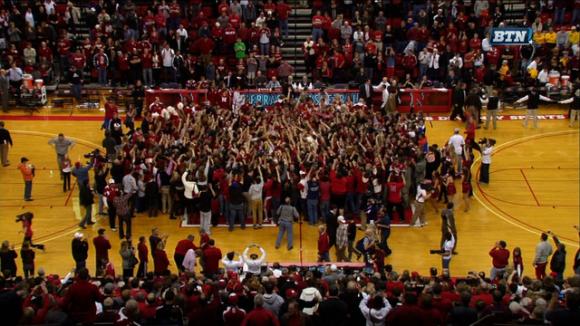 Last week: 68-62 loss at Nebraska, 62-55 win vs Illinois
This week: vs Penn State, at Wisconsin
A portion of what has been plaguing Ohio State managed to clear itself up against the Illini.
From the outset, Amir Williams' intensity was apparent and he grabbed nine rebounds while blocking three shots. We begged for their senior leaders to step up, and they did. Aaron Craft put up 11 points, six rebounds and five assists, while Lenzelle Smith Jr. found his stroke from beyond the arc. 
Still, the lack of consistent offense has turned from mind-numbingly frustrating to their accepted and fatal flaw. When the Buckeyes are at their best in the half-court, they are able to drive and kick for a three-point shot. Those haven't been falling, and their chances at getting open driving lanes have dwindled as much as their shooting percentages. A few games in a row against mediocre to poor defenses will, hopefully, get their confidence back. 
7. northwestern (10-11, 3-5)

Last week: 63-60 2OT win vs Purdue, 76-50 loss vs Iowa
This week: at Wisconsin, at Minnesota
Few teams undersand their limitations quite like the Wildcats. 
Due to their absence of firepower, head coach Chris Collins is unable to install any sort of increased tempo into their offense. Working with what they have – pretty much Jordan Crawford attempting every shot – has actually worked out pretty well. After all, they have as many conference wins as the Buckeyes.  
They also have two, separate losing streaks of three or more games, which will probably make the tournament committee bypass Evanston again. Three of their next four games are on the road – at Wisconsin, Minnesota and Michigan State – but their style of play and physical defense will make it frustrating for the rest of the Big Ten.  
8. indiana (13-7, 3-4)

Last week: 71-66 loss at Michigan State, 56-46 loss vs Illinois
This week: at Nebraska, vs Michigan 
Just like Ohio State, the Hoosiers bullied poor Illinois to make themselves feel better. 
At any moment, the young Indiana squad could find a rhythm and rip off a few wins to put them on the tournament bubble. For now, X's-and-O's mastermind Tom Crean has yet to find a way to get freshman stud Noah Vonleh consistently involved in the offense. Score-first point guard Yogi Ferrell doesn't necessarily help in that aspect, but he's one of the few guys capable of creating offense for himself. 
Right now, they don't have enough shooters to spread the floor for Ferrell and have little depth. They did put up a good fight against Michigan State, so IU isn't completely helpless. 
9. purdue (13-7, 3-4)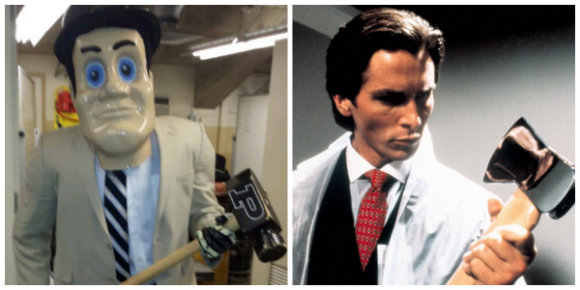 Last week: 63-60 2OT loss at Northwestern, 72-58 loss vs Wisconsin
This week: at Michigan, at Penn State
Purdue came into the week having won three straight, but then things fell apart. Namely, their offense. 
It took two overtime periods for the Boilermakers to chug along and squeak over the 60-point mark. Granted, Northwestern's defense has been playing at a fairly high level, but shooting 27.6 percent against anyone is inexcusable. Their singular offensive strength appears to be getting 68-percent free-throw shooter A.J. Hammons to the line. He's shot 7 or more free throws in four conference games.
10. Nebraska (10-9, 2-5)

Last week: 68-62 win vs Ohio State, 58-54 loss at Penn State, 82-78 win vs Minnesota
This week: vs Indiana
After a few close losses to start their Big Ten campaign, the Huskers are finally finding a way to close out games.  
First, they took down the Buckeyes and then the Gophers. While head coach Tim Miles wasn't happy with Terran Petteway's turnovers against Ohio State, Petteway made up for it, Sunday. The Texas Tech transfer dropped a career-high 35 points with only two turnovers in the win over Minnesota. He's establishing himself as one of the best slashers in the conference (still can't top Purdue Pete in that category). 
Petteway answered Miles' criticism, giving the Nebraska coach some confidence to call out others:
Tim Miles' post-game just ended exactly how everyone thought it would. With him telling us about his sister's http://t.co/1Hj4ssSXY5 profile

— Grant Muessel (@Muessel) January 21, 2014
11. penn state (10-10, 1-6)

Last week: 58-54 win vs Nebraska
This week: at Ohio State, vs Purdue  
The Huskers weren't the only team to break out of a conference skid. In fact, they helped the Nittany Lions get their first Big Ten win of the season. 
Penn State had been agonizingly close to busting out of the B1G's cellar, nearly beating Minnesota, Indiana, Purdue and blowing a halftime lead against Michigan State. Tim Frazier and D.J. Newbill continue to be a dynamite backcourt, which will challenge the defensively dominant Craft and Shannon Scott duo, Wednesday. 
12. illinois (13-8, 2-6)

Last week: 62-55 loss at Ohio State, 56-46 loss at Indiana
This week: vs Iowa  
Based largely on the strength of their win against a solid Missouri squad, the Illini appeared to be on the brink of another tournament appearance. 
Instead, they've transformed into the Big Ten's punching bag and have lost six straight games. Good news is, Rayvonte Rice finally reappeared, scoring 20 points in their loss to Indiana. Bad news, the rest of the Illinois offense stayed in its shell. 
[GIF via @_MarcusD_, photos via @A_R1ef and @CEmmaScout]