The 11W Community Interview is truly of the people, by the people, and for the people. You submit the questions, vote on them, and then we pass the top ones on to the biggest names in the world of Ohio State athletics.
Ohio State recently offered and added a commitment from Columbus Bishop Ready offensive lineman Brady Taylor. Despite being a Virginia Tech commitment, Ohio State was always his dream school. Once he got an Ohio State offer, there was little doubt that he would be a Buckeye. The three-star prospect joins Jamarco Jones, Demetrius Knox, Marcelys Jones and Kyle Trout as offensive lineman in Ohio State's 2014 recruiting class. 
The six-foot-five, 276 pound tackle will enroll at Ohio State in the summer and he is already focusing on getting his black stripe removed. He grew up living and breathing Ohio State football. You won't want to miss his answers to your questions. He gets "it."
Take a little time to get to know Columbus native and future Buckeye, Brady Taylor.
Ohio State has had some very good offensive linemen throughout its history. Is there anyone that you have followed/modeled your game after? - HOVENAUT
Brady Taylor: Being an offensive lineman and an Ohio State fan, everyone knows who Orlando Pace is. He mixed great size with an unteachable mean streak that defenders hated to go against. I have watched a lot of his film online and how fundamentally sound his footwork punch were in order to make him so successful. I hope to be able to play a lot like him with a similar mean streak and attention to detail.
I just read a great story on your promise to your mom to be a Buckeye. What does it mean to you to be able to live up to that promise? - 703BUCKEYE
BT: It means more than you could ever imagine. I grew up living and breathing Ohio State football. It was a big deal just to get tickets to the game as a kid, and top be able to play for them is something I cant put in words. My mom told me it was going to take a lot of hard work and sacrifice to make it to this level, and it did, I had to work every day to finally reach my goals of being a Buckeye. A lot of kids dream of being astronauts and teachers, I always dreamed of being a Buckeye, and nothing was getting in my way.
How hard was it to call VT and let them know you were decommitting? - SHARKS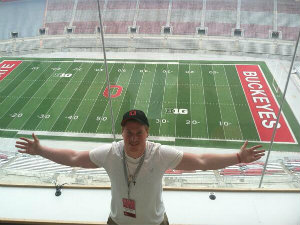 BT: It was very hard, with telling coaches that I respect highly that I would not be playing for them. Also, telling the other commits that I would not be playing with them was the hardest part because you get close to these kids because they are very similar to you. It was also an easy call though because I was following my dream and doing what I always wanted to do which was be a Buckeye. I'm a man of commitment, but sometimes you have to make decisions that will affect the rest of your life and that is what did here. Especially with my main recruiter and position coach going to a different school, it shows you have to make decisions that are best for yourself.
Congratulations on getting to live your dream of being a Buckeye, what are you most excited about once you get on campus? - KILLER NUTS
BT: I am most excited to be exposed to the competition of a college weight room and practice. Working with the best coaches and players in the country I have an opportunity to make exponential strides in my overall size and skill set. I will be able to push myself to limits I had never reached before where I am at the bottom and have to work my way to the top again. I love having goals that are hard to reach.
How soon after receiving the offer from Ohio St. did you know you were going to be a Buckeye? Or was it always a forgone conclusion that if you had the opportunity you would jump on it? - ALPO
BT: It was a forgone conclusion in a way, but then again I needed to look at the depth chart and also the campus and being a student here. Growing up in Columbus it is hard not to look at Ohio state as a fan, but I also needed to look at it as a recruit and make sure it was perfect for me. Which it is, it is close to home, has my major, offers possible early playing time with hard work and I gives me a place where I have all the tools to become great.
Brady, what are your personal goals for next season and what areas do you feel you need to improve in order to start? - BIERSTUBE
BT: One of my personal goals for next season is to get my black stripe off early. I have read up a lot on this and I love the idea and it would be a big deal for me to get it off early. I also want to transform myself into a college lineman size wise and technique wise. I still have a lot to learn and working with arguably the best offensive line coach in the country I have a chance to polish my skills and become very good very fast.
How important was academics in your search for the right school and do you have any plans on which field to major in here at Ohio State? - JOHIO1560 
A lot of kids dream of being astronauts and teachers, I always dreamed of being a Buckeye.
BT: This was very important to me, taking honors classes all through high school my parents have always taught me how important academics are. I plan on majoring in dietetics and the going on to receive my MBA so that I have business background and will be able to choose my career path out of college.
Aside from being your hometown school, what set OSU apart from V-Tech and the rest of your offers? - OTRAIN2416
BT: I guess one thing that stood out to me was the sense of greatness you feel being around he facilities the players and the staff. You can just feel how hungry the program and everyone involved in it are. Other schools you feel it but not quite like THE Ohio State University. It is a place where you know what you're getting into which is hard work, and this is exactly what I want. 
I watched a game day experience video in the locker room and at that point my dreams becoming a reality flashed before my eyes and I didn't want to be anywhere else than right here in Columbus. 
What is your one off-the-field talent that we don't know about? - SEATTLE LINGA
BT: One off the field talent is that I am a health freak. I eat very clean and healthy, which is why I am going into dietetics. I guess what sparked my interest was growing up a skill player and a basketball player my whole life and needing to put on 80 pounds between my sophomore and senior football seasons to play OLine. I did not want to lose my athletic attributes, nor become a "fat" lineman. I got very interested in nutrition and putting the right things in my body and it has stuck with me ever since.
Now that you're committed, how are you going to avoid the complacency of just being part of the team?  Specifically, what goals are you setting for yourself for your career at OSU? - Optimistic Buckeye Pessimist
BT: I am going to go in with a chip on my shoulder and outwork my competition. Every day when I train I tell myself that someone out there is working harder or is better than me and it drives me to work harder and harder. I think with a mindset that no one can stop you and a strong relationship with God no goal is unattainable. I was always told I couldn't do things growing up and I have achieved these goals. I want to get my degree, become an Academic All-American, become an All-American, win a national title and play in the NFL. You have to dream big to land big.