Both the men's and women's hockey teams have big opportunities to move up their respective conference standings. The men take on No. 9 Wisconsin at the Kohl Center tonight at 9pm (on BTN) and tomorrow at 8pm. The ladies host the Minnesota State Mavericks and have planned some fun promotions for fans who are headed out to the Ice Rink. Let's take a look at the Buckeyes' opponents this week.
Men

The 11-8-1 Buckeyes are in Wisconsin this week to take on the No. 9 Badgers. Wisconsin, with 16 upperclassmen on their roster, is a veteran squad that came into the season fresh off an NCAA tournament appearance. It's no surprise that they were the preseason favorite to win the Big Ten.
Wisconsin has been very difficult to beat on the big ice of the Kohl Center this season. They've played ten consecutive games at home, going 9-1-0 over that stretch and outscoring their opponents 41-19. Coming off the midseason break they had a couple rough outings against Alabama-Huntsville and Alaska-Anchoarge, but the Badgers seemed to have a firm grip on their game once again when they swept Michigan two weeks ago.
Sr. Michael Mersch leads both Wisconsin and the Big Ten in scoring (14-10--24, 6-4--10 in B1G). He's joined at the top of the Badgers' stat sheet by fellow seniors Mark Zengerle (2-19--21) and Tyler Barnes (9-9--18). Jefferson Dahl has been one of the team's hottest player since the break, racking up two goals and eight assists in the last six games.
Barnes has also been on a roll with four goals and two assists in his last six outings. He also has a couple of the Big Ten's slickest tallies this season. Scoring backwards between-the-legs goals against Penn State and Colorado College back in December. He's definitely one to keep an eye on this week.
Another dangerous player to watch is Jr. goaltender Joel Rumpel. He's 10-1-0 this season and ranks among the nation's best with a 1.85 GAA and .932 SV%. There isn't much drop off between his overall stats and his conference stats (2.20 GAA, .927 SV%) either. Fortunately, the Buckeyes won't have to worry about Nic Kerdiles. He's still sidelined with a separated shoulder. Wisconsin will get a personnel boost, though, (per Andy Baggot) with the return of senior forward Sean Little.
Roughly a third of the way through their conference schedule, Ohio State is 1-4-1. They've pretty much all been tough, closely contested games and this series shouldn't be any different. The Buckeyes and Badgers are tied for the nation's fourth most productive offense. Each team scores an average of 3.55 goals per game. They're very close in the defensive stat column as well. Ohio State surrenders 2.80 goals per game to Wisconsin's 2.70.
"It's going to be tight every game, and it's going to come down to which team makes the fewest mistakes… You've got to take care of the little things because they could end up being the difference in a game." Steve Rohlik on the balance of competition in the Big Ten
One area in which the Buckeyes have a decided advantage is the power play. OSU has converted 22.2% of their chances this season and boasts an even more impressive 35.0% mark in Big Ten games. Wisconsin's power play, meanwhile, is operating at 15.4% overall and just 5.0% in conference play.
Tonight's game is the second half of BTN's Frozen Friday doubleheader. The first half will be Michigan-Michigan State: Part II. The Wolverines edged their hated rivals last night 2-1. Should be an exciting evening of hockey. I'll be on the Twitter tonight if you need to talk/exult/kvetch. There isn't any local television broadcast of Saturday's game, but you can watch online with BTN2Go and listen via 1460AM. Links for following along can be found in OSU's series preview.
More pregame linky goodness…
It's looking like the inaugural Big Ten season is Minnesota's to lose. It isn't impossible for the Buckeyes to make a run at the Gophers but it doesn't seem likely at this point. If Ohio State manages to win three out of their next four games, though, they'll be right back in the thick of the race for second place and the other first-round conference tournament bye.
| B1g STandings | W | L | t | sow | pts | this week |
| --- | --- | --- | --- | --- | --- | --- |
| No. 1 Minnesota | 7 | 0 | 1 | 0 | 22 | vs. St. Cloud and Minn St/UMD (North Star Cup) |
| No. 9 Wisconsin | 4 | 2 | 0 | 0 | 12 | vs. Ohio State |
| Michigan State  | 2 | 3 | 2 | 2 | 10 | vs. Michigan |
| No. 14 Michigan | 3 | 2 | 0 | 0 | 9 | at Michigan State |
| Ohio State | 1 | 4 | 1 | 0 | 4 | at Wisconsin |
| Penn State | 0 | 6 | 0 | 0 | 0 | vs. Boston College |
WOMEN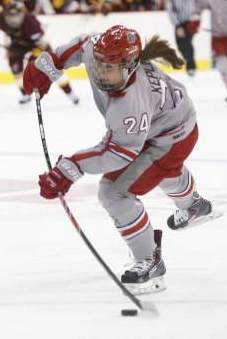 After a fairly successful swing through Minnesota, the Buckeye ladies return home this week to host Minnesota State. The two teams are currently tied with St. Cloud for sixth in the conference standings, but they seem to be headed in opposite directions.
Since the midseason break the Mavericks are 3-5-0, having swept Lindenwood and beat Bemidji State before losing five straight to Bemidji, Minnesota-Duluth, and Minnesota. The Buckeyes, meanwhile, are 2-1-3 since the break after a sweep of Penn State and dragging points out of Minnesota and Duluth.
Minnesota State has really struggled to find the back of the net during this slump. They've been outscored 17-3 in their last five games. The Mavs aren't to be taken lightly, though. They're a very veteran team, solidly backstopped by senior goalie Danielle Butters (3.05 GAA, .917 SV% in 21 games).
Kathleen Rogan (9-8--17), Kari Lundberg (7-9--16), Nicole Germaine (7-9--16), and Lauren Barnes (3-13--16) lead Minnesota State in point production. Kari Schmitt (6-11--17), Ally Tarr (5-12--17). Sara Schmitt (5-12--17), and Danielle Gagne (6-10--16) top the Buckeye charts.
This is a big series for Ohio State. If they can continue their post-break momentum they have a great shot at catching Bemidji State at fifth in the conference standings. A fifth place finish would mean a first round trip to UMD for the WCHA tournament rather than one of the conference's top-ranked juggernauts.
More pregame linky goodness…
| WCHA Standings | W | L | T | SOW | Pts | This Week |
| --- | --- | --- | --- | --- | --- | --- |
| No. 1 Minnesota | 16 | 1 | 1 | 0 | 49 | vs. St. Cloud |
| No. 2 Wisconsin | 15 | 3 | 2 | 1 | 48 | vs. Minnesota-Duluth |
| No. 3 North Dakota | 12 | 4 | 2 | 1 | 39 | vs. Bemidji State |
| Minnestoa-Duluth | 9 | 5 | 4 | 3 | 35 | at Wisconsin |
| Bemidji State | 6 | 11 | 1 | 1 | 20 | at North Dakota |
| Minnesota State  | 4 | 16 | 0 | 0 | 12 | at Ohio State |
| Ohio State | 2 | 11 | 5 | 1 | 12 | vs. Minnesota State |
| St. Cloud | 3 | 15 | 2 | 1 | 12 | at Minnesota |