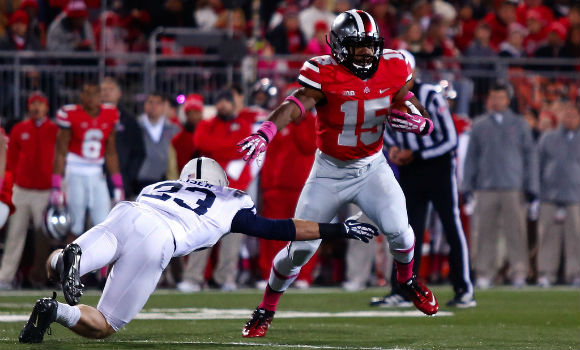 During his four-year career at Ohio State, Carlos Hyde rumbled for 3,198 yards and 37 touchdowns.  Jordan Hall ran for 1,568 yards and 14 scores.
Hyde also finished with 271 receiving yards and four touchdowns, while Hall completed his career with 286 yards and also reached the end zone four times.
During the 2013 season alone, Hyde and Hall combined for 2,257 combined rushing and receiving yards, and 26 (!) scores.
Both exhausted their eligibility as Buckeyes after the 2013 season.
Urban Meyer and Tom Herman will be tasked with replacing a running back tandem that covered more than three miles of turf between them during their time at Ohio State.
The two graduating seniors certainly leave behind a stockpile of talent at their position, but talent alone is not a guarantee of success. It takes more than pure athletic ability to play running back for a major college program.
An Ohio State running back must be comfortable with, and fit, the scheme, know his role, block well — both in pass protection and designed quarterback runs — and understand the situation during the game (i.e. when to stay in bounds /make sure to stop the clock, etc.).
El Guapo was a very special player for the Buckeyes over the past two years. Hall was a savvy fifth-year senior. Despite the wealth of talent waiting in the wings, those two veterans will not easily be replaced. There will likely be growing pains as the new starter settles into the position.
So who is the next man up?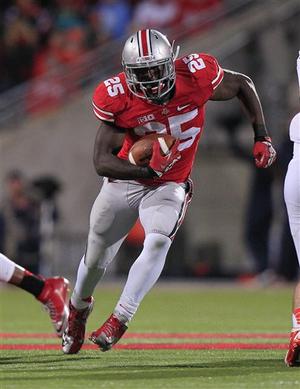 Experience-wise, Rod Smith is the most tenured runner, but he saw the field sparingly after starting the 2013 season on suspension. A senior-to-be, Smith carried only 22 times in 11 games for 117 yards and a touchdown. He caught four passes for 16 more yards. In three seasons, he has 448 rushing yards and four touchdowns, with 86 receiving yards and another score through the air. One of his main advantages in the running back battle is his 6-foot-3, 232-pound physique.
But Smith was not a significant factor on offense for Ohio State in 2013 and he was seemingly passed on the depth chart by freshman Ezekiel Elliott.
Like Smith, Elliott appeared in 11 games in 2013. He carried 30 times for 262 yards and two scores, and caught three balls for 21 yards and a touchdown. His 8.7 yards-per-carry average led all Buckeyes with five or more attempts, but the bulk of his yardage (162 on 14 carries) came against Florida A&M. Elliott may be the favorite to start in 2014.
While Elliott certainly looks the part of the next great OSU running back, I'm not counting out Bri'onte Dunn to start next season. I think there's a reason that Meyer gave Dunn the rare sophomore redshirt in 2014. Dunn has good size and speed, as well as the ability to get yards after contact. He averaged 5.3 yards per carry as a true freshman in 2012, finishing with 25 attempts for 133 yards and a pair of touchdowns. After a year without playing time, he may be the hungriest of the contenders for the position.
I expect the battle between Dunn, Elliott and Smith to be among the most intriguing of the off-season, possibly lasting well into fall camp.
Warren Ball also returns for Ohio State. The local product out of DeSales High School saw the field in 11 games in 2013, finishing with 76 yards on 13 carries. He didn't score or catch a pass during his redshirt freshman year (a foot injury forced the redshirt in 2012), but he did manage a respectable 5.8-yard average per attempt and did not have any negative rushes. Ball has talent and will look to make this a four-way race for lead dog. But I see him as more of an emerging depth player than a starter in 2014.
What about Dontre Wilson?
Wilson won't compete for the traditional tailback role, but he will return as a sophomore to his hybrid spot. From that position, he lugged the ball 31 times as a true frosh, gaining 250 yards and scoring once. He also caught 22 passes for 210 yards and two touchdowns. Wilson's role may be expanded to help both the new starter at tailback and a rebuilt offensive line.
To keep his starting job, Wilson will likely have to fend off the competition of a talented stable of youngsters, including redshirt-freshman-to-be Jalin Marshall and incoming true freshmen Curtis Samuel and Parris Campbell.
Samuel and Campbell will have to work with Mickey Moratti to put on muscle weight if they want to run between the tackles in the Big Ten — they are each under 190 pounds — but both are possibilities to compete for the starting tailback spot in the future. I would expect at least one of them to redshirt next season.
The plethora of world class talent in Ohio State's offensive backfield represents an embarrassment of riches. But even with all that athleticism and ability, replacing a legendary bell cow like Hyde, as well as a gritty, experienced veteran such as Hall, will still be a challenge.
The next man up will have big shoes to fill.