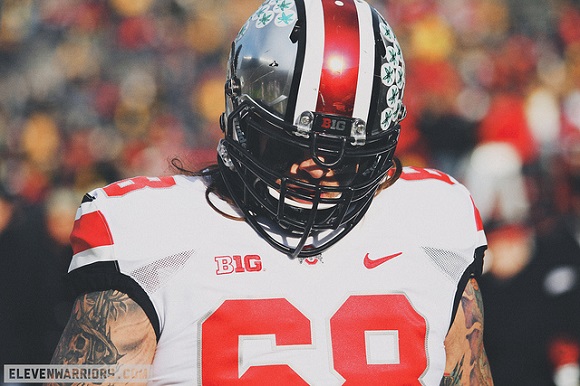 In the game of football, a good offensive line is the sine qua non of a successful offense. No team can move the football consistently unless it can control the line of scrimmage. Every great team has a great offensive line, and most good ones do too.
For the past two seasons, Ohio State has enjoyed the luxury of excellence in this area, mostly due to the coaching of Ed Warriner and the cohesiveness that goes along with staying mostly injury-free. In 2013, the line was better than most, helping the team finish fifth in the nation in rushing offense and third in scoring offense.
The OSU offense was especially deadly close to the goal line, finishing fourth in the nation with a 96% red zone scoring percentage.
Change is in the air, however, as four of the starters have exhausted their eligibility. Some of the reserve players have seen action this season, and one in particular has stood strong in the most difficult of environments. Are they ready to pick up where their departing brethren left off?
Time will tell, but at the present time we can only speculate. Let's take a look at some of the players that we expect might be manning those starting positions next season.
pat elflein
On the last 2013 depth chart, Elflein was listed as the backup at both guard positions, and he filled in admirably for Marcus Hall in the Michigan and Michigan State games. It seems a no-brainer that Elflein will be a starter somewhere on the line next season. At one point, he was vying for backup center behind Corey Linsley, but it seems he settled in better at guard. My guess is that he will pick up where he left off and take over the right guard position.
Elflein redshirted in 2012 due to a foot injury, and so he will have sophomore eligibility next season. The Pickerington native is known for his strong work ethic and his toughness. In addition to playing football in high school he was also a wrestler, a skill that comes in handy these days since holding seems to be legal most of the time. Elflein spent his summers during high school pouring and breaking up concrete, which surely must have helped with the scholarship offers. It seems that at least one open spot on the line is spoken for. 
Jacoby Boren
The youngest of the Boren brothers has been listed as the backup center and it seems to be his position to lose. There's no need to explain the connection that the Boren family has with Ohio State, since the story has been told many times. I'll only add that Boren's father Mike grew up in the same neighborhood with me, just around the corner and down the street a bit. I didn't see much of the elder Boren though (he was two years older than me), mostly because whenever I saw him coming I would run and hide. He was a tough guy, and kind of scary-looking.
Jacoby Boren was not as highly regarded coming out of high school as his older brother Justin, but he is mature beyond his years and has already shown outstanding leadership both on and off the field. He enrolled early in 2012 and participated in spring practices before injurying his shoulder. After surgery he returned in time for fall practice and actually played in two games as a freshman backing up Linsley at center. Boren is an intelligent player (3.96 GPA) and it looks like the junior-to-be might be just what this line needs in the middle calling the blocking.
darryl baldwin
Baldwin has been listed as the backup to Jack Mewhort at left tackle, but it is by no means a sure thing that he will take over there. The Solon, Ohio native will be a senior in the fall and will be playing his third season on the offensive line. He came to Ohio State as a defensive lineman and was redshirted in 2010 before earning a letter on defense in 2011. He switched to the offense in 2012 and played in all 12 games on special teams. This season he played only on the line, and only in blowout situations.
Baldwin will be a candidate to replace Mewhort, but I believe the other tackles listed below (Chase Farris, Kyle Dodson, Tommy Brown) will also compete for the slot. I will not hazard a guess as to who will ultimately win the position but for now I think Baldwin will get the first crack.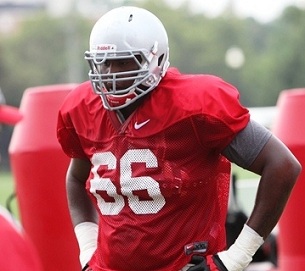 kyle dodson
Dodson is an intriguing prospect, with his ideal tackle size and his long frame. As a redshirt freshman (he had shoulder surgery in 2012), Dodson has not had many opportunities to play. He is currently listed as one of two backups to Taylor Decker at right tackle, but he worked at left tackle in the fall behind Mewhort and so he knows the position well.
Dodson was the subject of an intense recruiting battle, as the newly-hired Urban Meyer managed to pry him away from his previous commitment to Wisconsin and keep him out of Mark Dantonio's clutches. That struggle might pay off in the fall if Dodson is able to live up to the hype that surrounded him coming out of high school. He's still a bit raw, but there is much potential there.
chase farris
Farris is another player who moved over from the defensive line, and he was the main challenger to Taylor Decker in the fall when Decker managed to win the right tackle position. Farris redshirted in 2011 and he will have junior eligibility in 2014. If he is unable to win the left tackle derby, he might also get a look at the left guard spot vacated by Andrew Norwell due to his size and frame, or he might go back to defense. In any case, this guy is going to be on the field in some capacity, even if it's only on special teams.
evan lisle
Lisle is another intriguing prospect. He redshirted this season as a freshman and so he will once again be a freshman in the fall. He was recruited as a tackle due to his size and frame but he may not stay there. There will be a logjam at the position in the spring and fall (see above) and so he might get a look at guard at some point. He played in an extremely run-heavy offense in high school at Centerville and he is very good at getting low and using leverage. He still looks like a tackle, but don't be surprised if he's moved around a bit in the spring depending on how things work out (see below).
---
Other possibilities at either tackle or guard are current backup right tackle Tommy Brown, a sophomore from Akron, and former defensive tackle Billy Price, a freshman from Austintown. The status of junior Antonio Underwood is uncertain, as he had knee surgery in April and thus took a redshirt this past season. If he is available, he goes into the mix at left guard. Price is also in the mix at guard and if he works out there, then Lisle might stay at tackle. 
In addition, there are currently five offensive linemen in the incoming freshman class, two of whom are already enrolled (one each at guard and tackle). Assuming the best regarding the players mentioned above, the freshmen might have trouble getting on the field in the fall. But injuries are a fact of life on the offensive line, so it is nice to have a bit of depth waiting for an opportunity.
So, who are you rooting for to win these position battles? Any favorites among the names mentioned here? I personally would love to see Underwood come all the way back and start at left guard. It would make a great story.