It took only a few possessions to figure out Ohio State's defense was really good. Much the same still exists, but the Buckeyes' recent sloppiness isn't reserved to offense.
After limiting opponents to 55 points per game during an unbeaten start, they've surrendered more than 70 in three losses. Combine that with turnovers and a severe drought on the offensive end and it's easy to see why Ohio State's 2-3 in arguably the nation's best conference.
It's all intertwined, and the slowing of the defense's effectiveness grinded down the offense. The Buckeyes use defense to create offense. When steals and turnovers are low, a plunge in offensive production is the end result.
"I told the guys we're putting so much pressure on our defense every single time down the floor. But hopefully we can find a groove offensively," head coach Thad Matta said.
They did last time Nebraska was the opponent, as Ohio State scored 84 points. But even that seems to be something far off in outer space. This team – well, both teams – are different than the two that played just weeks ago on Jan. 4.
"They're not going to feel sorry for us," Ohio State guard Aaron Craft said. "They seem to have another energy level when they play at home in front of all those fans in the new arena. It's not going to be anything like the game we had in here that seems like forever ago."
The Buckeyes better hope the result is somewhere in the same ballpark – or arena. If not, the red hue on their jerseys will match the color of the ringing alarm bells.
| # | Name | YR | HT/WT | PTS | REB | AST | P | # | Name | YR | HT/WT | PTS | REB | AST |
| --- | --- | --- | --- | --- | --- | --- | --- | --- | --- | --- | --- | --- | --- | --- |
| 4 | A. Craft | SR | 6-2/195 | 9.1 | 3.4 | 5.1 | G | 0 | T. Webster | FR | 6-4/195 | 5.8 | 2.3 | 2.4 |
| 3 | S. Scott | JR | 6-1/185 | 8.3 | 4.2 | 4.1 | G | 15 | R. Gallegos | SR | 6-2/182 | 8.4 | 1.6 | 1.6 |
| 32 | L. Smith Jr. | SR | 6-4/210 | 12.2 | 4.9 | 1.5 | G | 5 | T. Petteway | SO | 6-6/209 | 17.3 | 5.3 | 1.4 |
| 10 | L. Ross | JR | 6-8/220 | 13.6 | 5.8 | 0.8 | F | 31 | S. Shields | SO | 6-7/219 | 10.9 | 5.3 | 1.7 |
| 23 | A. Williams | JR | 6-11/250 | 9.6 | 6.7 | 0.4 | C | 35 | W. Pitchford | SO | 6-10/234 | 8.4 | 4.4 | 0.5 |
Opponent Breakdown
Nebraska basketball has been lost in the football shuffle for decades. Coaches come and go, with new hires believing they're the ones that can change things in the heartland. The latest to carry those thoughts is Tim Miles, who's in the midst of his second season.
He came to the Cornhuskers after a successful run at Colorado State that included an NCAA Tournament win in 2012. Miles' first season at Nebraska ended with a losing record and Year 2 isn't showing much progress. An 8-4 non-conference record showed some hope. Wins over Miami and Georgia seemed to signal growth.
But three weeks later, the Huskers are 0-4 in the Big Ten. Even an Ohio State team on a three-game win streak doesn't offer much optimism. The Buckeyes throttled Nebraska by 31 points in early January. Don't think the administration will give up on Miles, though. He's one of the top young minds in the game and has generated buzz around the stagnant program.
Sellout crowds at the new Pinnacle Bank Arena have been the norm, even against middling non-league foes. And the results have been pleasant. The Huskers are 7-1 at home with the lone loss coming by one point to Michigan.
The biggest challenge for Miles is recruiting, the lifeblood of any program. If you can't recruit, the chances of winning decrease dramatically. Last year's class brought two three-stars to Lincoln and a highly regarded point guard from New Zealand. An almost nonexistent tradition makes life hard for Miles inside living rooms.
This season was ready-made due to an influx of transfers. Two - Terran Petteway (Texas Tech) and Walter Pitchford (Florida) – came from major colleges, while Deverell Biggs (Seward County Community College) went the community college route. Those three players populate the top of Nebraska's scoring chart. 
"A lot of guys came from being King Whoever wherever they were," Miles said. "You're not king anymore, not in this league. You're not even a prince probably. We're just the jesters trying to work it out."
Despite the difference in records, Ohio State and Nebraska have some similar deficiencies – troubles at point guard, three-point shooting woes and issues at center. Tai Webster, the guard out of New Zealand, owns an assist to turnover ratio that's nearly 1:1; the best long-range shooter is below 40 percent; and 6-foot-10 Walter Pitchford isn't what you expect in a big man.
Miles was given a seven-year contract worth over $1 million per year. He'll make more than $2 million in the final year. So, yeah, faith has been put in Tim Miles.
The payoff will come when – or if – he propels the Huskers into the Big Dance. The last time that happened Miles was coaching at something called Southwest Minnesota State.
"It takes time to piece it all together," Miles said.
Buckeye Breakdown
Give Thad Matta credit – the glass if always half full. There wasn't a sense of urgency after losing to Iowa last weekend and he remained calm following Ohio State's third consecutive loss.
This is a team that was 15-0 a little more than a week ago, and its led by a coach whose even-keeled nature has paid dividends throughout a highly successful career. Not even the first three-game losing streak in five years rattled his confidence.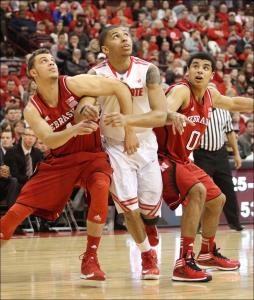 "There's going to be peaks and valleys," Matta said. "We're at the bottom. We've lost three games in a row. There's only one way we can go – up. There's only one team that can change that, and that's us."
A trip to Nebraska is the perfect remedy for Ohio State. It's clobbered the Cornhuskers during their Big Ten tenure. Still, this meeting could be more difficult than the past. One reason is the Buckeyes' porous play as of late. But an 0-4 conference record doesn't mean Nebraska hasn't been competitive. The new home court is also a factor.
Right now, players are trying to come to grips with the current streak of futility. Many of them have never experienced such a significant dose of loses – some would call it an overdose.
Aaron Craft used the words "tough" and "different" when describing his feelings about the recent struggles. But he's not unfamiliar with Ohio State digging itself out of deep holes. What the Buckeyes haven't had this season is a team meeting, which occurred after last year's loss at Wisconsin.
"Hopefully we don't need one," Craft said.
Monday's game will play a big part in whether Ohio State's players need that gathering. They've said all he right things after each loss and given proper respect to opponents. Craft went as far to prop up a Nebraska team the Buckeyes already beat by 31 points.
"It's very easy to continue to feel sorry for yourself and continue to look back on mistakes," Craft said. "When you lose a game you always look back and think about them, but we've lost three now. So there are three games of mistakes kind of running through everyone's mind."
Etc
Ohio State is 10-2 all-time against Nebraska. The Buckeyes have won nine consecutive games in the series, including all six since the Cornhuskers joined the Big Ten. 
Lenzelle Smith Jr. averages a team-high (more than one game) 8.7 points against Nebraska. Marc Loving scored 17 against the Huskers in this season's previous game.