The football recruiting dead period is over and that can only mean one thing – national signing day is only a few short weeks away and Ohio State is poised to have one of the best classes in the nation again.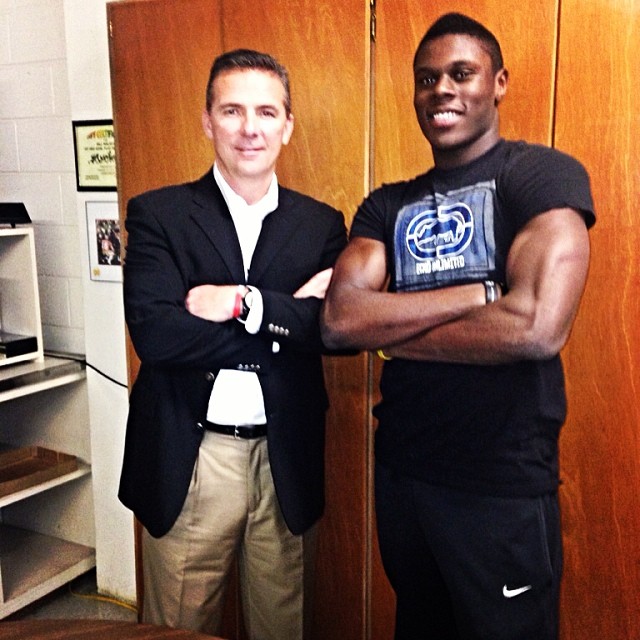 It also means Ohio State coaches were all over the country, yesterday, making up for lost time. As many of you are aware, recruiting is fluid and things can change quickly, especially around this time of year.
While the 2014 class and National Signing Day will steal all of the headlines, it's a crucial time of year for the coaches to build relationships with 2015 recruits. 
Still, closing out the 2014 class is Ohio State's primary objective, right now, and a few new names are beginning to appear for the last few spots. At this point, Ohio State is primarily focused on offensive linemen, defensive linemen, and possibly a tight end. Ohio OL Brady Taylor picked up an offer earlier this week and, yesterday, Ohio State followed that up with a new defensive line target.
Defensive Line situation

As Birm wrote in the forums last night, Ohio State made a new scholarship offer yesterday - to 3-star defensive end Darius Slade. Slade committed to Nebraska back in early December, but de-committed last night, coinciding with Ohio State offering him a scholarship.
However, in a somewhat surprising move Slade committed to Michigan State today. The Spartans were Slade's leader back in November, so this didn't come out of nowhere but it's a tough loss for the Buckeyes.
So what's next for the Buckeyes? I think they would like to add another defensive lineman to the class with Solomon Thomas, Malik McDowell and Derrick Nnadi being the primary targets. Solomon Thomas is the clear No. 1 target, while Derrick Nnadi is visiting this weekend and McDowell is visiting with Thomas in a couple of weeks.
Slade's commitment could have an impact on Malik McDowell to Michigan State, as the Spartans now have four defensive line commits and 20 commits total. That being said, I have to think Michigan State will take McDowell regardless as he's the top player in Michigan. Still, this quote from Slade yesterday following the de-commitment is interesting in regards to Michigan State's class filling up:
"I still have an offer [at Michiga State], but at the same time, they have a d-end taking a visit there this weekend. And I hear he is a big name kid. So I don't know if he's gonna commit this weekend or what the situation may be."

- Darius Slade
Clearly, Slade felt it was necessary to commit to Michigan State quickly. The question is, was this just Michigan State pressuring him to commit or is there some legitimacy to their stance that the class is filling? It's hard to say.
What about Solomon Thomas? Well, Stanford's Defensive Coordinator, Derek Mason, has emerged as the leading candidate to fill the Vanderbilt head coaching vacancy. If Mason does indeed accept the job and were to take some Stanford defensive coaches with him, it's hard to imagine this not having at least some effect on Solomon Thomas. Larry Johnson will have a chance to impress Thomas when the official visit takes place in two weeks, though with all of the turnover at each of Thomas' top three choices it seems like Thomas staying home and playing at Texas is becoming more and more likely.
A new name that could emerge is 3-star DT Michael Sawyers. Sawyers de-committed from Vanderbilt on Wednesday, and could be another option for the Buckeyes to consider. Coach Hinton was in Nashville to visit Sawyers today, so there is clearly some interest from the Ohio State end. Sawyers is planning to spend the next three weekends visiting Georgia Tech, Ole Miss and Tennessee, so if he doesn't visit Ohio State he is probably a long shot for the Buckeyes. However, if Ohio State feels that they are going to miss on Thomas, Nnadi and McDowell, they may try and recruit Sawyers a bit harder.
Daniel Cage is also a name to keep an eye on. The Cincinnati prospect does not have an offer, but could be a possibility at the end if the Buckeyes miss on the other guys they want.
New 2015 offer goes out

On Wednesday night, Ohio State offered 2015 4-star safety Rashad Roundtree. Roundtree has been blowing up recently, with offers from Ohio State, Clemson, Georgia, Michigan State, Florida and Virginia Tech all coming in the last week. Why? Roundtree is a fast, physical, ball-hawking safety. He made 97 tackles and 4 interceptions last year, a big reason why he was first-team All-State in Georgia's class AAAAA.
Roundtree told 11W that his success on the field is attributed to playing downhill and aggressive, something that Ohio State would love to get from its safeties. With so many offers coming in so quickly, Roundtree says that everyone is on a level playing field right now, though he is planning on making a junior day trip to either Clemson or Florida this spring. He is also hoping to make it to Columbus some time this summer or late spring.
Enjoying the Jersey SHore

The east coast has been a focal point of Buckeye recruiting recently. Between Curtis Samuel, Noah Brown, Malik Hooker, Eli Apple and others, Ohio State has been pretty successful in the northeast.
The northeast is a gold mine for 2015 talent and Ohio State is working hard to take advantage of it. Urban Meyer and Ed Warinner spent most of yesterday in New Jersey, visiting Noah Brown, Brandon Wimbush, Minkah Fitzpatrick, David Njoku, Steven Gonzalez and Darius Slade.
We know Noah Brown is excited to be a Buckeye, but where do the other guys stand? Brandon Wimbush was expected to announce a decision shortly after his season but recently decided to delay his decision to later this spring or early summer. Wimbush has also begun to trend a bit towards Penn State since the hiring of James Franklin.
Wimbush's teammate, 5-star CB Minkah Fitzpatrick confirmed with 11W that Meyer and Warinner did indeed visit them, while Penn State and Michigan coaches also stopped by to see them both. Now that new offensive coordinator Doug Nussmeier is in the fold, Michigan is considering offering Wimbush, while they remain in hot pursuit for Fitzpatrick as well. Ohio State appears to be in a dogfight for the pair from Jersey City.
On a more positive note, Urban Meyer got some good news from Steven Gonzalez, one of their top offensive line targets for 2015. Steven told 11W that Urban had heard Gonzalez announce that Ohio State was his leader. After Steven confirmed that this was indeed correct, Meyer responded "well let's try and keep it that way."
Gonzalez told 11W that he will "definitely" be visiting Ohio State this spring, and will probably also visit Penn State and Boston College. Gonzalez is expecting an offer from Penn State soon as well, and is planning on making a decision around signing day in 2015. Gonzalez is a class act, very well-spoken and a great football player. Ohio State looks to be in great shape here but it's still early.
Lastly, Meyer and Warinner made a trip to see David Njoku. Njoku is huge - 6-foot-5 and he moves well. He is listed as a receiver, but he could easily be the tight end target for Meyer in 2014 if Mike Gesicki doesn't work out. Njoku still doesn't have an offer from Ohio State, though he is certainly interested. Njoku was originally committed to Rutgers, but Miami (Fl.) appears to be the leader right now. Njoku is visiting Penn State this weekend and plans to visit Ohio State on January 31st. If Njoku gets the Ohio State offer, it would be pretty tough to turn down for Njoku, who can really play by the way.
Tim Hinton also visited 2015 targets Chris Clark and Christian Wilkins in Connecticut. Both have Ohio State offers. Lastly, Hinton stopped by to watch Mike Gesicki's basketball game last night. Gesicki remains committed to Penn State but Ohio State is working to get back into the mix. Look for Meyer to try and get another visit with Gesicki before signing day.
And the State up North

Meanwhile, Kerry Coombs, Stan Drayton and Larry Johnson spent much of yesterday in Michigan doing a bit of recruiting in enemy territory. They stopped by to see Damon Webb, Mike Weber, Joshua Alabi, Malik McDowell, Brian Cole, Donovon Peoples-Jones and Joshua Holloman. All except for Peoples-Jones and Hollomon currently have offers (and Webb is committed). Michigan State is favored for Cass Tech's Mike Weber and Joshua Alabi, but Ohio State continues to recruit them hard, as does Damon Webb.
Brian Cole is an absolute game-changing player, and he likes the Buckeyes quite a bit. Ohio State is battling Michigan, Michigan State and Tennessee for his services.
Donovon Peoples-Jones and Joshua Holloman are the newer names here, Peoples-Jones is a 2017 WR and Holloman is a 3-star 2015 running back. Peoples-Jones is another Cass Tech kid, doesn't currently have any offers but Ohio State, Michigan, Michigan State and Tennessee are interested. Holloman doesn't have any offers either, though he visited Michigan State in August, so they have shown some interest along with Ohio State, Michigan and some MAC schools. He also camped at Alabama last summer.
What's next?
Coaches continue to hit the trail hard today, Tim Hinton is in Tennessee today to check in on Van Jefferson and Michael Sawyers. Larry Johnson is in Texas today, likely visiting Solomon Thomas and others. 
Tom Herman visited Demetrius Knox yesterday and is in Florida today to watch Torrance Gibson throw again. With Brandon Wimbush delaying his announcement and Penn State getting into the mix, Torrance Gibson is emerging as Ohio State's top QB target in my opinion, and Buckeye fans should be excited about that. Gibson is a phenomenal athlete, but he really can throw well too. Gibson's coach Mike Rumph told Cleveland.com that Ohio State is "almost perfect" for Torrance.
Coach Warinner is in the Chicago area, visiting Jamarco Jones and likely others, while Coombs and Drayton are recruiting the Cleveland area today, proabably checking in on the Glenville kids and likely Jerome Baker.
Looking ahead to this weekend, Brady Taylor and Derrick Nnadi are currently in town, while Jermaine Roberts is scheduled to visit next weekend. After that is the huge recruiting weekend on January 31st that includes Malik McDowell and Solomon Thomas. And after that is signing day! Recruiting is really heating up right now as so much happened in just the day and a half since the dead period has ended. You can expect a few more names to be thrown around for the 2014 class and the 2015 class will continue to pick up steam too. You can expect a lot of additional recruiting content on Twitter and in the forums, so be sure to check often for the most recent updates.
As you saw with Darius Slade, things happen very quickly around this time of year, so buckle your seatbelt and get ready for a heck of a ride to signing day.