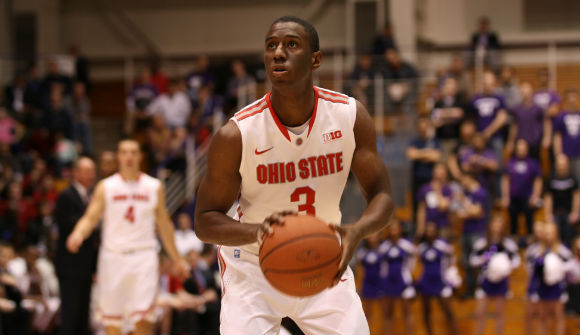 Buckeye point guard Shannon Scott will be an important indicator of Ohio State's success this season.
Scott has begun to emerge as a viable scoring option during his junior season with six games in double figures already this season, compared to just four all of last year. This season's increased scoring includes a career-high 18 points in the New Year's Eve win at Purdue.
He scored 31 points in the first two Big Ten games this season, and it appeared that Scott had turned a corner.
He just missed doubles with nine in the overtime loss at Michigan State last week with six rebounds, four assists and three steals, but he also turned the ball over six times. Despite the loss and those six miscues, Scott's stock was on the rise. After all, his defense largely contributed to Ohio State's comeback bid and the game was on his fingertips in the final seconds of regulations.
But then he suddenly disappeared Sunday at home versus Iowa.
Against the Hawkeyes, Scott played his fewest minutes in nearly a month. He scored just two points on 1/5 shooting (0/3 from deep) and grabbed two rebounds. Although he finished with five dimes, two steals, a blocked shot and just one turnover, he wasn't quite on his game. He picked up four fouls and was generally a non-factor on the offensive end of the court.
"When everyone is playing good — not great, good — we're one heck of a team," Ohio State Head Coach Thad Matta said. "Consistency is key."
And so it is with Scott. If the Buckeyes are going to keep up with Wisconsin, Iowa and the Michigan schools, he has to find that all-important level of consistency. The Milton High product from Alpharetta, Ga., simply plays too many minutes to disappear for long stretches.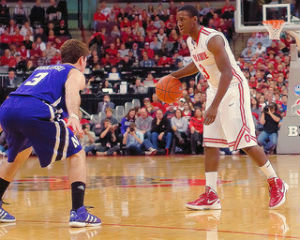 His season averages of 8.3 points, 4.2 rebounds and 4.1 assists are solid, if unspectacular, and a nice jump from last year's 4.9/2.8/3.8 per game, but with the departure of players like Deshaun Thomas and Evan Ravenel, Scott must provide more in 2013-14.
He's shown the ability to do just that.
But he still misses too many shots — from layups to triples. He shot better than 50% in five of the first six games this season, but has reached that number just six times in the last 11 games. During that stretch, he made four or more field goals only three times, hit only 8/32 (25%) from three-point range, and has shot 72% from the line — although that last stat is actually an improvement from the 65% he made from the stripe in the first six games. 
Scott is a quick, athletic player who has shown the ability to knock down shots at times and even get hot every now and then. The talent is there. As a junior, the experience is there. Now he just needs to bring his game on a more consistent basis.
Scoring is not something that will happen every night, even for the best of players. However, it's important for teams to consistently regard him as a threat.  If he can make that happen, the Buckeyes may yet contend for more hardware this year.