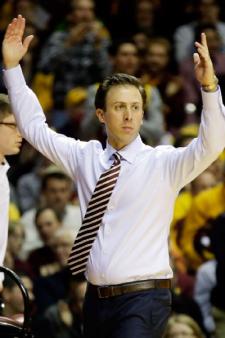 The Big Ten basketball season is long, stretching calendar years and several months. The 18-game slog is a survival of the fittest with 12 teams facing home and road tests that expose those who can't handle the pressure.
At the moment, Ohio State appears to be one of the unlucky teams on the outside looking in. As recently as last week, the Buckeyes were undefeated and ranked No. 3 in the country. What followed were two losses highlighted by an abundance of turnovers.
For Thad Matta, who's in his 10th season as head coach of Ohio State, it was an uncharacteristic week of flaws. Up next is a trip to Minnesota, never an easy place to win a basketball game.
"I honesty can't tell you one easy environment to play in in the Big Ten," Matta said.
But don't think the Buckeyes are panicking in mid-January. They've been in this position before.
"There's still a lot of basketball to be played and the worst thing we can do is feel sorry for ourselves," senior guard Aaron Craft said. "We can't keep this going. We have to find a way to pick ourselves up because no one's going to do it for us."
Certainly not Minnesota. In his first year at the helm of the Gophers, Richard Pitino has his team positioned to reach the NCAA Tournament, but it's going to need signature wins to complete that journey. Minnesota is 13-4 overall and 2-2 in the Big Ten. It lost at Michigan State in overtime Saturday and the next three games are Ohio State, at Iowa, Wisconsin.
An 0-4 stretch would all but end their hopes of reaching the Big Dance, making tonight's game that much more important for each team.
"You know, it just keeps coming," Matta said. "We'll get ready to go again because it doesn't get any easier."
It's been five years since the Buckeyes lost three consecutive games. That season – 2008-09 – they eked into the NCAA Tournament and promptly lost, in double overtime no less, in the first round to Siena (coached by Fran McCaffery). Previously undefeated Wisconsin's loss at Indiana this week already showed how difficult life is on the road in the Big Ten.
"I think we go through stretches where we want things to be easy," Craft said.
If it hasn't yet, Ohio State will find out how demanding conference basketball season really is.
| # | Name | YR | HT/WT | PTS | REB | AST | P | # | Name | YR | HT/WT | PTS | REB | AST |
| --- | --- | --- | --- | --- | --- | --- | --- | --- | --- | --- | --- | --- | --- | --- |
| 4 | A. Craft | SR | 6-2/195 | 9.1 | 3.4 | 5.1 | G | 4 | D. Mathieu | JR | 5-9/165 | 11.4 | 2.7 | 4.4 |
| 3 | S. Scott | JR | 6-1/185 | 8.3 | 4.2 | 4.1 | G | 1 | An. Hollins | JR | 6-2/195 | 16.3 | 4.1 | 3.1 |
| 32 | L. Smith Jr. | SR | 6-4/210 | 12.2 | 4.9 | 1.5 | G | 20 | Au. Hollins | SR | 6-4/190 | 12.1 | 6.7 | 2.5 |
| 10 | L. Ross | JR | 6-8/220 | 13.6 | 5.8 | 0.8 | F | 10 | O. Osenieks | JR | 6-8/220 | 6.8 | 3.2 | 0.9 |
| 23 | A. Williams | JR | 6-11/250 | 9.6 | 6.7 | 0.4 | C | 55 | E. Eliason | JR | 6-11/240 | 6.5 | 8.6 | 0.8 |
Opponent Breakdown
The knock on Iowa before last weekend was the absence of a resume-boosting victory. The same goes for Minnesota, though it earned a massive moral victory in East Lansing on Saturday. It deposited a sense of self-belief and confidence in the Gophers, and they could use a dose tonight when they host Ohio State.
Minnesota's Andre and Austin Hollins lead the offense, averaging a combined 28.4 points per game, 11 rebounds and 5.6 assists. Elliott Eliason provides a bulk of the production inside with 8.6 rebounds and 2.7 blocks per game, along with 6.5 points. He was also tabbed as the team's fourth captain on Wednesday.
"He's becoming so much more vocal," Pitino said. "I said, 'Elliott, you probably on a consistent basis are the top two on our team in working hard every single day and leading every single day. I think you deserve this. Now, certainly don't get complacent. Now you've got a little bit of a role on your hand that you need to live up to.'"
It starts with the Buckeyes. Pitino noted that he was thrilled with his team's demeanor down the stretch against Michigan State. In a hostile environment, Minnesota didn't wilt, much like Ohio State previously during the same week. What did frustrate Pitino, however, were the silly mistakes committed in overtime – sound familiar?
Colliding are two teams that need a victory and have been plagued by sloppy play. But the Buckeyes' defensive strength could pose a list of issues for the Gophers. Even after a dismal showing Sunday against Iowa, Ohio State is still sixth nationally in scoring defense, allowing 57.6 points per game. On the perimeter, its only allowing opponents to convert 27 percent of their attempts from three-point range. But don't think that will stop Minnesota from firing up 3s. 
"Bombs away. We'll keep shooting it," Pitino said. "We're always going to shoot 3s. Their strength is guarding the perimeter. That's our strength. Now we've got to try to go inside more, certainly, because Craft and Shannon Scott are two of the best perimeter defenders in the country."
Buckeye Breakdown
There've been several constants during Ohio State's recent struggles. One has been the uneven, and sometimes disappearing, play of senior guard Lenzelle Smith Jr. After being one of the Buckeyes' most consistent players during the first 15 games, Smith was 6 of 18 from the field last week and 1 of 7 from three-point range.
Matta said he noticed Smith wearing down in Ohio State's most recent loss to Iowa. There were several lapses on the defensive end in the second half.
"Those are mental mistakes, and I think the big challenge with him is just making sure that he is focused in terms of what he needs to do and what he's capable of doing," Matta said. "Lenzelle Smith is a heck of a basketball player. He's got a great legacy going here in terms of what he's accomplished."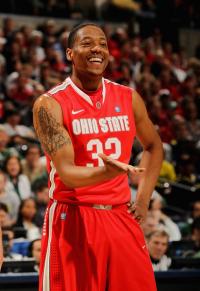 Smith's woes are one of many Matta and Co. hope to correct before tonight's important game with Minnesota. There's no inkling of panic from Matta, though. He's been through more than 20 seasons as a basketball coach, which gives him the proper perspective in January while others are running around like chickens with their heads cut off.
Sam Thompson stated the obvious that the Buckeyes weren't the same team last week as the previous two months. But the junior forward didn't see a bad attitude in the locker room or heads staring down at the floor. Instead, the competitive spirit is coming out.
"We know that we still have an opportunity to do all the things we set out to do this season," Thompson said. "As bad as a week that we just had, we have another opportunity to come out and get ourselves back on the right track."
Minnesota's combination of guards and bigs make offense and defense a challenge for Ohio State. Despite the Buckeyes' high ability on defense, the Gophers could be one of the more difficult matchups purely based on what they do well and Ohio State struggles with.
"We know nothing's going to be easy," junior guard Shannon Scott said. "We're in the Big Ten now, it's not like we're playing a random team."
Which goes back to the Buckeyes' carelessness with the basketball. Thirty-eight turnovers in two games is obscene for a team of Ohio State's caliber.
"We're preparing for Minnesota like we prepare for everybody, but a lot of it is on us saying, 'Hey, these things we have to do better. Our attention to detail has to be better, and it has to be for 40 minutes,'" Matta said. "It has to be possession by possession and that's where, quite honestly, I want their minds thinking."
Said Scott: "We're all positive. We all know what we have to do to be successful again."
Now it's about executing before it's too late.
Etc
Ohio State leads the all-time series with Minnesota 80-55 and has won the last six games against the Gophers.
Aaron Craft was named a finalist for the 2014 Collegiate Wooden Cup, given annually to a student-athlete who's have made the greatest positive influence in the lives of others.