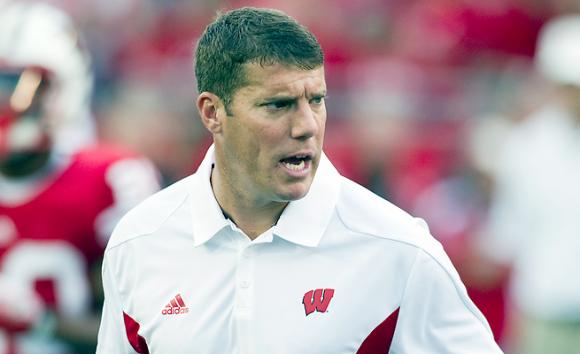 Chris Ash is coming back home to the Midwest and the conference where he experienced his most success – the Big Ten. The one-time Wisconsin assistant and Bret Bielema confidant is joining Urban Meyer's staff at Ohio State as co-defensive coordinator/safeties coach.
Ash, most recently Arkansas's defensive coordinator, replaces Everett Withers, who accepted the head-coaching position at James Madison. Despite a poor one-year stay in the SEC, Ash's reputation as a coordinator and secondary coach is high.
"We've competed against a Chris Ash defense before and I have respect for him as a coach," head coach Urban Meyer said in a statement. "I like the fact he has experience in the Big Ten Conference and that he is a great recruiter. He was highly recommended by everyone I spoke to."
Said Ash: "I was attracted to this position because it is Ohio State, and I had to wonder if I ever would have this opportunity again. This is one of the top five college football programs in the country. It has tremendous history and tradition, and it is a great academic institution. The opportunity to work for Coach Meyer and to learn as a part of his staff will absolutely enhance my knowledge of the game and my coaching experiences."
Ash's coaching talent will be tested immediately. Ash's first order of business will be correcting Ohio State's woeful pass defense. The Buckeyes ranked an abysmal 110th in the nation last season, allowing 268 yards through the air per game. They bottomed out in the final three games when Michigan, Michigan State and Clemson combined to throw for 1,143 yards and 12 touchdowns.
Ash's lone season at Arkansas won't inspire enthusiasm – the Razorbacks ranked 89th in scoring defense, 79th in rush defense, 76th in total defense and 73rd in pass defense. But the pass defense did improve from the previous season when it gave up 286 yards per game. Arkansas lowered that number to 235 in 2013. However, it's Ash's time in Madison that draws praise.
During his three seasons at Wisconsin, the Badgers finished in the top three of the Big Ten in total defense each year. It equated to three Big Ten championships and three trips to the Rose Bowl.
In 2012, Wisconsin ranked 13th nationally in total defense, 19th in scoring defense and 23rd in pass defense. The Badgers led the Big Ten and ranked third in the country in three-and-out percentage.
The stats were even more impressive in 2011, when Wisconsin limited opponents to just 163.3 yards passing per game, fourth-best in the NCAA. Only four teams scored 17 points on a Badger defense that ranked 13th in scoring and 15th in total defense.
Ash's first season at Wisconsin – 2010 – saw three of the starters in the secondary earn all-Big Ten honors.
"You can recruit anywhere in the country," Ash said of Ohio State. "You can recruit players that are talented, that have character and that believe education is very important. When you have all three of those attributes in players, then you can build upon this outstanding program."
In three games against Ohio State, Ash's defenses held the Buckeyes to less than 120 yards passing per game, though Wisconsin only recorded one victory. But it took the undefeated Buckeyes to overtime in 2012, a game Herman said he was outcoached by Ash.
"He was very simple. He did not call one blitz on first or second down," Herman told BTN. "He called one front and one coverage. Within that front and coverage, he could adjust to any formation or motion we gave him. And he had his kids extremely well coached up on recognition of plays and alignments.
"We were trying to run the ball into a nine-man front. I did a poor job in not having confidence in our throw game. You have to throw it over their heads and our guys have to make plays if they are going to commit both safeties to the run the way that they did. Even though we won in overtime (21-14), Chris had his guys more prepared than I did. I learned from it. And it's better to learn from a win than to learn from a loss, I can tell you that."
Ash made $550,000 at Arkansas, according to USA Today's assistant coach salary database. Luke Fickell made $610,000 and Withers made $585,000.
A 1996 graduate of Drake University, Ash has coached at his alma mater, Iowa State (alongside Tom Herman), San Diego State, Wisconsin and Arkansas.
Ash followed Bielema to Arkansas following the 2012 season. Bielema said after the Razorbacks hired him that a factor in his move was the inability to pay assistant coaches at Wisconsin.
Soon after the announcement that Ash was leaving for Ohio State, Bielema tweeted, "Have always felt transition on my staff has allowed us to get even better. Have had success hiring right people and will again. Very happy for former coaches that decide to move to new challenges, the respect our staff gets nationally will continue to grow."
"To me, to be successful, I think you have to be detailed," Ash said. "You have to be able to coach and teach the fundamentals of the game, and that's how you develop players. You have to have a consistency with how you prepare yourself so you can prepare them and then get them to play hard."