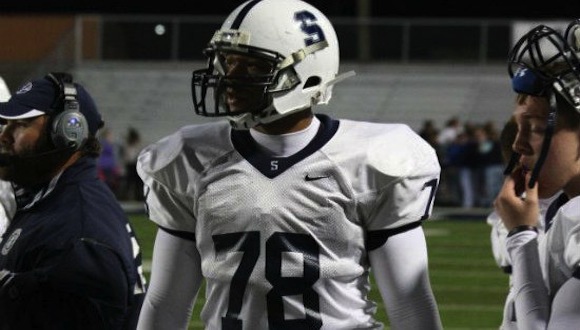 Well, this has been kind of a whirlwind afternoon, hasn't it? First we hear of the unfortunate news of Mike Vrabel leaving Ohio State (unexpectedly) and then minutes later we get the official announcement of Braxton Miller's return for his senior season. We'll use this space to address the first and how it impacts Ohio State's 2014 recruiting class.
Let's get right to it.
THE COMMITMENTS
Straight away, the big question that people will ask is this: "Will this cause any of the Buckeyes' current commitments to look elsewhere?" Simply put, the answer to this is a strong "No, I don't think so."
There are a handful of recruits inside of Ohio State's recruiting class that had Vrabel as the lead guy in their recruitment, but the big three of Dylan Thompson, Jamarco Jones and Jalyn Holmes are the biggest three to have any concerns with. Jones and Thompson have gotten very close with Vrabel in the past year, and they're certainly stinging from the news. 
Jalyn Holmes, the Norfolk (Va.) four-star defensive end is the player that most were concerned about and the guy who I'd be least surprised to hear about receiving "feelers" from other schools hoping to slide into the Buckeyes' place. He's not from Ohio, has a ton of big offers, would have been coached directly by Vrabel and had gotten very close to him. However, Holmes was quick to get on Twitter after the announcement today and his tweets should assuage any concerns that he would look elsewhere at this point,
Thompson does not have the big offers that Holmes does, but is another guy that had gotten incredibly close with Vrabel and I can't help but think he's hurting from the news more than any of the other guys. As of now, Thompson isn't talking about the news, but it's clear that he's hurting and I'd not be surprised if the Buckeyes have a bit of work to do in alleviating his sadness about the departure. That said, and this goes for all the guys affected, they've committed to Ohio State, to Urban Meyer and to their future teammates, not just one coach. 
Bottom line, I don't expect any recruits that are currently committed to Ohio State to sign anywhere other than Ohio State.
THE NOT COMMITTED GUYS
This is the one area that you can expect Vrabel's departure to immediately hurt Ohio State's recruiting efforts. While the majority of the 2014 class is figured out, the last few pieces of the puzzle included — at least hopefully for Ohio State — one or both of Coppell (Texas) defensive end Solomon Thomas or Detroit (Mich.) end Malik McDowell, both of whom Vrabel was closely involved with. I'd imagine that each of these pursuits will be seriously impacted and potentially to an unrecoverable degree.