The past week in high school basketball featured a number of high profile matchups, particularly in some non-traditional, out-of-state games.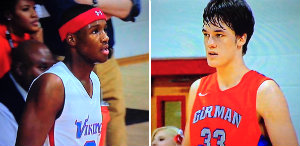 Buckeye signee D'Angelo Russell returned to the court after suffering a knee injury before the season started and led his team to four blowout victories. Him and two other members of the 2014 OSU class were also nominated for the McDonald's All-American Game.
Over the weekend, two five-star 2015 Ohio State targets played a nationally televised game at the same West Virginia venue as Russell's Montverde squad.
In Kentucky, one of the top wings in the 2016 class showcased his versatile skill set, somewhat reminiscent of a former Buckeye. Plus, in conference news, a Michigan signee facing unbelievable adversity makes his return, while Illinois grabs another in-state recruit.
Scouting Bragg and zimmerman
Hundreds of fans and many well-respected college coaches – notably Kentucky's John Calipari and North Carolina's Roy Williams – battled harsh winter conditions to get to Wheeling, W. Va. for an exciting slate of high school hoops at the Cancer Research Classic.
Cleveland's Villa Angela-St. Joseph's battled Las Vegas' Bishop Gorman in just one of Friday evening's matchups at Wheeling Jesuit University. That meant two Ohio State targets in the class of 2015 would go head-to-head. The lure of VASJ's Carlton Bragg and Bishop Gorman's Stephen Zimmerman, who have Buckeye offers, plus Chase Jeter – all five-star recruits – were enough for ESPNU to put the game on its primetime schedule. 
It also gave me the opportunity to jot down some notes on Bragg and Zimmerman:
Stephen Zimmerman: 
Looks more comfortable facing up around the elbows, but he's an adept passer from either block and anywhere on the floor, really.
Good positioning and footwork in low-post with quick, lefty jump hook.
Had trouble finishing in traffic, appears to be more of a finesse big until you see him finish in transition.
Missed quite a few midrange shots, but has shown ability to consistently hit those in the past.
Can run baseline-to-baseline even better than you expect for someone 7-feet tall. He c

onstantly beat the defense down the floor, which is not necessarily a knock on 

VASJ. 
Finished with 21 points and eight rebounds. 
Carlton Bragg: 
Early on, had a decent look from three on wing, Zimmerman ran him off shot, Bragg passed it to open man in corner. Followed teammate's miss by flying to the rim for an offensive rebound attempt. 
Bishop Gorman did a poor job boxing him out, but, at the same time, he crashed the offensive glass hard and sprung high each time. 
On one possession, he couldn't keep Jeter off offensive glass, but made up for it by moving his feet on defense, not fouling and forcing a tough look on put-back attempt.
Settled for long three-point attempts a few times against a zone, but his jump shot is smooth. Looked like VASJ's game plan was to take as many open looks from three as possible.
Rough start included a missed lefty lay-up in transition with open basket. Out of sorts in the first half.
However, he helped team out in other ways. One sequence he fronted Jeter, picked off a telegraphed pass, then flung an outlet feed over two defenders from one three-point arc to the other.
He bounced back in the second half, continued to dominate on the boards and got a few easy buckets because of it.
Got a few touches in high-post against 2-3 zone, made correct plays each time. Missed several midrange shots, but good looks.
Finished with nine points and 14 rebounds. 
Overall, it was tough to evaluate both, individually, on the defensive end because of the heavy amount of zone played by both teams. Both altered shots around the rim when things broke down, but, generally, stuck to their assignments. 
Zimmerman's mother, Lori, spoke to Scout.com and said her son is not close to cutting down his list. He'll also take more visits once his high school season ends.
If you want more insight on Bragg and his recruitment, check out this feature by 3rd Coast Hoops:
Russell's back on the hardwood
The day after VASJ-Bishop Gorman, Ohio State signee D'Angelo Russell and his Montverde squad took on Marietta (Ga.) Wheeler in the Cancer Research Classic. 
It was the second straight weekend of tournament action for Russell, who recently returned from a torn meniscus. He injured his knee in practice before the season even started.
Here's some Russell highlights from the game against Wheeler, courtesy of Scarberry Media: 
Future buckeyes nominated for the Mcdonald's all-american game
Russell and two soon-to-be teammates were nominated by their respective high schools for the 2014 McDonald's All-American Game, to be played April 2, at the United Center in Chicago. 
Keita Bates-Diop (Normal, Ill.) and Jae'Sean Tate (Pickerington, Ohio) join Russell on the list, which also includes OSU target Myles Turner. On the women's side, four of the five members of Kevin McGuff's 2014 class were also nominated. The full list of nominees can be found here. 
Battle for 2016 recruit already underway
St. Louis native Jayson Tatum won a gold medal with the USA Men's Basketball U16 National Team in Uruguay, over the summer, and is now dominating back stateside. 
Tatum recently took part in the Goodfellas Pizzeria National Shootout in Lexington, Ky. The five-star, 2016 recruit spoke to the Courier-Journal about his game.
"I'm not just a scorer," Tatum said. "Coach [Frank Bennett] tells me to try to get a triple-double every game, and most of the time I get a double-double. Every once in a while I get a triple-double."
Tatum combines with his versatility with a lanky, 6-foot-7-inch frame. If you're looking for a comparison to a former Ohio State basketball player, he's reminiscent of Evan Turner, with better range than Turner had in high school. 
Around the b1G
He hasn't played competitive basketball in three years, but that didn't change Michigan head coach John Beilein's mind when it came to giving Austin Hatch a scholarship. 
It would be incredibly cruel to pull Hatch's scholarship, especially considering what Hatch has been through in those three years. The reason why the one-time highly touted recruit hasn't been able to step on the court is because of injuries – both physically and emotionally – he suffered after a plane crash. Incredibly, it's the second plane crash he survived in his life. 
Despite the difficulties of losing family and recovering from a two-month, medically-induced coma, Hatch played in his first game since 2011, Wednesday night:
In less up-lifting news, John Groce continues to make inroads in Illinois recruiting. The Illini secured a commitment from Plainfield's Aaron Jordan, a four-star according to 247Sports' Composite rankings. He joins Chicago's D.J. Williams in Groce's 2015 class.