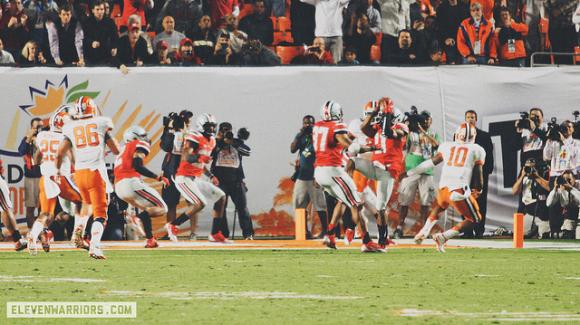 He may have been part of an Ohio State secondary that was torched for 378 yards passing and five touchdowns, and he may have looked raw and exposed by Tajh Boyd and Sammy Watkins. But freshman safety Vonn Bell flashed that five-star skill that made him one of the nation's most coveted recruits last February.
A second-quarter interception swung momentum in Ohio State's direction and acted as a reprieve for Bell after Watkins caught a 34-yard touchdown pass after he found himself matched up against the projected top-10 draft pick. Bell's night included a career-high seven tackles and an interception.
"I played all right," an encouraged Bell said after the Buckeyes' 40-35 loss. "I could get better at some things. But I made plays that were there for me sometimes. I just have to get better, and I have more motivation this spring."
Bell's first season in Columbus wasn't exactly what he and others foresaw after his dramatic Signing Day commitment to Ohio State. A majority of the time was spent on special teams with head coach Urban Meyer pining for more of Bell in the secondary. Defensive coordinator Luke Fickell and safeties coach Everett Withers went in a different direction, though.
"I just have to get better. I'm going to be a leader on this team and on this defense."
There was finally a hint of regret from Fickell before the Orange Bowl. In hindsight, after veteran players made so many errors as the defense tried to mask the loss of Christian Bryant, enduring freshman mistakes may not have been so bad. At least that's the vibe Fickell gave off. The group of talented first-year players in the Class of 2013 was projected to be difference-makers in a national championship campaign. But it never materialized on defense, except for defensive end Joey Bosa's dominance.
Through it all, Bell claimed he remained confident and waited for his moment. Following the Orange Bowl, he believes he proved he could be elite.
The future of Bell as a Buckeye will likely be spent at free safety. But his versatility gives Ohio State options. Bell admitted during the season as he was running down on kicks instead of appearing in the defensive backfield that a tinge of frustration set in. Soon after the loss to Michigan State in the Big Ten Championship Game, the coaching staff decided to insert Bell into the starting lineup in place of struggling senior Pitt Brown. 
"It just motivated me to keep on grinding every day," Bell said. "Just be patient. As a true freshman, it's really hard to play defensive back. You have to be really talented and you just have to stay patient and show them every day and earn the coaches trust."
Growing pains are an inevitable part of any player's career – even five-star recruits. Bell experienced that, and although not every image of his start was favorable, he and Ohio State should see positive results. Bell became a Buckeye to play in primetime games on a national stage. His interception of Boyd acted as his introduction to the college football world.
Instead of pursuing Boyd, Bell stayed back and baited the quarterback into throwing the ball. It was a veteran move by a freshman who'd played minimal defensive snaps. It was the type of play Ohio State longed for in the secondary all season.
"We ran a little zone play. I read the eyes of Tajh and he threw it and I was able to make a play," Bell said. "[The coaches] said we need plays made, so I made the play for us."
In the practices leading up to the Orange Bowl, Bell said he was intent on earning the coaches trust. With little experience returning to the secondary, Bell is a shoo-in to start next year. His presence will be vital for the skilled but unproven group patrolling the defensive backfield.
"We have to take this as motivation," Bell said. "I just have to get better. I'm going to be a leader on this team and on this defense."