High school football's all-star week truly kicks off with today's Under Armour All-American Game.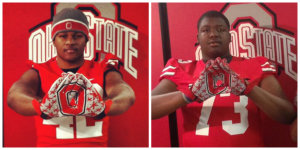 Two future Buckeyes – linebacker Raekwon McMillan and offensive lineman Jamarco Jones – as well as two others with OSU offers are competing in Tampa on ESPN. The game started at 4 p.m.
One of the two targets was five-star cornerback Tony Brown, who surprised many by picking Alabama over LSU. 
McMillan is expected to enroll in classes at Ohio State next week. Outside of the two commits, Buckeye fans should keep an eye on a couple of prospects in the secondary.
Saturday's U.S. Army All-American Bowl will feature more Buckeye commits and targets, including Glenville safety Erick Smith, who is reportedly wavering on when to announce his decision. 
Updates from the Under armour all-american game
While Ohio State is still considered the favorite for Smith and teammate Marshon Lattimore, Urban Meyer and his staff will entertain another defensive back – Jermaine Roberts. The Louisiana native is currently in Tampa and scheduled to visit Columbus, Jan. 24. 
Roberts, a three-star recruit according to 247Sports' composite rankings, originally committed to Texas in April. With Mack Brown's departure, (in reference to the running joke: Roberts does not play quarterback) his commitments are left to wonder who will take over in Austin. They reportedly narrowed it down to Baylor's Art Briles, Florida State's Jimbo Fisher, Louisville's Charlie Strong and Vanderbilt's James Franklin, but the school is continuing to take its time in making a decision. 
"I don't feel comfortable right now not knowing what's going on," Roberts told Rivals.com. "That's why I'm going to look around and take visits."
While he's unsure of what coach will take over for the Longhorns, Roberts does feel a connection with Urban Meyer. 
"At Ohio State, I just like Coach Meyer," Roberts said. "He's a player's coach. They play a similar defense to Texas, too."
In addition to his Columbus visit, Rivals.com also reports he's been in contact with Baylor and is attempting to set up a visit with Oklahoma State.
John "Juju" Smith is the more highly regarded defensive recruit with a Buckeye offer, and on the same squad as Jones ("Team Highlight"). Perhaps, he can help sway Juju. For what it's worth, Smith, a five-star recruit from California, showed up to the Under Armour camp wearing a USC shirt.  
The two Buckeye commits are on opposing teams, as McMillan suits up for "Team Nitro" (assuredly a tribute to WCW). McMillan sat down with ESPN's Tom VanHaaren to discuss his recruitment and his experience in Tampa: 
UPDATES FROM THE U.S. Army ALL-AMERICAN Bowl 
Today's update remains heavy on defensive backs, as Rivals.com's Justin Rowland reports Erick Smith will not announce his college decision at the U.S. Army All-American Bowl, Saturday. Lattimore is still expected to make a college commitment, however.
Looking towards future classes, 247Sports' Steve Wiltfong ran into Kieffer Longson and Jay Stocker at the Army bowl combine. The pair of 2015 recruits are considering Ohio State.
Longson, a 6-foot-7-inch 290 pound offensive tackle from California, received an offer from the Buckeyes in November. He plans to visit Columbus over the summer.
"I keep in touch Coach Warinner. He's a great guy. I've heard he's a really good coach," Longson told Wiltfong. "They have a great program. It'd be awesome to be part of that rivalry with Michigan."
Stocker, currently ranked a three-star safety in 247Sports' composite rankings, has not yet received an Ohio State offer, but grew up rooting for the Buckeyes. He currently lists offers from Maryland, Rutgers and Wisconsin, among others. 
---
For more updates on the Under Armour All-American Game check out Eleven Warriors' live thread. Remember to follow the 11WRecruiting Twitter feed, as well as Jeremy Birmingham, John Brandon, Jordan Wagner and myself for more all-star game updates. For a list of all Buckeye commits, targets, former targets and B1G commits competing in all-star games go to Eleven Warriors' official preview of all-star week.