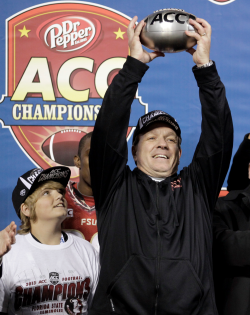 There are six games left in the 2013 college football season, which concludes on Monday night with the BCS National Championship Game between Auburn and Florida State. The BCS era ends with a former "Bowden Bowl" game between Florida State, which began the BCS as the dominant program in the country, and Auburn, arguably the Cinderella story in college football. Auburn is a rags-to-riches story of a team winless in the SEC last year and a conference champion and national championship aspirant this year.
In addition, there are two other BCS games, starting tonight in New Orleans. The Sugar Bowl between Alabama and Oklahoma, two traditional and similarly-colored powers, will give way to the game of interest for Ohio State fans the next day: the Orange Bowl.
Finally, a few other lower-tier bowl games will be played before we finally say goodbye to yet another season of the sport we all love. In this feature, I provide a brief preview of each game and what you could expect in watching it.
Sugar Bowl (Alabama vs. Okla​homa)
I don't think I ever envisioned this bowl game developing at any point this season. Sure, it's a plausible national championship game, if we permit that Oklahoma, the preseason no. 16 team, was a viable national championship contender.
It never was. We were always waiting for that shoe to drop for the Sooners. It did twice in spectacular blowout losses against Texas and Baylor. If we anticipated Oklahoma in the BCS notwithstanding, it was likely as the Big XII champion en route to the Fiesta Bowl. Meanwhile, Alabama would be en route to Pasadena for its third straight national title, or, at the worst, in New Orleans for this game.
Oklahoma finished second in the Big XII, but still got an at-large bid into the final BCS.
This much is a long premise to say that I'm fully expecting Alabama (-14.5) to cover comfortably. You probably are too. It would be easy to dismiss that by reference to the 2009 Sugar Bowl, in which Utah trounced an Alabama team that "didn't want to be there." However, Alabama did horrible, vicious things to Michigan State in the 2011 Capital One Bowl, despite the Big Ten co-champion Spartans being "motivated" and Alabama having a disappointing three-loss campaign that year.
Long story short, expect to hear a mighty "S-E-C" chant roaring around the Superdome, probably midway through the second quarter.
The Sugar Bowl will be on ESPN tonight, starting at 8:30 p.m ET.
Cotton Bowl (Missouri vs. Okla​homa State)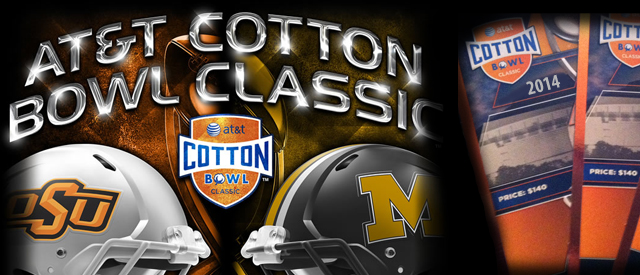 You will not be watching most of this game as it kicks off on FOX (7:30 p.m. ET) just an hour before the Orange Bowl between Ohio State and Clemson, which will get a full preview tomorrow.
This game features two former conference mates entering the contest with BCS aspirations that were dashed after a loss. Oklahoma State entered Bedlam in Stillwater with just the one conference loss at the beginning of the season to West Virginia. It had tie-breaker wins over both Texas and Baylor, playing later that same day. However, Oklahoma State lost in the final minute to Oklahoma, making the winner of the Baylor-Texas game the Big XII champion.
Meanwhile, Missouri, another Cinderella story from the SEC, followed a 4-8 debut in the SEC with an SEC East championship. It went toe-to-toe with Auburn as long as it could before dropping a 59-42 decision in the SEC Championship Game. Perhaps it was a stretch to say Missouri, then the BCS no. 5, could leapfrog Alabama, the BCS no. 4, if it had defeated Auburn (BCS no. 3) and Ohio State (BCS no. 2) lost to Michigan State that same night. Nevertheless, it would be Missouri in New Orleans and not Alabama.
Vegas seems to like Missouri (-3.5) this game and I'm inclined to agree. Expect Oklahoma State to struggle with Missouri's pass rush, led by consensus All-American Michael Sam, Kony Ealy, and Markus Golden.
BBVA Compass Bowl (Houston vs. Vanderbilt)
This is the first time in four years that the BBVA Compass Bowl in Birmingham won't feature the Pittsburgh Panthers being led by an interim or first-year head coach. In fact, I wonder if that's why Pitt was so eager to leave the former Big East for the ACC, just to avoid a bowl tie-in in Birmingham.
This contest features some also-rans from the American Athletic Conference (Houston) and the Southeastern Conference (Vanderbilt). Vanderbilt seemed to have the characteristics of a team dead to rites when the season began. It lost at home to Ole Miss in Week 1, later losing at South Carolina with games still to play at Florida and against Georgia. However, it won both contests. The win against Florida was Vanderbilt's first win in the series in Gainesville since 1945. Both wins are the difference of 6-6 and 8-4, Vanderbilt's current record.
Meanwhile, Houston is limping into this contest. It entered Week 7 as one of the last remaining unbeatens in the country to that point before losing a shootout against Brigham Young at home. From there, Houston has been 3-3 in its last six games, including a three-game losing stretch against the top three teams in its league (Central Florida, Louisville, and Cincinnati).
Vanderbilt is favored in this game (-1.5), though it will be without senior quarterback, Austyn Carta-Samuels. Carta-Samuels had knee surgery to repair a torn ACL that was actually suffered in the middle of October against Georgia.
The game will start at 1 p.m. ET and will be shown on ESPN this Saturday.
GoDaddy Bowl (Arkansas State vs. Ball State)
The GoDaddy Bowl will again have its place as the prelude to the BCS National Championship Game the next day. Why a bowl game featuring teams from the MAC and the Sun Belt, played in Mobile, Alabama, has that distinction is anyone's guess.
It's always hard to get excited about this game. Yearly, ESPN's Z-team commentary crew will just talk at length about the BCS National Championship Game the next night. Further, the teams involved aren't even great teams from bad conferences.
Ball State is at least 10-2 and the no. 3 team from the MAC. However, it lacks a signature win. It crushed Virginia in Charlottesville by a score of 48-27, but the Hoos only had two wins on the entire season. Northern Illinois handed Ball State its only conference loss by the same margin.
Arkansas State enters this game with an interim coach, the third consecutive year the coach who led Arkansas State to a bowl game won't be with the program to actually coach in it. Bryan Harsin, the coach for this year, is en route to Boise State (his alma mater) to replace the departed Chris Petersen. Arkansas State is 7-5 on the season with a 5-2 conference record, which is good for the no. 2 spot in the Sun Belt.
Accordingly, Vegas likes Ball State (-8) this game. That Arkansas State's senior quarterback, Adam Kennedy, is probable for this game may also play a role in that line.
BCS National Championship Game (Auburn vs. Florida State)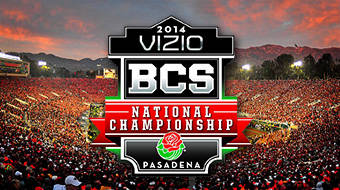 College football says goodbye to the BCS experiment with a contest in Pasadena between Auburn and Florida State. When you think football in the Rose Bowl in Pasadena, you clearly think, "yep, Auburn and Florida State."
Is it just a little weird that the send-off for the BCS will feature the types of quarterbacks it has? Jameis Winston is a freshman phenom and winner of the Heisman Trophy, but Florida State's schedule might be (or is?) the weakest of any team to make it to the BCS National Championship Game.
Meanwhile, Auburn is the most explosive rushing attack in the entire country. The country saw its coming out party in the SEC Championship Game. Therein, Auburn ran for 545 yards in the win against Missouri. However, Auburn has a quarterback who transferred in as a safety from the Georgia Bulldogs. It is questionable, to put it lightly, at throwing the football. Even that Hail Mary against Georgia was a bad throw that was guided by la mano de Dios into the waiting hands of an Auburn wide receiver behind two Georgia defensive backs.
The question, then, is can Florida State actually stop Auburn's rushing attack and make Auburn throw the football? Of all people, Gary Danielson said "yes" when prompted about it during the telecast of the Sun Bowl. I'm inclined to agree, and so is Vegas. Florida State is a favored by a touchdown.
If so, who would've thought that the team responsible for ending the SEC's run of dominance in the BCS was the team that started it in 1998? A Florida State loss to Tennessee in the 1999 Fiesta Bowl was the SEC's first national championship of the BCS era.
The game will be broadcast on ESPN on Monday at 8:30 p.m. ET.