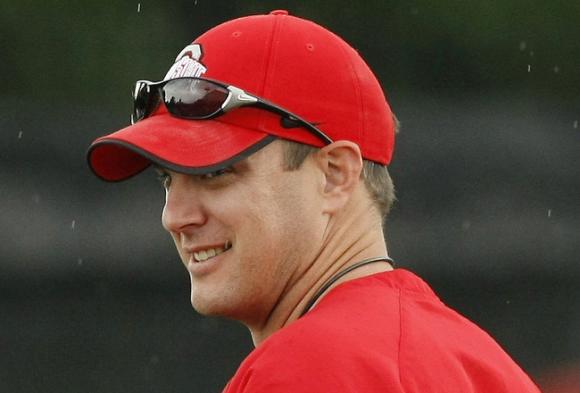 FORT LAUDERDALE, Fla. – The picture is so familiar. No, not the Mona Lisa or Starry Night – the offenses.
The Silver Bullets have gazed across the line at a dynamic unit before. Clemson's defense has gone against a lively offense a time or two as well. In fact, both Ohio State and the Tigers attempt to corral a high-motored, quick-strike offense every day in practice.
Leading up to Friday's Orange Bowl, the talk has centered around which defense could stop the opposing offense. But the game could boil down to which offense outscores the other. Tom Herman and Chad Morris, welcome to paradise, where no-huddle offenses are as accessible as margaritas on the beach.
"I've got the best seat in the house to watch that sucker, man," Herman said. "That's awesome. I get to sit up there with my hot dogs and popcorn and Diet Coke and get to watch this thing go down."
It isn't no work and all play, though. For four weeks, Herman has been racking his brain to formulate a game plan. It's been a smorgasbord of staff meetings, practices, watching film and critical decision-making of third-down play calls. Chances are it will look something similar to what the Tigers put together.
These two coaching staffs are so fond of one another's programs that Ohio State's offensive coaches traveled to Clemson to meet with the Tigers' assistants and talk shop. During that three-day jaunt, Herman and Morris went to dinner and even joked about the possibility of playing in a bowl game. Six months later, it's come to fruition.
"I like Chad. He's a good dude," Herman said. "I recruited his schools [in Texas] and have known him all the way from the time he was the head coach at Bay City Black Cats. So me and Chad go way back.
"I wouldn't say we're best buddies. We don't go on vacation together or anything like that. But we do spend a lot of time talking football over the phone. It's been a very good, productive working relationship."
Meyer forged the connection when he worked for ESPN. During the 2011 season, he called four Clemson games and took a liking to Morris and his innovative offense. The fast-paced Tigers have reached the 100-play mark, which is the type of thing that excites Meyer. The friendship grew into weekly phone calls.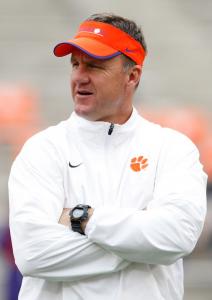 "You know Coach Meyer, he's definitely always looking to try to find something that separates him offensively," Morris said. "He would come out and watch our practice, and after practice was over, we'd just sit and talk for a while."
Depending on whom you ask, the two had a lengthy conversation after Meyer became Ohio State's head coach. Morris all but confirms it, Meyer denies it. What is known is it was reported the two engaged in talks for Morris to come to Ohio State. Shortly thereafter, Morris received a raise that made him the highest paid assistant in the country – $1.3 million.
The confirmations and denials caused quite a ruse in South Florida, along with flu-gate and the controversy swirling around Noah Spence.
"To be considered and to talk to him, it was an honor," Morris said. "But it was right around our ACC championship game. It was pretty much within hours that we were talking [about a new contract at Clemson]."
Meyer told a different story, one that didn't involve he and Morris talking.
"I'll have to ask Chad someday, 'Did you start that?' But I have a lot of respect for him and what he did. The transformation from Clemson's previous offense to his was almost overnight," Meyer said.
What Herman has done in Columbus might be even more impressive, though. Prior to his arrival, the Buckeyes languished with a boring, antiquated offense. Wins were still the norm, but most of the positive results came via a championship-caliber defense.
In 2011 – the year before Herman came to Ohio State – its offense ranked 107th nationally. Entering the Orange Bowl that number is 100 spots higher. Herman's value isn't just concocting high-percentage plays and keeping defenses guessing. He also happens to be a quarterback's best friend.
At Rice, Iowa State and now Ohio State, he's consistently improved his signal-callers' skill set and propensity at making big plays. Braxton Miller is his latest project, turning him from an unpredictable freshman into one of college football's most dazzling players. He's the facilitator for an offense that averages 46 points and more than 500 yards per game.
Morris, like Herman, is wired to football. When he tucks himself into bed each night, he does so with a notepad to scribble down notes that might spring into his mind. Sometimes it even involves a text message to an unsuspecting assistant coach. The football life began at Lake Travis High School, outside Austin, Texas, where he won back-to-back state championships with Garrett Gilbert. 
At Clemson, Morris' quarterback is Tajh Boyd, and like Herman and Miller, Morris and Boyd click and complement each other.  Their companionship is responsible for 40 points and more than 500 yards per game. Sound familiar?
The stark contrast is how each team gets to those videogame numbers. The Buckeyes use a power-run game, while the Tigers' biggest strength is the vertical passing game.
"There's always something out there that's on the cutting edge, and as a coordinator, it's my job to find it," Morris said.
To Luke Fickell and Brent Venables: good luck.