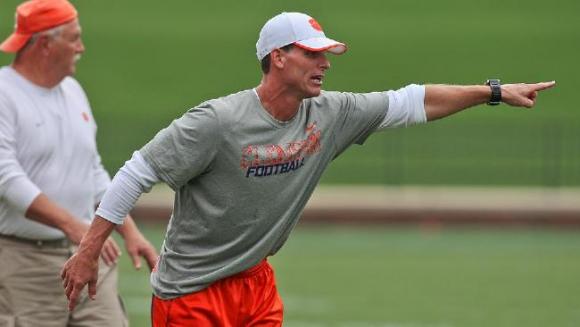 FORT LAUDERDALE, Fla. – The Urban Meyer era at Ohio State is entering Game No. 26 Friday evening. The same goes for Brent Venables' time as Clemson's defensive coordinator. What spurred his hiring was the Tigers' performance the last time they came to the Orange Bowl.
The 2011 season acted as sort of a reintroduction of Clemson to the college football landscape. The Tigers were appearing in their first major bowl in 30 years – and fell completely flat. West Virginia outplayed, outmanned and outclassed the Tigers to the tune of 70-33. It's as humbling a defeat as Clemson's ever experienced.
It's become known as the "Mugging in Miami" and something the Tigers won't soon forget. Incredibly, they were winning 17-14 after the first quarter. But then the Mountaineers outscored Clemson 49-3 over an 18-minute span.
"I don't want that to happen again," defensive end Corey Crawford said.
It left former defensive coordinator Kevin Steele unemployed, clearing the way for Venables, the architect of Oklahoma's defensive supremacy the previous decade. He quickly steered the Tiger defense upward. They lead the nation in tackles for loss (112) this season, rank 17th in scoring defense (21 points per game), 23rd in total defense (351 yards per game), 16th in passing efficiency defense (111 yards), 19th in turnovers forced (26) and 22nd in sacks per game (2.8).
"I feel like this is a completely different team with a completely different maturity level," linebacker Spencer Shuey said. "I feel like this program came a long way in the last two years."
But to earn another dose of national respect, Clemson will have to slow down an offense that might contain more firepower than the West Virginia unit that lit them ablaze on the same field it plays on Friday. Ohio State can score in an instant, turning time of possession into nothing more than an irrelevant stat. Three-play scoring drives and 20 minutes of holding the football could mean 56 points for the Buckeyes.
"Everybody wants to say it's a shootout. You take offense to that," Venables said. "We know we have a great challenge on Friday night, but we're not playing it on defense like, 'Let's just get one more stop than them.' That's not how we operate, no matter who we're playing."
Clemson already saw a similar image in October. Florida State traipsed into town and had no mercy on the hosts, throttling the Tigers 51-14. However, they do rank second in the nation in three-and-outs and eighth in third-down conversion defense. Getting off the field will be vital in a matchup of efficient offenses. And not giving up huge plays, which is Clemson's biggest nemesis.
"It doesn't matter if it's Ohio State or if it's the Pittsburgh Steelers – it doesn't matter," Venables said. "Your job on defense is to stop people."
The Tigers point to a different attitude that's formed since Venables' arrival. They didn't quit against the Seminoles, which was a glaring outcome in the 2012 Orange Bowl. Two years later, there's maturity, leadership and a better overall on-field production.
"That's the first thing – the mindset," Venables said. "Not that it was the other way, but there's a certain way I want them to think and act and practice and hold each other accountable. You develop that leadership and cultivate that and nourish that and then you can kind of step back and let them do it. We've got some good leaders and a good group of guys who have some humility to them and character and some toughness."
Senior cornerback Darius Robinson credits a newfound comfort in the system. There was plodding and uneasiness before positive results began kicking in. With that came confidence that morphed into swagger. Defensive end Vic Beasley could be considered the leader in that movement.
NFL scouts will flood Sun Life Stadium Friday night, and one of the top showdowns is Beasley against Jack Mewhort. Beasley earned All-American honors after a season with 19 tackles for loss and 12 sacks. His name also is prevalent on mock draft boards.
"He can run around you, or if he chooses to, he can take it right to you or take an inside move," Mewhort said. "He's got a three-way go. He's got a good motor. He's very good with his hands. If you're not prepared for him, he'll get the best of you."
The opponent across the line of scrimmage is just as challenging for Clemson. The three best quarterbacks it faced this season all experienced success – Aaron Murray, Jameis Winston and Connor Shaw.
Carlos Hyde is a punishing, bruising running back, but Braxton Miller's athletic skill set is equally as confounding for defenses. Not only do they have to worry about his downfield throwing, there's the threat of a long run every time the ball is snapped to Miller.
"I can't [stop him] by myself," Beasley said. "But our front seven and our whole 11 on defense can get the job done. I think we'll come into this game with a chip on our shoulder – and we'll get the job done."