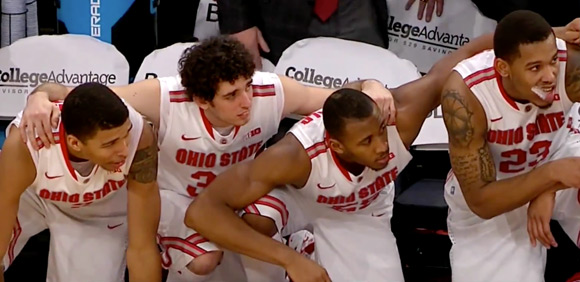 Thad Matta has coached for nearly 25 years. He's been on the doorstep of a national championship, almost helped guide a 16 seed to triumph over a No. 1 seed and been a part of several other maddening March heartbreakers. But even he had never witnessed anything quite like what transpired in Madison Square Garden Saturday night.
The Buckeyes scored 17 points during the first 19 minutes, 10 seconds of the second half and made fewer than 10 field goals; this after shooting 50 percent from the field in the first half. However, the final 50 seconds is all that mattered. Ohio State erased an eight-point deficit to stun Notre Dame 64-61. The Buckeyes forced four turnovers to end the game on a 14-3 run.
It was a Christmas Miracle just a block from 34th Street.
"I'm still trying to figure out what happened," Matta said.
The shooting slump Ohio State endured for a majority of the second half came as a surprise considering the team's recent success. It went five consecutive games with a shooting percentage above 50 percent before Wednesday's win over Delaware. Then the Buckeyes followed it up by making 13 of 26 shot attempts in the first half against the Fighting Irish.
But they went more than nine minutes during the second half without a field goal and guard Lenzelle Smith Jr., the team's leading scorer through 12 games, was held scoreless before scoring nine points in the final 45 seconds. As a team, Ohio State was in the midst of a 6 for 23 stretch.
"We're fighters," Smith said. "We're never going to give up, we're never going to stop believing in this team. As you can see, we can do some pretty good stuff if we trust our system and keep our composure."
Instead, the Buckeyes forced Notre Dame to come undone. A full-court press completely flustered the Irish. In a six-second span, Ohio State scored six points thanks to consecutive steals by Shannon Scott.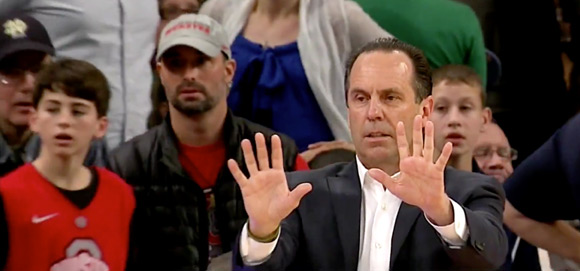 The comeback portion of the game was eerily similar to the Elite Eight versus Wichita State, when the Buckeyes' furious rally fell just short. Smith said Ohio State was able to complete the rally against the Notre Dame due to the correct adjustments and a lack of panic. It was Smith who made three crucial free throws with 32 seconds left to cut the lead to one.
"You miss these free throws and you ruin Christmas," he said.
He made them, dumping lumps of coal in the Irish's stocking. The Buckeyes took the lead seconds later to snatch away a Notre Dame win in a New York minute.
How It All Went Down
During Ohio State's mad dash to the finish, it failed to miss a field goal attempt – the Buckeyes were 3 for 3 – and only missed one of nine free throws. Experience and youth were two main themes. Ohio State's upperclassmen – Aaron Craft, Smith and Scott – played key roles, accounting for all 14 points, while Notre Dame had multiple freshmen turn the ball over and miss a crucial front end of a one-and-one.
When the PA announcer told the 10,138 patrons in Madison Square Garden that one minute remained in the game, the Irish held a comfortable eight-point advantage and there was little reason to believe the Buckeyes weren't 60 seconds away from their first defeat.
0:50, Notre Dame 58, Ohio State 52 
Notre Dame senior guard Jerian Grant, who was dismissed from the team Sunday, scored a game-high 18 points. But he turns the ball over with 58 seconds left, leading to an easy basket for LaQuinton Ross.
"I'm a senior and I have to find a way to not turn the ball over when we didn't have our point guard in there," Grant would say following the game.
0:45, Notre Dame 58, Ohio State 54
After the made basket, Ohio State sets up its full-court press and executes it flawlessly. The Buckeyes' backcourt is among the best in the nation defensively and it showed up in a big way during their rally. Notre Dame freshman guard Demetrius Jackson becomes trapped after receiving the inbounds pass. Smith steals the ball and dashes to the basket for a layup. It's his first points of the game.
0:40, Notre Dame 58, Ohio State 56
Once again, Ohio State's press confounds Notre Dame. And once again, a trap forces a turnover. This time Craft and Scott team up for a steal. Scott is fouled immediately and makes both free throws. In 10 seconds, Ohio State turns an eight-point deficit to two.
"They really turned the heat up on us and flustered us," Notre Dame head coach Mike Brey said. "We had a hard time doing anything right. We didn't have [point guard Eric] Atkins [who fouled out], but the other guys should have handled it better."
0:39, Notre Dame 60, Ohio State 56
Notre Dame restores order after a foul. Jackson makes two free throws, giving the Irish a comfortable two-possession lead. Ohio State's comeback bid is doused with water for the first time.
0:32, Notre Dame 60, Ohio State 59
Seven seconds after upping its lead, Notre Dame commits arguably its biggest sin of the final minute. Smith pump fakes after catching the ball in the corner and the Irish's Pat Connaughton inexplicably fouls him while shooting a three-pointer. This is when Smith tells himself Christmas is on the line. He proceeds to calmly make all three free throws. Suddenly, it's a one-point game and time becomes less of a factor.
0:31, Notre Dame 60, Ohio State 59
Notre Dame's Steve Vasturia is fouled. As the freshman stands at the free-throw line, he's seen taking several deep breaths and reaching over to grab his legs. The look of nervousness is obvious. Vasturia is at the line for a one-and-one. These are his first career free throw attempts. He misses the first one.
0:16, Ohio State 61, Notre Dame 60
Smith snares the ball, passes to Craft who brings it up court and drives the lane. As four defenders collapse, Craft dishes to Smith, who is cutting toward the basket. Smith makes a virtually uncontested layup. Ohio State has its first lead since the 11:06 mark of the second half.
It takes the Buckeyes all of 34 seconds to score 11 points and go from trailing by eight to leading by one.
0:10, Ohio State 61, Notre Dame 60
Grant drives toward the basket but loses control of the ball. It bounces off his leg and out of bounds. Ohio State ball.
0:09, Ohio State 63, Notre Dame 60
Smith is fouled and makes both free throws.
0:06, Ohio State 63, Notre Dame 61
Leading by three, Ohio State opts to foul Notre Dame. It's the opposite of what happened some four years prior to the Buckeyes. They held a three-point advantage in the closing seconds of an NCAA Tournament game against Siena and did not foul. Siena made a three and went on to win a thrilling double-overtime game.
Ohio State isn't going to get burned this time. Grant misses the first free throw and makes the second.
"My mind was fixated on if we wanted to foul with the time situation or do we play it out defensively…" Matta said.
0:03, Ohio State 64, Notre Dame 61
On the ensuing inbounds pass, Ohio State is able to waste three critical seconds before Notre Dame applies a foul. Craft makes one of two free throws.
Final: Ohio State 63, Notre Dame 61
Jackson's game-tying 3 misses at the buzzer. He gets a makeable shot from the NBA three-point line but the ball clangs off the rim.
"I don't really know what happened," Craft said. "It was a big blur."