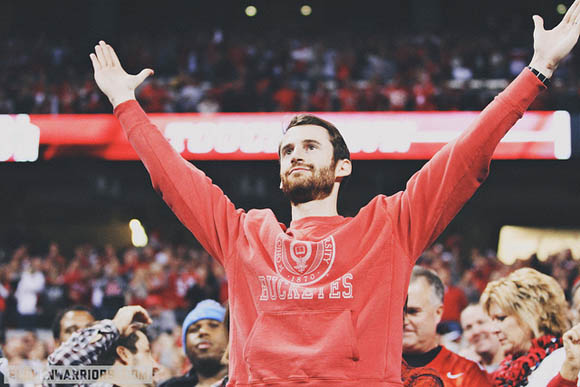 Ho Ho Ho. It's time for an early Christmas present to all of you from us. And the best part of it is that you can make your own contributions!
I have assembled, all in one thread, the very best Ohio State football GIFs for this marvelous season. I hope you enjoy scrolling through and enjoying them one more time. But if there's a burning feeling inside of you that I've left something out, then in the spirit of the season I cordially invite you to share it in the comments.
Let the countdown begin!
Number 11
Brax-Mario moves through World 8 and deals a severe blow to the evil forces of Bowser's Iowa division. Of course, you know what play comes next, but we will save that for further down the list.
Number 10
Here we see Illinois fans reacting to the beating they are receiving at the hands of Urban and company. My favorite part is the way the score flips right at the beginning. It's not quite as good as sullen-faced Michigan girl, but it's not bad. "A" for effort, Illini faithful.
Number 9
In this smashing scene, Purdue's kickoff returner is mutilated by Ezekiel Elliott right in front of the cheerleaders. This play was good enough to make Cris Carter's "C'mon, Man!" segment on ESPN's Monday Night Countdown, mostly because of the one cheerleader's reaction towards the end (need the slow-motion replay to see it). Splendid!
Number 8
Speaking of mutilation, on this seemingly-routine play Marcus Hall comes out of nowhere to destroy a Penn State defender. Notify his next of kin! Oh, and don't worry, Marcus will be back for the finale.
Number 7
The atmosphere for the Indiana game was perfect for football purists. Not so great for the fans in attendance, but it certainly made a nice picture as I was watching from the comfort of my family room. If you were there, brrrrrrrrrrr! 
Number 6
Braxton Miller shows his merits as a passer with this 40-yard laser shot under pressure right before halftime against Wisconsin. Backbreaker, dagger to the heart, haymaker...choose your favorite metaphor because this one will haunt the Badgers in their dreams.
Number 5
Bradley Roby says "No Sir!" as he and Ryan Shazier smother Northwestern's punter and then Roby covers the pigskin for a much-needed touchdown. This effort kept the Buckeyes in the game while the offense struggled. In the second half, Carlos Hyde took over and the good guys pulled away for the win. The punter recovered from the beating he took here but his team never did.
Number 4
This was a tough call; I knew that I wanted a Kenny G. gif in the collection, but I was torn between three of them. First there was Kenny doing the left-handed Joe Namath sign after tossing a nifty touchdown pass to Corey Brown against San Diego State. Then there was Kenny doing the soar-like-a-jet-plane pose as Devin Smith is completing a 90-yard touchdown pass-and-run against Cal. But this one is a fan favorite, and the scene is perfectly set up for a gif, so...here's to you, Kenny! Don't. Ever. Change.
Number 3
Tyvis Powell saves the day against Michigan. Of course, this is a good one too. And this one. And this one. There's one more from that game, but we'll get to that later. Just sit back and savor this moment for all that it's worth. We still own the rivalry in the 21st century.
Number 2
El Guapo doing what El Guapo does. What can I say? It's the biggest play in one of the biggest games. How can you beat Hyde busting through a tackle, almost losing his balance, then regaining his balance, then going all Superman into the end zone on a critical drive where the Buckeyes took the lead for good? How can you beat it? Well, here's how.
Number 1
You knew what was coming here. No need for an explanation; a picture is worth a thousand words. Or is that a thousand hates? Regardless, here Marcus Hall tells the fans at the Big House what he thinks of the whole state of Michigan. 
Well, there you have it; those are my favorites. Did I miss any? Let me know in the comments, as usual. And a Merry Christmas to all of you!