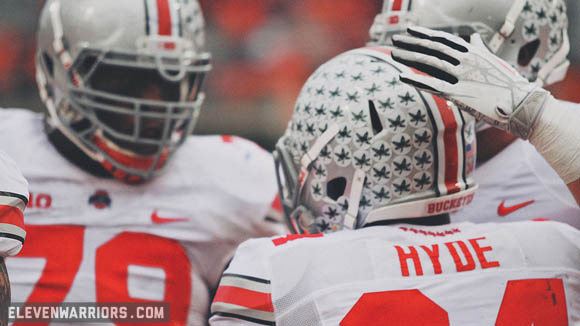 One day after being named ESPN.com All-Americans, linebacker Ryan Shazier and left tackle Jack Mewhort, along with running back Carlos Hyde, were named to the AP All-American team. Shazier was named a first-teamer, while Mewhort and Hyde appear on the third-team. 
Shazier leads the Big Ten with 134 total tackles on top of 22.5 tackles for loss (six sacks) and four forced fumbles. He ranks third nationally in tackles for loss and solo tackles. 
Mewhort contriubted to Ohio State's record-setting offense, which includes points scored (602), total yards (6,740), passing touchdowns (36) and total touchdowns (82). The Buckeyes need 72 yards rushing in the Orange Bowl to break the school record set in 1974 (4,199 yards). He's also been a catalyst in Hyde's productive season. The bruising tailback rushed for 1,408 yards in just 10 games, good for nearly eight yards per carry.