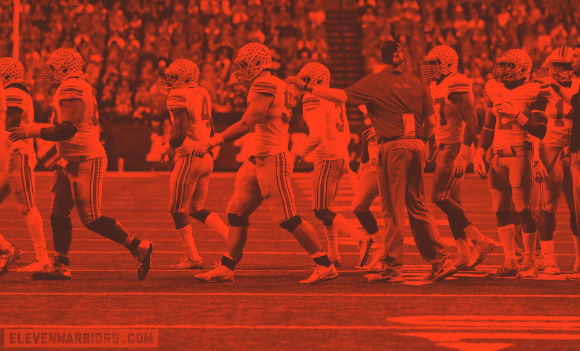 It's not a secret that the 2013 Ohio State defense has not been up to the standard that fans and coaches expect from the Silver Bullets. And it wasn't last year either.
Defenders in the Scarlet & Gray have been more like the Silver Blanks than the Silver Bullets the last few seasons (amirite?).
Tresselball was a cavalcade of tough defense, setting up favorable field position through outstanding special teams, and running the football to control the game and set up explosion plays by the skill players. But the last five years have seen a disturbing trend for a defense that had been the team's calling card under Jim Tressel.
Points allowed have climbed alarmingly in recent years. While the Buckeyes have developed an offense to keep up with what the defense has yielded, for the most part, points against have nearly doubled from 2009 to the present.
We'll take a look at the rise in scoring against Ohio State's defense. To reflect the defense as accurately as possible, the numbers exclude the special teams and defensive scores (safeties and touchdowns) the Buckeyes have allowed over this span.
Half a decade ago, the Buckeyes boasted a solid defensive line of Thaddeus Gibson, Cameron Heyward, Doug Worthington and Todd Denlinger. Brian Rolle led a solid, if unspectacular linebacking corps that also included Ross Homan and Austin Spitler. Kurt Coleman and Jermale Hines were at safety, while Chimdi Chekwa and Devon Torrence worked the corners. That defense held opponents to just 12 points per game.
Led by defensive coordinator Jim Heacock, the 2009 defense posted three shutouts on the season, including back-to-back blankings of Toledo (38-0) and Illinois (30-0). Those Buckeyes held Minnesota and Penn State to one measly touchdown each. And they finished the season by holding Chip Kelly's high-flying Oregon offense to just 17 points in the Rose Bowl.
In 2010 — which would turn out to be Tressel's last year at the helm — the defense again yielded just 12 points per game over 13 contests. Heyward returned as a starter and was joined on the line by Dexter Larimore, Nathan Williams and John Simon. Andrew Sweat replaced Spitler at linebacker and Ohrian Johnson replaced Coleman in the back four.
The only shutout was a 49-0 blasting of Purdue, a too-late payback for the Purdue Harbor game, but Ohio State held five other opponents to 10 or fewer points and locked down Bobby Petrino's prolific Arkansas offense for the majority of the 2011 Sugar Bowl, in a memorable 31-26 win.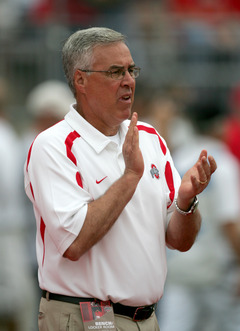 Tressel was replaced by Luke Fickell on an interim basis for the 2011 season and Heacock stayed on as defensive coordinator. Fickell had been co-defensive coordinator/linebackers coach under Heacock the previous five seasons.
The starters on defense included Simon, Johnathan Hankins, Garrett Goebel and Adam Bellamy on the line; Sweat and Storm Klein at linebacker; Tyler Moeller at star; and a defensive backfield of Bradley Roby, Travis Howard, Christian Bryant and C.J. Barnett.
Ohio State opened that 2011 year with a 42-0 shutout win over a dreadful Akron team. Then the cracks started to show. Toledo scored 22 the next week in a close win and the Miami Hurricanes put up 24 in a Buckeye road loss. Seven of the last 10 opponents scored at least 20 points and the Buckeye defense finished the season allowing 19.8 points per game in a 6-7 season.
Ohio State lost the last four games after getting into position to control their own destiny in the Leaders Division. Those final four opponents scored a combined 110 points, whereas the entire 2009 schedule had only posted 163. Clearly something was wrong.
Urban Meyer took over the program after 2011 and kept Fickell on as a co-defensive coordinator with Everett Withers. The 2012 defensive line saw Williams return from injury, joining Simon, Goebel and Hankins as starters. Ryan Shazier started with Klein and Etienne Sabino, although Klein was eventually replaced by Zach Boren. The entire starting back four returned.
But things got even worse.
Ohio State failed to record a shutout all year and every team scored at least 10 points. Seven of the 12 opponents scored 20 or more points, with two dropping 30+, including an unheard-of 49 by Indiana. The Buckeyes finished the season allowing an average of 20.8 points per game. When the offense is forced to average three touchdowns just to have a shot at a victory, things are not going well. As a comparison, no Tressel-led Ohio State team ever allowed more than 20.3 (2001 — the most points allowed in that era).
Tackling and poor angles were an issue much of the season. Boren settled things down a little, but every team except Wisconsin scored at least 21 points the rest of the way. The Badgers were held to 14 at home, which was promising, but the promise often went unfulfilled, despite moments of brilliance – such as a second half against Michigan, in which the Wolverines couldn't cross midfield.
Entering this season, there were a lot of question marks. The Buckeyes had to replace the entire starting defensive line, Boren and Sabino at linebacker, and Howard at corner. Sophomores Noah Spence and Adolphus Washington, true frosh Joey Bosa, and veteran backup Michael Bennett became the starters on the line. Shazier was joined by Curtis Grant and Josh Perry in the middle of the defense, with Tyvus Powell subbing at star in the nickel. Cornerback Doran Grant joined Roby, Barnett and Bryant in the backfield.
The defense was better at times in 2013 than 2012, but still allowed 20.2 points per game. Breakdowns, missed tackles and bad angles continued to be a problem. The Buckeyes did manage to post two shutouts, but they were against dreadful Purdue and FCS opponent Florida A&M. They also came within 1:41 of shutting out a San Diego State team that had yet to figure out an offensive identity.
Seven teams scored 20 or more points against Ohio State this season. So the defense has improved only by the slightest degree since last year's low water mark in points again. I suppose the good news is that offense and special teams allowed 16 fewer points than in 2012.
What is to blame for this slide may be one factor or several. Draw your own conclusions or accept the theories of others. Heacock was still the team's defensive chief when the downward spiral started in 2011, but his protoge Fickell was head coach instead of co-DC. Then it got even worse when Fickell moved back to co-defensive coordinator in the post-Heacock era. To point solely at Fickell is to ignore the possibility that a Fickell/Withers partnership might not work, or to dismiss the fact that Heacock was still around for the bad 2011 defense.
You could also point to a host of attrition, by injury and/or transfer, depleting the defensive depth. How different might this defense look with Jonathan Newsome, Conner Crowell or Jordan Whiting competing for a spot at linebacker with Perry and Grant? What if current All-ACC safety Jeremy Cash had still been around to replace the injured Bryant? How much more competition would there be at cornerback if Dominic Clarke, Najee Murray or Pee Wee Gambrell were still around?
Whatever the problem (or problems), points allowed is a major cause of concern for Urban Meyer if he wants to accomplish all of his goals for his tenure at Ohio State. And it won't truly seem like an Ohio State football team until it's fixed.