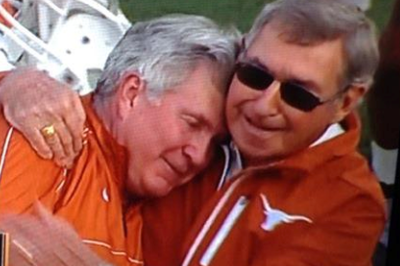 Mack Brown's employment status has long been the cause of speculation in Austin, Texas. Well, it looks like Mack Brown is ready to call it quits:
High-level sources tell http://t.co/Pb827xg41z Mack Brown will step down as coach at Texas after 16 years.

— Chip Brown (@ChipBrownOB) December 10, 2013
Chip Brown has broken news about Texas in the past, so there's no reason to doubt him now. And then there's this ominous tweet from another guy-who-would-know:
There is real belief within the profession that Saban will happen. Absolutely fascinating times.

— FootballScoop Staff (@footballscoop) December 10, 2013
Now that the USC job has been filled, the Texas job would be the hottest job on the couching carousel. Tuscaloosa would implode if Saban takes his talents to Austin.