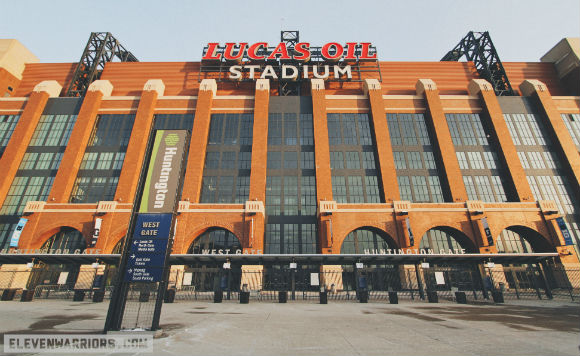 Ohio State and Michigan State met in Indianapolis with the Big Ten title on the line and for the Buckeyes it was a chance to win and get to the national championship game. It was a billed as a battle between the league's best offense against the top defense in the conference.
But coming out of the Michigan game, there were plenty of questions resurfacing about the Buckeye defense after it yielded more than 600 yards against a team that had struggled for a month. Luke Fickell's defense would be facing an efficient offense led by steady Connor Cook and workhorse running back Jeremy Langford.
Could Ohio State keep the offense rolling against the nation's top defense? Would the Buckeye defense fix its issues in just a week and rise to the occasion? Could Carlos Hyde and Braxton Miller find success where so many players failed? Would the good guys keep the SEC out of the title game?
Kind of, no, mostly yes, and sadly no.
Ohio State's winning streak ends at 24 games and there will be no happy ending in Pasadena in Urban Meyer's second year. Here are your talking points of infinite sadness:
Water Cooler prep (Everything you need to know…in one paragraph)
Michigan State came out and scored the first 17 points before Ohio State settled down and started playing. Carlos Hyde and Braxton Miller led the Buckeyes to 24 straight points, but Sparty went on a 90-yard drive to retake the lead and then the Buckeyes stopped giving it to Hyde for no apparent reason and completely ignored the pass until they had no choice. Both Hyde and Miller went over 100 rushing yards but a failure to convert late third downs or play any semblance of defense whatsoever doomed Ohio State to a 34-24 loss.
Talk before the game
Overwhelming amount of Ohio State fans in Lucas Oil Stadium. At least 70/30, an majority of the Buckeye fans wore Scarlet.

— Kyle Rowland (@KyleRowland) December 8, 2013
Nerves the week AFTER the Michigan game. This is a new feeling. #GoBucks

— Elika Sadeghi (@steakNstiffarms) December 8, 2013
Big Ten award winners recognized on field. MSU and OSU fans unite to boo Michigan's Taylor Lewan. He laughed. Special moment.

— Doug Lesmerises (@DougLesmerises) December 8, 2013
Talk in the aftermath
Bummer bucks

— Jake Stoneburner (@STONEYeleven) December 8, 2013
Good luck, Sparty. Everyone whose team had a winning streak > 24 games feel free to talk. Everyone else...

— Beat Sparty Ninja (@TheBuckeyeNinja) December 8, 2013
OSU gave up 433 yards and 34 points to a Jim Bollman offense. Some work to do, gentlemen.

— joe11w (@joe11w) December 8, 2013
Give that man a buckeye leaf (Player of the game)
Miller ran 21 times for a game high 142 yards (6.8 YPA) and two touchdowns, mostly during the second and third quarters, in which Ohio State actually played like Ohio State. Miller completed only 8/21 for 101 yards, including a 20-yard score to Philly Brown. But his receivers didn't help him much. Brown dropped a deep ball that was in his hands, although the defender was on him. Evan Spencer also dropped a critical would-be first down that forced the Buckeyes to punt. 
Snot Knocker of the Game
There were a lot of pretty good hits in this game, but one doesn't really stand out to me, either because I was too nervous to pay close attention or one simply didn't rise above the others. I'll go with Ryan Shazier slamming Langford on a wheel route for pass interference on the opening drive. It was completely unnecessary, as the pass had little chance of being successful, but the ref threw the flag and an eventual field goal drive continued. MSU led by just three with a few minutes remaining, when Langford added a 26-yard TD in the final minutes, so it was kind of a big penalty. And, being stupid and unnecessary, it was representative of the night overall.
Did you see that?! (Play of the game)
Ohio State was lethargic on offense and the defense had gotten torched twice for long pass plays. Things were going poorly. Then Miller went Xbox on a second-and-eight play, running for 48 yards and just plain clowning defenders, before getting tangled up in Spencer's legs as the receiver was trying to block the last defender. That play woke Ohio State up and the Buckeyes scored a touchdown three plays later.
When you sank into your chair (The moment Buckeye football disgraced your family)
You can take your pick of any number of defensive breakdowns or stupid pass interference penalties. I'll go with this one: Michigan State faced a crucial third-and-eight at the Ohio State nine, trailing 24-20. Cook dropped back to pass and nobody bothered to cover Josiah Price, who caught the go-ahead touchdown. C.J. Barnett was in the general area, but only just.
Jim Tressel's Least Favorite Moment of the game
Every commercial break. Without coaching, Tressel has a lot of free time on his hands. He has never been exposed to so much advertising in his life, so he's more susceptible than most of us, who have become immune. By the middle of the third quarter, Tressel had maxed out his Black Visa card and had set up at least three new mobile phone accounts with Sprint. Now the Tressels are completely broke. Thanks, FOX.
What you texted your friend at the end of each quarter
First: Why are we playing so stupidly?
Second: Back in the game.
Third: The defense is scaring me but it's good to be leading after that start.
Fourth: Man, what was that fourth quarter? Where was Hyde? I don't even…damn.
It was over when
Michigan State's Langford had been mostly bottled up all night. But when he busted straight up the gut on second-and-two for a 26-yard touchdown, it was time to turn out the lights.
---
The regular season is over and everything is terrible. But at some point the Buckeyes will scrape themselves up off the carpet and try to get ready for a bowl game — very likely an Orange Bowl berth, which isn't a bad consolation prize, really. When going to the Orange Bowl is a bad thing, you've got #BuckeyeNationProblems.