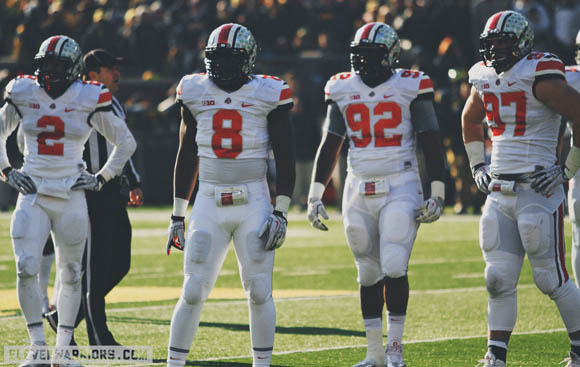 While Urban Meyer has always been thought of as an excellent coach, some would argue that he is an even better recruiter. So the general consensus among Buckeye fans after last year was: If Urban can go 12-0 in his first year, imagine what he'll do when he has his own recruits in place. It's an argument that is made about many coaches over their first couple years, whether they are successful or not.
This year, however, the Buckeyes are already starting to see some major contributions from members of Urban Meyer's first two recruiting classes. Now, as the season approaches the finish line, is a good time to look back at Meyer's first class and see how they've come along thus far. While Meyer only personally recruited a little over half of the class, the entire class committed to him as their head coach when they signed their letters of intent and stepped foot on campus.
While we often celebrate Urban Meyer's 24-0 start and the Buckeyes' 24-game winning-streak, let's take some time to celebrate the young men who have yet to lose a game in the scarlet and gray.
Join us after the jump to take a look back at the recruitments of the members of the 2012 class and what they have accomplished since arriving at Ohio State.
The Loyal Eleven
When Jim Tressel formally resigned from his coaching duties, not only was Ohio State's on-field success in jeopardy, their recruiting was even more in limbo. Fortunately for the Buckeyes and new head coach Luke Fickell, the Buckeyes were able to secure eleven commitments going into the season. A few committed well before the scandal and remained loyal to the Buckeyes while others showed their loyalty by committing to Ohio State in the summer with everything up in the air.
| Player | High School | Pos. | Rating | In High School: | Recruitment: | At Ohio State: |
| --- | --- | --- | --- | --- | --- | --- |
| Joshua Perry | Olentangy H.S. (Lewis Center, Ohio) | OLB | 4-star | Played QB, RB, TE, LB and returned kicks in high school. Was named second-team all-state as a senior. Also ran track and finished 2nd in Ohio in long jump while boasting a 3.8 GPA. High School Highlights. | Chose Buckeyes over Michigan State, Duke and Cincinnati after picking up a scholarship offer at Ohio State's camp. Buckeyes first commitment for 2012 class. | Enrolled in January, 2012 and played in 10 games as a Freshman, making 5 tackles. This year, he has started in 10 games, making 49 tackles (7th on team). Also regarded as most stylish dresser on the team by his teammates. |
| Warren Ball | St. Francis De Sales (Columbus, Ohio) | RB | 4-star | Ran for 29 TDs in his senior season and was named first-team all-state. Ball was high school teammate's with Adam Griffin. In addition to his football success, Ball boasted a 4.0 GPA in high school. High School Highlights. | Picked OSU over offers from Notre Dame, Wisconsin, Iowa and others. He always wanted to be a Buckeye and committed as soon as he received his written scholarship offer. | Missed entire 2012 season with a foot injury, taking a medical red-shirt, but returned ready to go for spring practice in 2013. He has played in 10 games this year, mostly on special teams while also rushing 13 times for 76 yards. Figures to be in the mix for carries next year with Hyde and Hall graduating. |
| Jacoby Boren | Pickerington Central H.S. (Pickerington, Ohio) | OL | 3-star | Started at center all four years of high school. 3-time first-team all-conference, first team all-state as a senior when his team won 11 games in a row. Brother of former Buckeyes Justin and Zach. High school highlights. | Picked the Buckeyes over Cincinnati and Michigan State not too long after landing his first scholarship offer from Ohio State. | Enrolled early and worked his way into the two-deep as a freshman, backing up Corey Linsley at center. In the team's annual winter workout competetion, Boren was the first player drafted, displaying his work-ethic and the respect his teammates have for him. Once again backing up Linsley, in line to take over as starting center next year. Also, he is studying agricultural systems management, holding a 3.96 GPA. |
| Cardale Jones | Glenville H.S. (Cleveland, Ohio) | QB | 3-star | Went 24-3 as a starter and was named third-team all-state as a senior. Jones continued to progress at prep school, where his coach said "he could be another Cam Newton." While at Fork Union, Jones lived with current teammate Michael Thomas. High School Highlights. | Originally part of the 2011 class, Jones held off committing until signing day 2011 when he chose Ohio State over Toledo before heading to Prep School for a year. | Enrolled in January, 2012 and took a red-shirt year. During his first year, Jones became infamous for his actions on social media, but has since matured. This year, Jones has rushed for 132 yards and a TD on 17 carries, while also passing for 3 yards. Will be in the mix to replace Braxton Miller in 2014 or 2015. |
| Frank Epitropoulos | Upper Alrington H.S. (Columbus, Ohio) | WR | 3-star | Played nearly every snap for 3 years at Upper Arlington as a receiver, defensive back and punter. Epitropoulos was actually named second-team all-state twice as a punter, and also had over 450 receiving yards in each of his final two seasons. High school highlights. | Holding offers from Wisconsin, Stanford, Louisville and others, Epitropoulos became the Buckeyes first commit after the fallout from tat-gate. | After taking a red-shirt year in 2012, Frank has played in a limited role as a receiver in 2013. He has made 1 catch for 6 yards in 3 games played, good for 12th on the team in both catches and yards. With 4 of the 11 ahead of him graduating after this year, Frank will look to work his way into the rotation more next season. Currently studying pre-med. |
| Blake Thomas | St. Ignatius H.S. (Cleveland, Ohio) | TE | 3-star | Named all-state special mention as a senior, when he helped lead his team to a state championship, defeating Jacoby Boren's team in the championship game. Caught 49 passes for 506 yards and 8 TDs combined in junior/senior years. High school highlights. | Prototypical TE for Jim Tressel's offense, Thomas committed to Ohio State just a week after receiving a scholarship offer. He chose Ohio State over Boston College. | Took a red-shirt last year as a true freshman before showing some flashes of potential in the 2013 spring game. Unfortunately, Thomas suffered a career-ending injury after dealing with stingers. Thomas has a chronic condition that put him at risk of serious if he were continue playing football. |
| Tyvis Powell | Beford H.S. (Bedford, Ohio) | ATH | 3-star | As a junior, Powell made 115 tackles and 6 interceptions as a safety. He also played basketball, baseball and ran track in high school. Perhaps most impressively though, Powell did not miss a single day of classes in high school while earning a 3.0 GPA. High school highlights. | Powell was the first commitment after Tressel's resignation. "For eight years I've known where I wanted to go." Despite the sanctions, Powell bled Scarlet and Gray and there was no competition once the Buckeyes offered. | Powell red-shirted in 2012, but dedicated himself in the off-season and earned the starting nickelback job coming out of spring practice. Powell wrote a letter to Buckeye Nation in the summer and loves Ohio State with all his heart. This season, he has started 4 games and played in all 12, making 34 tackles and a critical interception against Michigan. |
| Najee Murray | Steubenville H.S. (Steubenville, Ohio) | S | 3-star | As a senior, Murray was named co-defensive player of the year in Ohio, as well as first-team all-state. His teams went a combined 23-3 in his final two years. He made 54 tackles his senior year and also led his team in receiving. High school highlights. | Murray became the second player to commit after Tressel resigned, choosing Ohio State over Indiana and some MAC schools. Murray committed immediately after receiving an offer. | Murray saw significant playing time last year as a true freshman before a knee injury cut his season short. Murray made 3 solo tackles and played 74 snaps in the first six games. Murray was suspended in August and elected to transfer to Kent State. |
| De'Van Bogard | Glenville H.S. (Cleveland, Ohio) | S | 4-star | Made 91 tackles and 2 interceptions as a senior en route to being named first-team all-state. As a junior he was named all-state special mention after making 74 tackles and an interception. High school highlights. | Bogard bucked the traditional Glenville trend, favoring the Buckeyes all along and committing in June despite the sanctions and uncertainty. | Bogard became the first member of the class to lose his black stripe despite losing his brother to cancer just a few weeks earlier. As a true freshman, Bogard made contributions on special teams for the first 8 games before tearing his ACL. Bogard worked hard to recover and play again this year before tearing his ACL again in the same knee against Penn State this year. Bogard hopes to return again to play linebacker, and Meyer has called him one of his favorite guys on the team" |
| Luke Roberts | Lancaster H.S. (Lancaster, Ohio) | LB | 3-star | Named second-team all-state as a senior after making 118 tackles, including 19 for loss and 5 sacks. Roberts also was a successful wrestler. High school highlights. | Picked the Buckeyes over the likes of Indiana, Cincinnati, Arizona and Purdue. | Played a limited amount in one season for the Buckeyes before transferring to Harvard. |
| Pat Elflein | Pickerington North H.S. (Pickerington, Ohio) | OL | 3-star | Elflein has always been known for his work ethic, spending his summers pouring and breaking up concrete. He also ran track and wrestled, and was even a nationally recognized wrestler. His senior year he was named first-team all-Ohio for football. High School Highlights. | Another kid who dreamed of being a Buckeye, Elflein committed to Ohio State one day after receiving an offer. He chose the Buckeyes over Northwestern. | Took a red-shirt year in 2012 after suffering a foot injury but returned to form in time for spring practice. Pat has emerged as a primary backup along the offensive line, with the highlight of his career coming last week against Michigan. Elflein stepped in after Marcus Hall was ejected and the Buckeye run-game didn't miss a beat, rushing for nearly 400 yards. He appears to be in prime position to take over as a starter next year when 4 of the 5 starters graduate.   |
Of the 'Loyal Eleven,' eight remain members of the Ohio State football team, and nearly all have made significant contributions already with others in place to do so in the near-future. All 11 are from Ohio and most dreamed of playing for Ohio State their entire lives. Joshua Perry has made the biggest impact thus far, while Tyvis Powell, Jacoby Boren and Pat Elflein have arguably already out-performed their recruiting ratings.
Committed During the Season
While the Loyal Eleven committed to Ohio State during a time of uncertainty, the Buckeyes picked up three more commitments during the regular season. These players committed at perhaps Ohio State's lowest point, in the midst of one of the worst seasons in school history and before Urban Meyer had taken over the helm.
| player | high school | pos. | rating | in high school: | recruitment: | At Ohio State: |
| --- | --- | --- | --- | --- | --- | --- |
| Adolphus Washington | Taft High School (Cincinnati, Ohio) | DL | 5-star | Made 90 tackles and 23.5 sacks as a senior, named co-defensive player of the year in Ohio and a first-team all-Ohio performer. He was also a top basketball player, averaging 23 points and 14 rebounds his senior year, earning the division 3 co-player of the year in Ohio for basketball. High school highlights. | Picked the Buckeyes over offers from Florida State, Alabama, Michigan, Notre Dame, USC and others. Chose Ohio State following their loss to Penn State. Named Ohio State leader in the summer before committing in November, the value of his commitment can't be over-stated, as he was the first nationally-hyped recruit to pick the Buckeyes after the scandal. | Made an immediate impact as a freshman at Ohio State, playing in 10 games and registering 3 sacks (third most on the team). This year, he picked up where he left off, despite battling injuries. He has started 4 games and played in 10, making 26 tackles and 2.0 sacks. He looks primed to be an anchor on the d-line for the foreseeable future. |
| Michael Thomas | Taft High School (Woodland Hills, CA) | WR | 3-star | Thomas was an Under Armour All-American before electing to go to prep school. He is Keyshawn Johnson's nephew and played with Cardale Jones at Fork Union. His junior year, Thomas led all of California high school football with 1656 receiving yards and 21 TDs. High school highlights. | Thomas picked the Buckeyes over an impressive list of suitors, including LSU, Auburn, Oregon, Oklahoma, USC and others. After electing to go to prep school, Thomas played with Cardale Jones, which certainly didn't hurt the Buckeyes' chances. Thomas was the Buckeyes' top WR target and he had OSU for his leader for a long time. | Thomas enrolled early at Ohio State and exploded in the 2012 spring game for 131 yards on 12 catches. Despite the early success, Thomas has yet to make a huge impact despite flashes of potential. Last year he made 3 catches for 22 yards, though appears destined to red-shirt this year. Look for Thomas to crack into the rotation more next season. |
| Ricquan Southward | Lakeland H.S. (Lakeland, Florida) | WR | 3-star | First-team all-state in Florida class 7A, leading his team to a 13-1 season with 994 receiving yards and 9 TDs. High school highlights. | Received an Ohio State offer but committed to Miami initially before Stan Drayton was able to flip him to Ohio State. | Southward didn't finish his freshman season at Ohio State, electing to leave the program for personal reasons.  |
While Southward is no longer on the team, Washington and Thomas have both show flashes of potential. At this point in 2011 Thomas and Washington were regarded as two of Ohio State's most highly regarded commits, giving the Buckeyes some positive momentum before Meyer took over the job. These critical commits at perhaps Ohio State's lowest point look to be cornerstones of the team for the next few years, with Washington anchoring the defensive line and Thomas hopefully breaking out as a go-to receiver.
Pancakes
When Meyer took over as the Buckeyes' new head coach, he had gotten a very late start on recruiting and many players that would have possibly gone to Ohio State had committed elsewhere. Urban stepped in and flipped an unprecedented eight players, including four from Penn State. While the allegations at Penn State certainly helped, Meyer showed the rest of the Big Ten he wasn't messing around and in the process ruffled the feathers of many coaches.
| player | high school | pos. | rating | in high school: | recruitment: | at Ohio state: |
| --- | --- | --- | --- | --- | --- | --- |
| Armani Reeves | Catholic Memorial H.S. (West Roxbury, MA) | CB | 4-star | A two-way star, Reeves ran for 445 yards and 9 TDs while making 57 tackles as a senior. He also made 4 interceptions and returned 2 punts for TDs as a junior. Reeves and Cam Williams were high school teammates and great friends, as Cam's father is Reeves' Godfather. Highlights. | Reeves was initially committed to Penn State, but re-opened his recruitment after the Sandusky scandal broke out. After re-opening his recruitment, Reeves visited Ohio State and narrowed his decision to Ohio State and Michigan, eventually picking the Buckeyes over the Wolverines. | Key special teams player for the first 6 games of freshman year before suffering a knee injury. This year he has served as the third corner, starting in 2 games while making 20 total tackles and making an interception. He looks to be a starting CB next year with Roby leaving. |
| Cam Williams | Catholic Memorial H.S. (West Roxbury, MA) | LB | 4-star | Led his team with 119 tackles as a senior, while also being named all-scholastic by the Boston Globe. Williams is a very sharp kid and was also a part of National Honor Society while being named a SuperPrep All-American. His dad played in the NFL and his brotehr plays OL at North Carolina. Highlights. | Like Reeves, Williams was initially committed to Penn State before re-opening his recruitment. Perkins dad played for the Patriots, so the connection with coach Vrabel paid dividends. Williams eventually picked the Buckeyes over offers from Penn State, Michigan and others. | As a freshman, Williams primarily played special teams, playing in each of the teams final 9 games. This year, he has seen some time at linebacker, playing in all 12 games and recording 13 tackles. With a lack of linebacker depth, Williams looks to earn more playing time next year. |
| Tommy Schutt | Glenbard West (Glen Ellyn, Ill.) | DT | 4-star | Helped lead his team to 4 playoff runs with 33 career sacks, 45 tackles for loss, 11 forced fumbles and 21 passes defended. He was named all-state 3 years in a row and was ESPNChicago's defensive player of the year his senior season. U.S. Army All-American. Highlights. | Originally committed to Penn State, Schutt became Urban Meyer's first commitment as Ohio State's coach. Schutt visited Ohio State and immediately flipped his commitment to the Buckeyes. He also nearly committed to Notre Dame at an earlier point. | Recorded 4 tackles in 10 games as a freshman and now plays an important role on the defensive line. Schutt missed half the season with a foot injury but has started in 2 games since returning, making 3 tackles and .5 sacks. Barring injury, he looks to be an important factor on the D-line for the next couple seasons. |
| Joey O'Connor | Windsor H.S. (Windsor, CO) | OL | 4-star | Started all 4 years for his high school team while also playing hockey for 11 years. O'Connor considered pursuing a pro hockey career before shifting his focus to football, where he won a state championship as a senior. Highlights. | Originally committed to Penn State, he de-committed in December. Shortly after visiting Ohio State in January, O'Conner changed his commiment to the Buckeyes. | After red-shirting in 2012, O'Connor decided to transfer to Colorado State to be closer to home. |
| Kyle Dodson | Cleveland Heights H.S. (Cleveland, Ohio) | OL | 4-star | Dodson started for Cleveland Heights as a sophomore, sat out his junior year with injuries and returned his senior year to lead his team to a 9-1 record and league championship. Kyle has been raised by his grandparents from a young age, and they are very close to him, playing an important role in his recruitment. Highlights. | Originally committed to Wisconsin. Dodson grew up a Buckeye fan but committed to Wisconsin after being uncertain of Ohio State's future. After Meyer took the job Ohio State got back in the picture and Dodson decided he wanted to stay close to home, picking the Bucks in a tight race over Wisconsin and USC, with a great announcement by the way. | Dodson took a red-shirt season last year and missed significant practice time with shoulder surgery. This year, Dodson has worked himself into the 2-deep, backing up Taylor Decker at right tackle and will be competing for one of the 4 open spots on the offensive line next year. |
| Se'Von Pittman | McKinley H.S. (Canton, Ohio) | DE | 4-star | Pittman was a two-time first-team all-state performer. As a senior he made 102 tackles, including 8 sacks and 20 tackles for loss. Pittman started for 3 years, and was a former teammate of Steve Miller. Highlights. | Originally committed to Michigan State, Pittman had interest in Ohio State for some time while committed to MSU, even taking an unofficial visit for a Buckeye game while committed. Pittman favored the Buckeyes until Tressel resigned and flipped to Ohio State after visiting in December. | Pittman took a red-shirt season last year after injuring his knee in the spring, but parted ways with Ohio State after off-field issues. Pittman has since landed at Akron with 3 years remaining. |
| Taylor Decker | Butler H.S. (Vandalia, Ohio) | OT | 4-star | In addition to starting at tackle for 3 years, Decker was a very good basketball player as well, even drawing D1 interest in basketball. Decker helped lead his team to its first winning record in 8 years his senior season, earning first-team all-state in the process. Highlights. | Originally committed to Notre Dame, Decker flipped his commitment to Ohio State shortly after his primary recruiter (Tim Hinton) and position coach (Ed Warinner) at Notre Dame joined Urban Meyer's staff at Ohio State. | As a freshman, Decker battled Reid Fragel for a starting position and was on the 2-deep all year as well as playing special teams in each game. This year, Decker has stepped right into the starting right tackle position and excelled. He is expected to anchor the left tackle position for the next 2 seasons. |
| David Perkins | Washington H.S. (South Bend, IN) | LB | 4-star | Led his team as a senior with 103 tackles, including 22 for loss, 7 sacks and 8 forced fumbles. As a junior he helped take Washington H.S. to it's first state championship game in 38 years. Highlights. | Originally committed to Notre Dame, Perkins re-opened his recruitment in the fall because he felt he'd rushed to a decision. After visiting Ohio State, Perkins picked the Buckeyes over Illinois, California and Oregon. | Perkins short stint at Ohio State was highlighted by this play against the mascot. After seeing very little action as a freshman, Perkins transferred to Illinois State. |
Meyer made a clear point of securing Ohio's top players that had gone elsewhere, while also taking advantage of the issues at Penn State. While three of the flipped recruits are no longer with the Buckeyes, the other five are making big impacts. Taylor Decker already starts, while Schutt, Reeves and Dodson very likely will start or at least play a lot next year. If it weren't for Meyer, these players would certainly not be Buckeyes but have now become cornerstones of the team moving forward.
Late additions
While these last three players were not 'flipped' from other schools, they were very important players that Ohio State very likely would not have signed if it weren't for Meyer.
| player | high school | pos. | rating | in high school: | recruitment: | at ohio State: |
| --- | --- | --- | --- | --- | --- | --- |
| Bri'onte Dunn | GlenOak H.S. (Canton, Ohio) | RB | 4-star | Dunn ran for over 5,000 yards and 51 TDs in his high school career, including 2,030 as a junior. He was twice named first-team all-Ohio. Highlights. | Dunn originally committed to Ohio State way back in September, 2010 before he re-opened his recruitment after the sanctions. Dunn visited Penn State and Michigan in the fall of 2011 before Meyer took the job. After Meyer took over, he called Dunn, brought him in for a visit and got Dunn to finalize his commitment in December. | As a freshman, Dunn played in 11 games and accumulated 133 rushing yards, including 73 against Illinois. After a phenomenal spring game and the question marks surrounding Hyde, Dunn appeared ready for a bigger role in 2013. Dunn has yet to see any action this year and has taken a redshirt role. There were rumors of a possible transfer, but Dunn has insisted he intends on staying at Ohio State. |
| Jamal Marcus | Hillside H.S. (Durham, N.C.) | LB | 4-star | In his senior year, he helped lead his high school to a perfect 16-0 record (giving him a personal 40-game winning streak currently). He recorded 89 tackles and 17.5 sacks, while leading all defensive players in North Carolina All-State voting. Highlights. | Ohio State got in on Marcus a little bit late, but quickly became one of his favorites. His recruitment turned into a battle between Ohio State and the local school, East Carolina with the Buckeyes winning out in the end. | Marcus made a big impact right away on special teams, playing in 11 games on special and making 8 tackles. Marcus spent his first year converting to the "Viper position" as an incredibly quick defensive end. Marcus has shown real talent in limited, but meaningful time this year. He has played in all 12 games, making 15 tackles and 2 sacks. Marcus improves every week and should continue to earn more playing time at viper. |
| Noah Spence | Bishop McDevitt (Harrisburg, PA) | DE | 5-star | As a senior, Spence was named the Pennsylvania Gatorade Player of the Year, while accumulating 204 tackles, 50 TFL and 35.5 sacks over his last two seasons.  He helped lead his team to back-to-back state title games. Spence comes from a big family that includes 9 kids (all boys) and a father that played football at N.C. State and an uncle that played hoops there. Highlights. | Penn State was the favorite for Spence and Ohio State wasn't even in the picture for a long time. Once the scandal hit Penn State and Urban Meyer took over at Ohio State things changed. Meyer contacted Spence and got him to visit Columbus. Things "felt right" for Spence and he committed following the visit. | Spence saw action right away as a freshman, playing in 11 games and making 9 tackles, including 1 sack. With Ohio State forced to replace it's entire line, Spence has had an opportunity to shine this year. He has started all 12 games, making 46 tackles, a team-leading 7.5 sacks and 13.5 TFLs (only behind Shazier). Spence has been one of the Buckeyes best defensive players and is only getting better - truly a special kid. |
Noah Spence was the cherry on the top of Meyer's 2012 class, setting the standard of late additions of big time recruits that Vonn Bell and Dontre Wilson followed last year. Spence has emerged as a dominant defensive end in only his second season, while Jamal Marcus is coming into his own on the defensive line as well. Bri'onte Dunn will hopefully return to the form we saw in the spring game as well.
Putting it together
The 2012 recruiting class had 25 members originally, though 7 have since left the program. That being said, of the 18 remaining players, 7 are playing a significant amount, while 12 are already in the two-deep as sophomores and are only getting better. By the time they finish their time here, nearly all of them will make an impact for the Buckeyes.
The class has an interesting blend of players who grew up dreaming of playing for Ohio State, while others who didn't even consider Ohio State until a couple months before signing day. Regardless of where they came from, they all have one thing in common, they have never lost a game of college football. Hopefully this helped you learn a little bit more about the 2012 class, where they came from, how they got here, and where they are headed - towards Buckeye history.