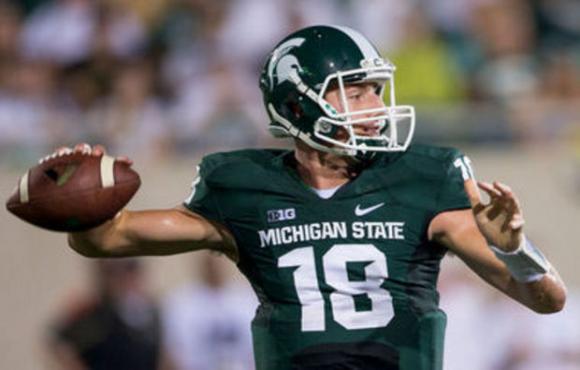 Connor Cook has been here before. Yes, he's been on the cusp of the Rose Bowl once, during his redshirt season, but that's not what this is about. Cook is used to being background noise. Even as a three-star recruit and one of the top quarterbacks in the state of Ohio, Cook played second fiddle to others.
While Braxton Miller wowed coaches, teammates, opponents, fans and every other spectator, Cook also put up solid numbers. Not this season. In high school. Competing for headlines with the dynamic Miller is an old hat for Cook, a Walsh Jesuit grad.
The lead up to the Big Ten Championship Game has been déjà vu all over again. All the attention centered on Miller as Cook is paid little attention.
"I knew [Ohio State] had their sights on Braxton Miller and they were only going to take one quarterback in that class, and they already offered Braxton Miller at the time," Cook told reporters this week, reliving the recruiting process. "I really wasn't being recruited at that point. I wasn't that highly recruited of a player, so I felt if I'm not being recruited by other Big Ten schools, why would Ohio State recruit me?"
But Cook didn't take it personal. Even he had visions of playing at a small school, possibly in the Mid-American Conference. Then came an offer from Michigan State and the rest, as they say, is history.
"It just so happens I'm facing Ohio State in the Big Ten Championship Game," Cook said. "It's funny how things work out."
Indeed. And he's not just trying to beat the Buckeyes, but also outperform Miller. Cook might not put up gaudy statistics – he has more than 2,100 yards passing with 17 touchdowns and four interceptions – but his efficiency, steadiness and handle on the game makes him an asset on a team loaded with defensive playmakers.
Coaches thought enough of Cook to tab him as second-team All-Big Ten. Keep in mind he started the season third on Michigan State's depth chart. 
The doubters still persist, though. Not that Cook will listen to it. He takes the motto "speak softly and carry a big stick" and walks all over it. His confidence verges on cocky and brash.
"They can talk about the opposing quarterback all they want. I'll just be over here working in practice," Cook said.
It's that conviction that's behind an 11-1 record and top-10 national ranking for the Spartans. Cook's self-assurance has contributed to his rise from irrelevance to team leader. Linebacker Max Bullough said Cook's development in East Lansing is a model for success.
"The changes that kid has made as a person and football player have been unrivaled by anyone I've ever seen," Bullough said. "He's become a leader on this football team."
Cook counters his teammate by saying hard work is the road to greatness. His determination doesn't wane, whether it's being part of a rotating quarterback system or sitting on the bench during Michigan State's final series at Notre Dame, the Spartans' lone loss on the season.
With Cook as the facilitator, the Michigan State offense – and co-offensive coordinator Jim Bollman – is moving from mocked to respected. 
"He has that presence about him, that ability to take a hit, to take something bad happening out there and be able to respond," head coach Mark Dantonio said. "I think that's huge, especially in a championship venue."
Cook's counterpart possesses those same skills and ability, plus some. Urban Meyer thinks so highly of Miller that he let slip a remark on Monday that puts him in the same category as Tim Tebow, one of college football's all-time greats. The transition for Miller from high school phenom to college standout came effortlessly. Where the difficulty lies is molding him into a vocal leader, often considered a must at such a significant position.
"He's a tough nut to crack," Ohio State offensive coordinator Tom Herman said, no pun intended. "He's very guarded. He's a very introverted person, and that's not bad. None of that is negative, but it lends itself to a much tougher job for a guy like me to come in and say, 'Hey, since high school I'm your fourth offensive coordinator in five years, and oh, by the way, you've got to trust me 100 percent.'
"It takes time. Trust is earned, it's not just given."
Twenty-four games into their partnership, trust flows with no resistance between Miller and Herman.
"He has become a better quarterback," Herman said, "which allows him to become a better leader."
Said Miller: "It's unbelievable how far I've come from last year."
Saturday in Indianapolis, it'll just be two Ohio boys flinging the ball around, rallying teammates on the sideline all in the name of winning a championship.